Last fact-checked: 5 February 2020
For affordable, high-quality dentures, look no further than Dental Departures' list of verified clinics in Tijuana. Book through us to ensure you're seen by a trusted dentist while saving up to 80% on the costs back at home.
Well-established as a tourist destination, particularly for US citizens looking for a quick taste of Mexico for a day or two, Tijuana enjoys an enviable location right on the Mexican-US border next to San Diego. Thanks to its close proximity to the US and the easy process of crossing the border, Tijuana sees a considerable number US citizens visit every day, many of whom come to take advantage of inexpensive dental care.
One area of promising growth in the city is its dental tourism industry. US and Canadian citizens have realized that dental treatment here is as good, if not better, than at home. Prices in Tijuana are a fraction of those at home, and its convenient location makes it easy to come for treatment, whether for something as simple as a filling, or a more labor-intensive procedure, like dentures or implants.
Why Have Dentures in Tijuana?
Notwithstanding the cost, Tijuana is served by two international airports: Aeropuerto Internacional Abelardo L Rodríguez, east of Downtown Tijuana, and San Diego Airport, only a 30-minute drive into town. The border crossing is easy at San Ysidro, although it is the busiest border crossing in the world, so at peak times may see some delays.
Whether you stay in Tijuana or over the border in San Diego, accommodation is easy to find, with budgets to suit all pockets. A vibrant, exciting, newly renovated city, Tijuana is no longer the "donkey and tequila" town of the past, having become Mexico's third most important commercial and cultural center.
The language spoken is mainly Spanish, but many speak English, particularly in the tourist areas such as Avenida Revolución. Throughout the rest of the city, English-friendly shops and restaurants frequently have their signs and menus in both languages.
Tijuana is a modern city—and its dental clinics are no exception. They are fully set up with the latest high-tech equipment and are clean and contemporary. Dentists here are fully trained and those listed on Dental Departures are experts in their fields. You can be sure that if you have dentures here that the same materials and standards of care will be exactly as they are at home.
How Long do Dentures Take in Tijuana?
Dentures can be made relatively quickly, normally in a matter of days. However, if you have had surgery or extractions, you will need to wait for your mouth to heal before you can have permanent dentures fitted.
Having Dentures Fitted After Extractions
If you have had extractions, non-permanent dentures, called 'healing dentures,' will be fitted. These are lighter than permanent dentures, allowing the gums to heal. This process can be carried out in two or three days. The temporary dentures need to be worn until the gums are fully healed. This usually takes a few months, but temporary dentures can in fact be used for several years. Dentures may need to be adjusted from time to time as gums tend to shrink with age. However, once you have your permanent dentures, further adjustments can be made by any lab.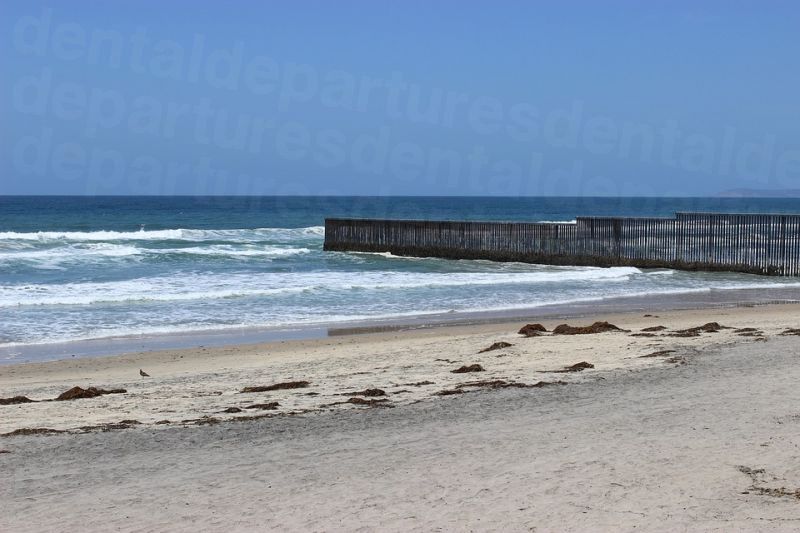 Dentures with Porcelain vs Acrylics
There may be a variety of reasons why you or your dentist would choose porcelain or acrylic. Aesthetically, porcelain dentures have the most natural appearance. However, they are relatively heavy compared with acrylic dentures and can wear the gums and bones more quickly than acrylic. Acrylic dentures, however, don't last as long as porcelain, but some patients have found their lightness to be much more comfortable. These, and other considerations such as cost, will be discussed between you and your dentist in Tijuana to enable you to make the right choice for your circumstances.
What Is the Cost of Dentures in Tijuana Compared to the US and Canada?
Costs of dentures vary according to how many teeth are on the denture and the material chosen. In the US and Canada, they start from $400 for a single tooth going up to $8,000 for full dentures. Tooth extractions or surgery is not included in these prices and will incur additional charges.
In Tijuana, it costs around $330 for a full set of dentures. Take a look at some of our most highly-rated and fully-verified dentists in Tijuana offering dentures below:
Tijuana dental clinics provide inexpensive, expert dental care. If you require multiple visits, for example, to adjust dentures, it is a great place in which to spend some time, either strolling around this newly-vibrant city or taking a trip to one of the beach resorts at nearby Rosarito or Ensenada to the south.
How Do I Book Dentures in Tijuana?
It's easy with Dental Departures: just phone our toll-free number or book online. Browse our listings to compare prices, get free quotes, read reviews and take virtual tours of our clinics. Choose and book your dentist with us with complete confidence - and get the best deal available with our best price guarantee.
Sources:
Malloy, Besty. Crossing the U.S.-Mexico Border Into Tijuana. Trip Savvy. 16 November 2018. https://www.tripsavvy.com/crossing-the-us-mexico-border-into-tijuana-1478937" target="_blank
Varathan, Preeti. The busiest land border crossing in the world is closed this weekend. Quartz. 22 September 2017. https://qz.com/1085125/san-ysidro-the-busiest-land-border-crossing-in-the-world-connecting-mexico-to-the-us-is-closed-from-sept-23-25/" target="_blank
Barbezat, Suzanne. 8 Things to Do in Tijuana. TrippSavvy. 20 September 2018. https://www.tripsavvy.com/the-top-things-to-do-in-tijuana-mexico-4150156" target="_blank
Miller, Saul, DDS. How long does getting immediate dentures take? Share Care. Website accessed: 11 March 2019. https://www.sharecare.com/health/dentures-and-seniors-health/how-long-immediate-dentures-take" target="_blank
Siddiqui, Hafsa. Porcelain Teeth Are Better Than Artificial Teeth. Medicalopedia. 15 July 2012. https://www.medicalopedia.org/2918/porcelain-teeth-are-better-than-artificial-teeth/" target="_blank