Last fact-checked: 18 February 2020
Look forward to a holiday and half-price dentures in Alicante. No longer must you succumb to the high prices charged at home, and the savings you make by travelling to Spain are more than enough to cover flights and accommodation in Alicante. Check out our pre-screened dentists and take advantage of guaranteed best prices online with Dental Departures
How Much Do Dentures Cost in Alicante?
The savings you can make on dentures in Alicante are significant compared to the prices at home:
| | | | | | |
| --- | --- | --- | --- | --- | --- |
| | UK £ | EUR € | US $ | CAN $ | AUS $ |
| Full Dentures Prices at home | 1,171 | 1,398 | 1,500 | 2,026 | 1,988 |
| Full Dentures Prices in Alicante | 533 | 622 | 704 | 945 | 994 |
Can I Rely On the Quality of Dentures in Alicante?
As a European Union member state, Spain adheres to the same regulations as other EU members regarding safety and hygiene, so there's no need to worry that things will be vastly different compared to home. Even Spain's water is safe to drink now—something that wasn't the case several decades ago.
Healthcare in Spain ranks among the best in the world. The best dental clinics in Alicante are ultra-modern—especially when compared to some NHS dental clinics that appear not to have been updated for years. Clinics are often signed to internationally-recognized standards, such as those advocated by the International Organisation for Standardisation (ISO) .
Globalisation has increased standards throughout the world—and that goes for medical education and training, too. Dentists in Spain have good training, qualifications and the necessary skills and knowledge to carry out a full range of general and specialist dental treatments.
Likewise, clinic facilities are state-of-the-art and equipped with the latest diagnostic and therapeutic technologies to provide accurate diagnoses and predictable treatment outcomes. And, because the dentists in Spain are all in private practice, healthy competition between providers keeps standards high and prices low, ensuring patients not only receive quality care but also good value-for-money.
To give you that extra peace-of-mind, all of the dental providers listed with Dental Departures have all been pre-screened so that you can choose your dentist knowing that they offer reliable services. Dentist qualifications, professional memberships and legal/malpractice records have all been checked by us, and our website includes patient reviews, location maps, clinic photos and prices so you have all the information easily available to make a choice with confidence.
Quality dental clinics where you can obtain your new dentures in Alicante include:
● Gardents
● Clinica Dental Integral Dr Bruno Negri
How Long Will I Need to Stay in Alicante for Dentures? What is the Procedure?
Whether you have no teeth and need full dentures or have some missing teeth and need partial dentures, the procedure is similar.
The process in Alicante will involve a trip to the dentist who will first examine your mouth, perform diagnostic tests and take impressions. These are then sent to a laboratory where your dentures are made to fit. In a day or two, you return to the dentist to get them fitted. Any minor adjustments are made by the dentist to ensure the perfect fit. If you are pressed for time, clinics with the latest CAD/CAM technology can create dentures same-day and fit temporaries while you wait.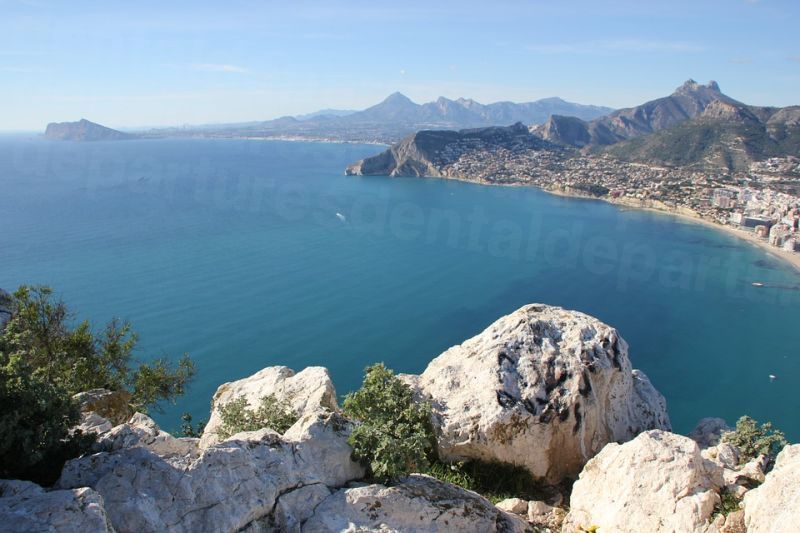 Is Getting a New Denture in Alicante a Good Option for Dental Tourists?
The main reason for going abroad is, of course, the savings you can make—and combining your dental care with a holiday.
Alicante has long been a favourite of British, Irish and other visitors from all over Europe—and still is. Notwithstanding the weather and its beaches, the province really does have something for everyone. From the mass tourism of raucous expat bars, fish-and-chips and Sunday roasts of Benidorm to the beauty of historic castles found in Alicante and Guadalest, it's possible to experience it all.
For a holiday location as a dental tourist, you certainly won't be short of activities and experiences in Alicante.
How Can I Get Started with My Dental Trip to Alicante?
Book directly online or get in touch with Dental Departures' Customer Care Team for further information about dentures in Alicante. It really is that easy to start planning your trip to a better smile.
Sources :
International Standards Organization. Website accessed: 25 February 2019.
https://www.iso.org/about-us.html" target="_blank
Parker, Sid. Removable Full Dentures. Dear Doctor. Website Accessed: 7 February 2019.
https://www.deardoctor.com/articles/removable-full-dentures/page3.php" target="_blank .
Full Dentures, Partial Dentures, Denture Care—Learn More. Colgate. Website Accessed: 7 February 2019.
https://www.colgate.com/en-us/oral-health/cosmetic-dentistry/dentures/full-dentures-partial-dentures-denture-care-learn-more" target="_blank .
Farrell, S. Who's King of the Castle in Alicante? Spain Holiday. 31 May 2014.
https://www.spain-holiday.com/Alicante-province/articles/whos-the-king-of-the-castles-in-alicante" target="_blank