Last fact-checked: 18 February 2020
Save money on your dental care by heading to the Costa Almeria in Spain. Dentures in Almeria cost less than half the price you'll pay at home—and when you book your treatment at one of Dental Departures' quality-checked clinics, you'll never pay more than you have to with our Best Price Guarantee.
How Much Do Dentures Cost in Almeria?
Check out the savings you'll make by comparing dentures prices in Almeria with the prices at home:
| | | | | | |
| --- | --- | --- | --- | --- | --- |
| | UK £ | EUR € | US $ | CAN $ | AUS $ |
| Full Dentures Prices at home | 1,171 | 1,398 | 1,500 | 2,026 | 1,988 |
| Full Dentures Prices in Almeria | 540 | 645 | 690 | 930 | 915 |
What About the Quality of Dentures in Almeria?
Healthcare throughout Spain is among the best in the world. As an EU member state, the country is subject to Europe-wide regulations on hygiene and safety and many clinics sign up to internationally-recognised protocols, like the International Organisation for Standardisation (ISO).
Spanish dentists are highly-skilled and well-trained with appropriate qualifications. You really won't notice any difference in your dental care in Spain compared to at home. In fact, many people who are used to NHS dentistry find the facilities in Spain to be far superior than at home, especially when it comes to waiting times, the implementation latest technologies and staff providing attentive care.
Furthermore, the fact that Spain's dentists provide their services on a private practice basis also means there is stiff competition between dental clinics to deliver the utmost in patient care. Not only does this mean the expertise is second-to-none, but clinics strive to provide the best environment for their patients—hence the contemporary facilities and latest technologies. Price is also an important factor, with patients generally benefiting from the competition between dental facilities.
That said, it is worthwhile doing a little research of your own when it comes to choosing a dental clinic overseas—and Dental Departures streamlines the process for you from start to finish. All the clinics listed on our website have already been pre-screened; dentist qualifications, professional memberships, legal/criminal records and patient reviews have all been verified by us. Our listings also include prices, clinic photos and location maps so you can compare facilities and make an informed decision on where is best for you.
Clinics you may want to take a look at for your dentures in Almeria include:
● Clinica Dental Alberto Fernandez & Ayora
What Does the Procedure for Dentures Entail? How Long Will I Need to Stay in Almeria?
It typically takes around a week for you to obtain your new dentures in Almeria, regardless of whether you are changing an existing denture or are completely new to dentures.
If you are new to dentures (and aren't that clued up on the terminology), you will need a set of full dentures if you have no teeth, or partial dentures if you only have some missing teeth.
Whether or not you need to have any teeth removed beforehand is another important consideration. If you do, then the gums will need time to heal, so a temporary "healing" denture, which is much lighter, will be fitted instead of a heavier permanent denture. This means that you will return to Almeria in a few months' time to get your new, permanent denture. If this is a problem, you can always opt to have your teeth removed by a dentist at home, but it must be at least three months before you travel to Almeria.
Once you arrive in Almeria, you should have a consultation with the dentist who will examine your mouth and carry out diagnostic tests. Impressions will then be taken of your mouth which are sent to an external laboratory where your dentures are made-to-measure.
Then, it's back to the same clinic once your dentures have been received from the laboratory—typically within a week although a lab using the latest CAD/CAM technologies can complete the treatment in a couple of days. The dentist will fit the denture and make any minor adjustments to the fit until they feel comfortable for you.
Is Getting a New Denture in Almeria a Good Option for a Dental Tourist?
The beauty of going abroad for dental care is the savings you can make—more than enough to cover flights and accommodation expenses. It also means you get to enjoy a holiday—in this case in one of Spain's most laid-back, historical cities.
Almeria has a fascinating history which can be seen in its architecture, including the Alcazaba—the Moorish fortress that dominates the skyline. Perched on a hillside, the colourful rooftops of the old Medina tumble down to the shores of the shimmering Mediterranean, where a promenade wraps around Almeria Bay (an ideal spot for walking and cycling). Behind the town is the only desert in Europe, which has doubled as the backdrop for many films over the years, including Lawrence of Arabia, Indiana Jones and the Last Crusade and The Good, The Bad and The Ugly.
Whether you plan to base yourself in the city or hire a car and explore further afield, the whole region has plenty to offer dental tourists and more than enough to keep you occupied in between your visits to the dentist.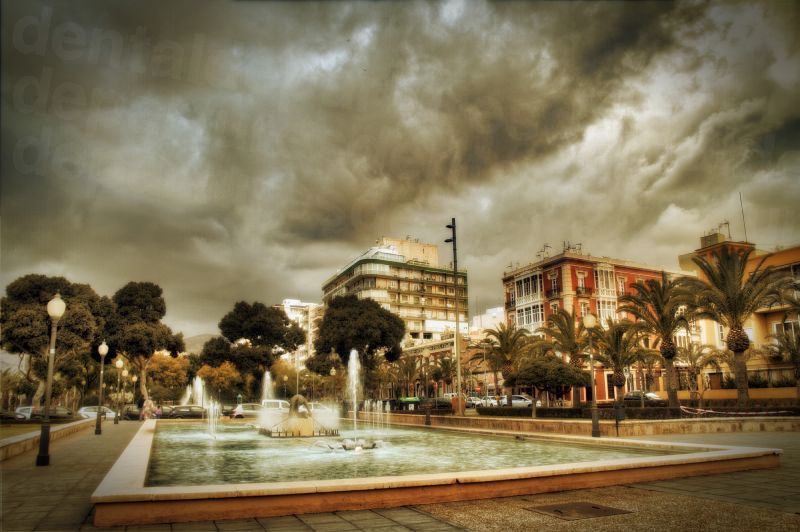 Booking Your Dentures in Almeria
Don't hesitate to get in touch with our Customer Care Team for further information about dentures in Almeria. You can ask for a free quote, book an appointment or discuss other services we offer, including finance and insurance. Other online booking options can be found below.
Sources:
International Standards Organization. Website accessed: 25 February 2019.
https://www.iso.org/about-us.html" target="_blank
Parker, Sid. Removable Full Dentures. Dear Doctor. Website Accessed 7 February 2019.
https://www.deardoctor.com/articles/removable-full-dentures/page3.php" target="_blank .
Full Dentures, Partial Dentures, Denture Care—Learn More. Colgate. Website Accessed 7 February 2019.
https://www.colgate.com/en-us/oral-health/cosmetic-dentistry/dentures/full-dentures-partial-dentures-denture-care-learn-more" target="_blank
Downer, Sorrel. Holiday Guide to Almeria, Spain. The Guardian. 1 September 2015.
https://www.theguardian.com/travel/2015/aug/29/almeria-spain-guide-hotels-restaurants-beaches" target="_blank
Blake, Elly. Cabin crew reveal the one thing you should NEVER do before flying. Express. 15 February 2018.
https://www.express.co.uk/travel/articles/919436/cabin-crew-flight-secrets" target="_blank