If you're looking to save money on new dentures, Turkey is a possibility if you combine it with a some time off away from home. That way, you'll get the best of both worlds as the cost of your dentures in Turkey will help to offset the cost of your holiday.
Is Getting a New Denture in Turkey a Good Option?
Absolutely. Most dental patients travel to save money, and you will certainly do that if you get your dentures in Turkey. Second, the procedure usually entails a two or more visits to the dentist, including consultation and assessment, taking impressions of your mouth and then fitting your dentures. This means you will have plenty of time to enjoy some time off in between trips to the dentist.
Where in Turkey Can I Get New Dentures?
We have partnered with dozens of dental clinics in well-established Turkish tourism destinations. Some are in popular beach resorts, like Izmir. Others are in the larger cities, like the capital, Ankara. And of course there are plenty of world-class clinics in Turkey's well-travelled capital, Istanbul.
Here are some locations and facilities you may want to consider for your dental care:
1: Istanbul— Dentakademi Dental Healthcare Center
Istanbul remains a favourite of tourists both young and old. A mesmerizing city, culturally quite different from Western cities, Istanbul is cosmopolitan and with all the amenities and services you would expect of any 21st century metropolis. With centuries of history evident all around, it's a great city to explore cultures East and West.
Narrow, cobbled streets provide are crowded with shops, bazaars and cafes, while the Topkapi Palace, the mosques and other buildings are a must-see, having stood the test of time for centuries. You can take a ferry across the Bosphorus from the European side of the city to the other side in Asia, or even take a day's excursion to one of Turkey's many wondrous sites, like Ephesus or Cappodocia. With some of the world's oldest markets and the robust cuisine of Turkish dining, you'll never be short of things to see and do while in Istanbul.
2: Izmir– Dentaglobal Dental Clinic
Tucked far into the Aegean coast, Izmir is an ancient city founded by the Greeks. Because the Romans, Alexander the Great and the Ottomans have also occupied the city, Izmir offers expansive archaeological sites to explore, including the Roman Agora of Smyma and the Kadifekale (Velvet Castle) on the hilltop overlooking the city. Izmir's bazaar dates back to the 17th century, offering a maze of shops, coffee houses, restaurants and workshops, while the iconic seafront promenades (the Kordons) are great for walkers and cyclists, filled with cafes, restaurants and bars.
Further down the coast are some lovely beaches, and Izmir is well-located if you to go on an excursion to Ephesus.
Wellness-seekers won't want to miss Izmir's offering of healing thermal baths, some still in operation ; others offered in the many spa hotels in and around town.
3: Antalya– Alanya Dental Center
Antalya's yacht-filled Old Harbour is surrounded by Roman fortifications and the hillside district of Kaleici, a preserved old city of narrow lanes and restored Ottoman houses. The largest city on Turkey's Mediterranean coast, you are treated to long beaches to the east and west, as well as dramatic mountain and sea views. The city is convenient for visiting other locations along the Turquoise Coast as well as ancient ruins at Perge, Side and Aspendos—so plenty to see and do while you are in the town for your new dentures.
What about Quality? Can I Rely on Dentists in Turkey?
Dental clinics providing services to international patients are generally modern, very well-equipped and staffed by skilled medical teams.
However, at Dental Departures, we don't just take pot-luck when we partner with dental clinics. All of the clinics on our website have been thoroughly vetted by us to ensure they offer reliable services. Our background checks include verifying dentist qualifications and professional memberships and we publish patient reviews, clinic photos and prices to help you make an informed choice.
Turkey has high healthcare standards, with more JCI-accredited hospitals and clinics than any other European country. Dentistry has followed, with tens of thousands of dental travellers from more than 100 countries receiving treatment in Turkey every year.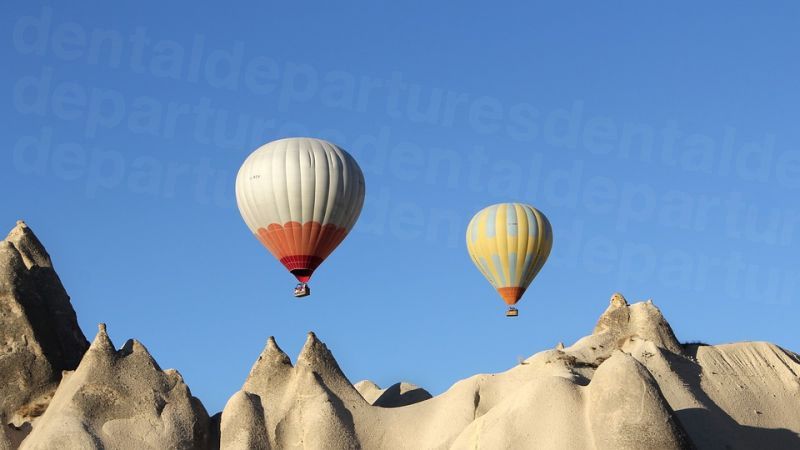 How Much Do Dentures Cost in Turkey?
The cost of dentures in Turkey is substantially less than you would pay at home—making more than enough savings to help pay for your holiday.
| | | | | | | |
| --- | --- | --- | --- | --- | --- | --- |
| | UK £ | EUR € | US $ | CAN $ | AUS $ | NZ $ |
| Full Acrylic Dentures Prices at home | 1,400 | 1,600 | 1,800 | 2,026 | 2,400 | 2,560 |
| Full Dentures Prices in Turkey | 600 | 830 | 783 | 941 | 1,057 | 1,100 |
Further Information
Browse our listings and find a clinic. If you want to book an appointment you can go right ahead and book online, or you can ask for a free, no obligation quote. If you'd like to find out more about getting dentures in Turkey, please get in touch with a member of our Customer Care Team who will always be happy to assist you.