Last fact-checked: 14 October 2020
Get your new dentures in the United Arab Emirates at a top-rated clinic—and make some substantial savings compared to what you'd expect to pay back home.
Dental Departures only partners with reliable facilities that we personally visit, so you can book your appointment with confidence.
What Is the Procedure for Dentures? How Long Will I Need to Stay in the UAE?
You should allocate a minimum of a week if you're planning on getting dentures in the UAE. If you're new to dentures, you will need full dentures (if you have no teeth at all), or partial dentures (if you have only some missing teeth).
The procedure begins with a consultation and examination, as well as diagnostic tests to assess the structures in your mouth and your jaw bone. The dentist will also need to take impressions of your mouth. These are sent to a laboratory where your new dentures are custom-made. The dentures will be sent back to your dentist after a few days and you can make an appointment to have them fitted (your chosen clinic should be able to facilitate this part of the process).
If you have teeth that need to be removed, you may want to think about having them extracted at home before you travel to the UAE. Your mouth and gums will need at least 3 months to heal, and you will need to wear a temporary, lighter, 'healing' denture during this time, rather than the heavier permanent denture. If you are not planning on returning to the UAE or simply want to minimize travel expenses, we advise considering this option.
Is It Possible to Receive Quality Dentures in the UAE?
Private dental facilities in the UAE are, generally, exceptionally good. A lot of investment has seen the UAE grow as a dental tourist destination with sleek, contemporary clinics offering a touch of luxury, as well as quality treatments that patients can rely on. Many of the dentists in the UAE have carried out some of their training overseas, in Europe or the United States, and so they are able to offer the same level of care as one would expect of a dentist at home.
Why Book with Dental Departures?
We always recommend that you take the time to find a clinic you can trust, a task which is made all the more simple when you book with Dental Departures. We have years of experience working with dental providers across the world, and only partner with those that are reliable.
We carry out background checks on all of our providers, investigating legal/criminal records, verifying dentist qualifications and confirming professional memberships. We visit clinics personally and we collate real patient reviews. These are published on our site, with clinic photos, prices and location maps, providing you with the information you need.
Popular clinics for dentures in the UAE include:
[Note: All of the above-listed clinics are located in Dubai, the UAE's most populous and popular city.]
Is the UAE a Good Location for Dental Tourists?
The UAE is attracting lots of visitors, particularly those who want a touch of luxury. It is renowned for its amazing hotels—and is the only country in the world with an 8-star hotel (in Dubai).
For wining, dining and shopping, you'll find plenty of options in Dubai and Abu Dhabi. However, the UAE is not just about ultra-modern cities; those feeling a little more adventurous will find that the interesting, "old Arabia" is never too far away.
The UAE is a great spot for a holiday and there'll be lots to interest you while you wait for your new dentures.
How Much Do Dentures Cost in the UAE?
The table below shows how much dentures cost in the UAE, compared to a dental clinic at home:
| | | | | | |
| --- | --- | --- | --- | --- | --- |
| | UK £ | EUR € | US $ | AUS $ | NZ $ |
| Full Dentures Prices - at home | 1,400 | 1,600 | 1,800 | 2,400 | 2,500 |
| Full Dentures Prices – UAE | 700 | 820 | 841 | 1,194 | 1,243 |
( Note: the prices above are approximate. Please check our current prices for your selected clinic for estimated costs of treatment).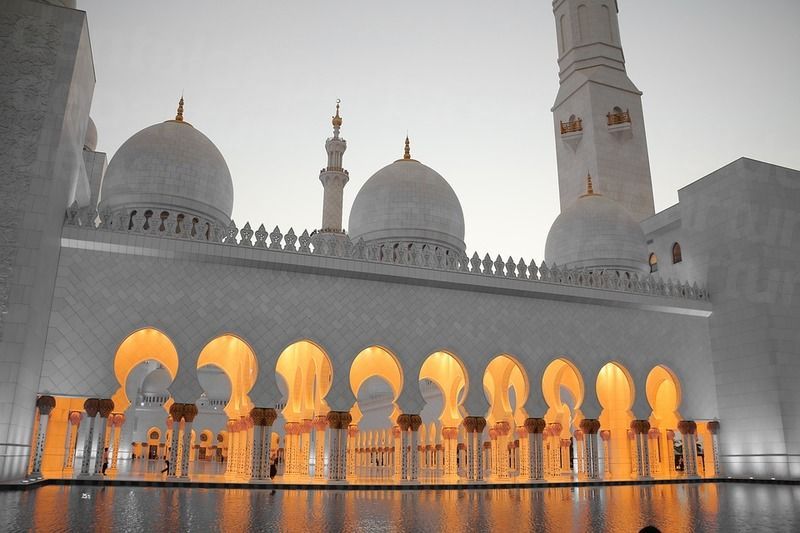 Further Information About Dentures in the UAE
Book an appointment online quickly and conveniently for your dentures in the UAE, or contact Dental Departures' Customer Care Team if you'd like further information, or to find out about other services, including hotels, finance and insurance. There is never a charge to you for our patient services.
Sources:
Parker, Sid. Removable Full Dentures. Dear Doctor. Website Accessed: 7 February 2019. https://www.deardoctor.com/articles/removable-full-dentures/page3.php
Full Dentures, Partial Dentures, Denture Care—Learn More. Colgate. Website Accessed 7 February 2019. https://www.colgate.com/en-us/oral-health/cosmetic-dentistry/dentures/full-dentures-partial-dentures-denture-care-learn-more
Gotter, Ana. What to Expect During a Tooth Extraction. Healthline. 9 February 2018. https://www.healthline.com/health/tooth-extraction
Workman, Daniel. Drugs and Medicine Exports by Country. World's Top Exports 2 November 2019. http://www.worldstopexports.com/drugs-medicine-exports-country/