Last fact-checked: 29 March 2020
If you are long overdue a vacation but haven't decided where to go, why not choose a country like Colombia where you can take advantage of quality, affordable dental care? Stop neglecting your dental health—it's time to take remedial action and bag your dental fillings in Colombia, all while soaking up the rich culture, history and biodiversity of this exciting South American country.
Let's face it: the cost of dental care remains scarily high for many Americans and many other nationalities. This is why it has become perfectly normal to look for alternative ways of obtaining the care you need at a price you can afford, with quality in mind at the same time. While perhaps not the ideal scenario, booking that much-needed trip to the dentist while on vacation in Colombia can save you several hundred dollars, if not more.
What Are the Prices for Fillings in Colombia?
The table below shows how much you can save on the price of a filling in Colombia compared to back home.
| | | | | | |
| --- | --- | --- | --- | --- | --- |
| | US $ | CAN $ | UK £ | EUR € | AUS $ |
| Dental Fillings Cost at home | 130 | 272 | 100 | 114 | 181 |
| Dental Fillings Cost in Colombia | 60 | 80 | 46 | 52 | 83 |
Are Dentists in Colombia Reliable?
The dentists in Colombia listed on Dental Departures have training on a par with the United States. Students attend medical school for five years, and then spend a year in public service before they become fully-fledged dentists. In these days of globalization, training methods are becoming more standardized throughout the world, and new techniques are rapidly disseminated across the globe.
All the same, we appreciate that it can be rather nerve-wracking to undergo dental treatment at the best of times, let alone in a foreign country. This is why we have made it our mission to provide detailed information about our dental providers to help you make an informed, confident decision about your choice of destination and clinic.
We do a number of background checks, including onsite visits and legal/criminal checks. We confirm professional memberships and dentist qualifications, as well as publish real patient reviews. Our listings also contain prices, clinic photos and maps, so there's a wealth of information at your fingertips to help.
What About the Material Used to Make the Fillings? Can I Get White Fillings in Colombia?
Yes, of course. These days, people are just as concerned about how their teeth look from a cosmetic point of view, and so aesthetic treatments, like natural tooth-colored fillings, are widely available.
How Long Will a Filling Take?
Unless you are having a particularly large filling, then most only take minutes to carry out. The dentist will first give your mouth a thorough check-up and, if a filling is required, will numb the area around the tooth in question with local anesthetic. After the anesthetic takes effect (usually within a few minutes), the dentist begins to remove the decayed areas on the tooth. The cavity left behind is then cleaned before the is filling applied. It usually requires another few minutes to set before the dentist can begin to shape the filling so it feels comfortable.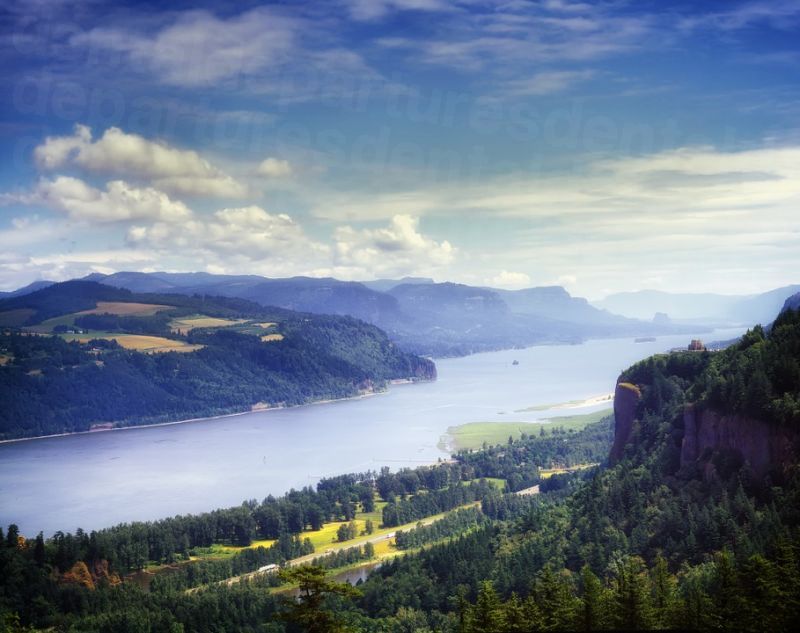 Is Colombia a Safe Country for Dental Tourists?
If you've chosen one of the reliable clinics listed on Dental Departures then your dental care should be no riskier than attending a clinic at home.
As a vacation destination, then Colombia, as most people know, has had its problems in the past, but things are very much safer now and many countries' governments have removed any travel warnings about traveling to Colombia as a tourist.
Of course, like any other destination in the world today, there are always risks. Big cities always have areas best not frequented at night and if you are planning to drive between cities then stick to daylight hours. Colombia's rejuvenated cities, including the capital Bogota, Medellin, Cali and Cartagena, are all good places to go with now-thriving tourist scenes.
Can You Recommend Good Dental Clinics in Colombia?
There are scores of good-quality clinics throughout the country, so it really depends on where you want to go. However, this may prove more difficult than you think as Colombia has so many great locations to choose from. The more adventurous can always visit several locations as domestic flights are reasonably inexpensive. Here are some suggestions if you are stuck for ideas:
BOGOTA:
A busy, congested capital city (much like capitals anywhere in the world). However, it's worth spending some of the time here as Bogota is a thriving metropolis where the entrepreneurial spirit has transformed run-down neighborhoods into lively, vibrant communities where you can get a craft beer, shop in chi-chi boutiques and sample the local cuisine in any number of eateries. There's much more to discover in and around the city but for even the basics, like entertainment and other services, Bogota does it well.
For a good dentist, take a look at Dentica by Cristina Suaza.
MEDELLIN:
Likewise, Medellin. Once infamous as the hometown of drug baron Pablo Escobar, the city is trying to shake off this tag—and so far it seems to be doing it well. Thanks to the city's transformation, it has been dubbed a "hipster tourist destination" and awarded the City of the Year for innovation in its urban developments and social programs.
A simple cable car system connects the four corners of the city now, making it easy to get around, and providing incredible views of the surrounding mountains and coffee plantations. Ecology is high on the menu, and the city is rich in calming outdoor spaces, like the Barefoot Park where you are encouraged to go shoeless and treat your feet to some stimulating walkways. A great dining scene and lively nightlife go without saying, and you could also take in a soccer match or learn salsa at DanceFree in El Poblado.
Check out International Smiles for reliable dental work, including affordable fillings.
CARTAGENA:
Colombia's gorgeous port city on the Caribbean Coast is one of the country's highlights. The old-walled city boasts cobbled streets and colorful, colonial houses, shops, bars and restaurants. It's perfect for lazy strolling. Beaches can be found in town, but if you want that white, Caribbean island sand then you're only a speedboat ride away.
Centro de Implantes de la Costa by Julio Oliver is one of the most popular dental clinics with our patients.
How Do I Get Started?
Speak to Dental Departures' Customer Care Team for more information about getting fillings in Colombia. They can also book a free appointment for you and provide a no-obligation quote.
Sources:
Russell, Lesley. The Dental Divide—And the Decay of Public Dental Services. ABC News. 21 August 2018.
https://www.abc.net.au/news/2018-08-21/dental-divide-and-the-decay-of-public-dental-services-medicare/10138870" target="_blank
McGreevey, William Paul et al. Colombia. Encyclopaedia Britannica. 8 January 2019.
https://www.britannica.com/place/Colombia" target="_blank
Friedman, Sophie. How to Spend Two Days in Bogota. Forbes. 13 December 2018.
https://www.forbes.com/sites/sophiefriedman/2018/12/13/how-to-spend-two-days-in-bogota/#1b47b14b293d" target="_blank
Stewart, Stanley. How Medellin went from Murder Capital to Hipster Holiday Destination. The Telegraph. 4 January 2018.
https://www.telegraph.co.uk/travel/destinations/south-america/colombia/articles/medellin-murder-capital-to-hipster-destination/" target="_blank
Riggs, Trisha et al. Which Cities Are The World's Most Innovative? Urban Land. 1 March 2013.
https://urbanland.uli.org/economy-markets-trends/which-cities-are-worlds-most-innovative-winner/" target="_blank