Last fact-checked: 27 March 2020
One of the best ways to save money on dental care is to book in with a dentist while you're on vacation. So why not get your dental fillings in Medellin, Colombia? As well as saving some cash, this is a chance for you to maintain your dental health (which you were perhaps putting off back home due to rising costs) while exploring an exciting city that's currently enjoying a new lease of life.
Is Medellin Safe?
Medellin is safe—both for your dental care and as a tourist destination. If you still imagine it as portrayed in Narcos then you'd be a little wide of the mark these days. Medellin has changed immeasurably for the better and has since been 'Best Destination in South America' at the World Travel Awards.
Like in any major city, you have to be a little aware of surroundings—stick to busy, well-lit streets at night and get taxis or Ubers rather than walk long distances after dark. Otherwise, the homicide rate in Medellin, once the worst in the world, has fallen dramatically by around 80%. Medellin is a safe, happening and surprisingly friendly city to visit, either on vacation, part of a backpacking trip through South America or as a dental tourist.
As far as the standard of dental care is concerned, you needn't be concerned—as long as you choose a reliable facility. Dentists in Colombia are well trained and the clinics that cater to dental tourists tend to be modern and equipped with the latest technologies. Clinics adhere to recognized health and safety protocols, and the same materials and brands your dentist at home uses are also available to dentists in Colombia.
We do understand your trepidation about booking an appointment at a dentist overseas. This is why we have simplified the process of finding a good dentist. All the facilities listed on our website have been quality checked; we run background checks, including onsite visits, and verifying dentist qualifications and professional memberships. You can also find prices, patient reviews, maps and clinic photos on our site—giving you all the information you need to find a dentist that is "the one" for you.
Take a look at some of the popular clinics in Medellin where you can get your dental fillings:
What Are the Prices for Fillings in Medellin?
Below, you can see how much you can save on fillings prices in Medellin compared to at home.
| | | | | | |
| --- | --- | --- | --- | --- | --- |
| | US $ | CAN $ | UK £ | EUR € | AUS $ |
| Dental Fillings Cost at home | 130 | 272 | 100 | 114 | 181 |
| Dental Fillings Cost in Medellin | 34 | 45 | 26 | 29 | 47 |
Not sure where to look online to find these low rates? Then book through Dental Departures to take advantage of our guaranteed best prices.
What About the Material Fillings are Made From? Can I Get Tooth-Colored Fillings in Medellin?
These days, how good your teeth look goes hand in hand with your dental health. So, it's important that the end result is aesthetically pleasing as it is affordable. It's no good being able to get less expensive fillings abroad if they don't compare with the ones you would get at home, i.e. they are the silver, amalgam ones rather than white composite, or porcelain. Fortunately, there's no need to worry on that score because the dentists in Colombia will provide you with tooth-colored fillings.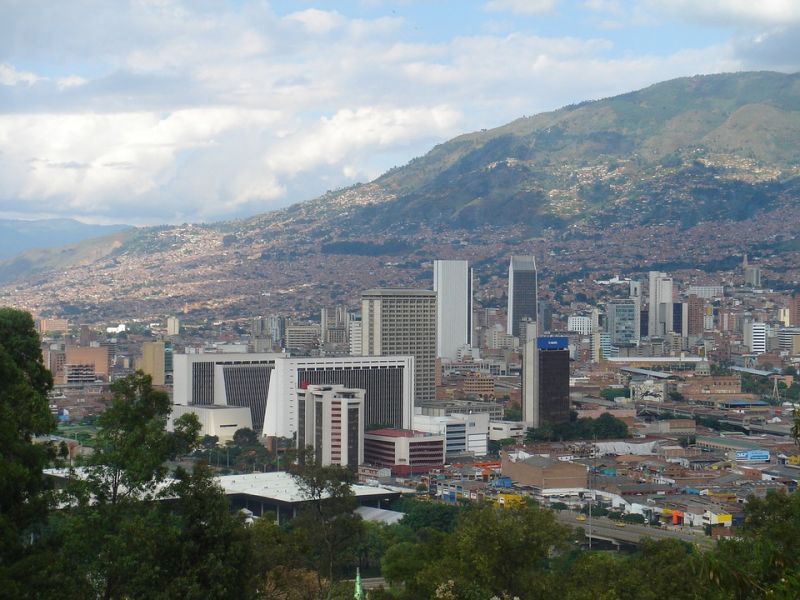 How Long Will a Filling Take?
Fillings typically only take 10-15 minutes to carry out, unless it's a particularly large one. The fillings procedure involves a local anesthetic being administered to numb the local area around the tooth to be filled. The dentist will then begin to remove the decayed areas from around the tooth. The cavity will be cleansed and the appropriate filling material applied. Once it has hardened, the dentist will shape the filling until it is smooth and comfortable.
Is a Filling a Good Treatment for Dental Tourists?
Absolutely. Fillings are one of the commonest general dental procedures. It is considered to be a preventive treatment, in that taking care of areas of decay on the tooth can prevent further, more troublesome problems from developing, like a root canal.
The treatment is quick to carry out—taking around half an hour in the dentist's office. Once your local anesthetic has worn off, there is no real downtime after having a dental filling, although you'll probably want to take things easy for the rest of the day. This means you can quickly get on with enjoying your vacation in Medellin and discovering everything that this amazing city has to offer.
Booking Fillings in Medellin: Where to Start?
You can book your appointment directly through Dental Departures for your dental fillings in Medellin, any time of the day or night, at no charge to you. Our Customer Care Team is also on hand around the clock to answer any questions you have. There is never a charge to you for our services.
Sources:
Stewart, Stanley. How Medellin went from Murder Capital to Hipster Holiday Destination. The Telegraph. 4 January 2018. https://www.telegraph.co.uk/travel/destinations/south-america/colombia/articles/medellin-murder-capital-to-hipster-destination/" target="_blank
World Travel Awards Winners 2016. World Travel Awards™. Website accessed 10 January 2010 https://www.worldtravelawards.com/about" target="_blank
Lee, David. The Ultimate List of Things to Do in Medellin. Nomadic Matt. 29 November 2018. https://www.nomadicmatt.com/travel-blogs/ultimate-list-medellin/" target="_blank .
Fillings: The Basics. Colgate. Website accessed 10 January 2019. https://www.colgate.com/en-us/oral-health/procedures/fillings/fillings-the-basics" target="_blank