Last fact-checked: 15 February 2020
If you're struggling to find an NHS dentist at home, it's possible to combine your everyday care with a holiday by booking in for a dental filling in Georgia . Maintaining dental health is so important; if you can make big savings abroad, why not go for it?
Why Are Dental Fillings So Important for Dental Health?
One of the cornerstones of modern dentistry is preventive care—that is to say, regular treatments to prevent the onset of disease. Preventive care can encompass
● Dental check-ups , with current guidelines stating you need at least two per year
● Professional teeth cleaning to combat gum disease
● Dental fillings to prevent tooth cavities which can lead to bigger problems requiring more extensive dental work, such as root canal therapy.
Do I Need a Tooth Filling?
A tooth filling is required when your tooth has decayed. Decay is caused by acid-producing bacteria that stick to the teeth, particularly if you are a lover of sticky, sugary and starchy food and drinks, which provides the perfect environment for them to thrive. The acid these bacteria produce erodes tooth enamel, causing decay.
Your dentist will be able to spot signs of decay, which is why regular check-ups are recommended.
How Much do Fillings Cost in Georgia Compared to the UK and Eire?
Check out the table below to compare dental fillings prices in Georgia and your home country:
| | | | | | |
| --- | --- | --- | --- | --- | --- |
| | UK £ | EUR € | US $ | AUS $ | NZ $ |
| Dental Fillings Price at home | 157 | 182 | 200 | 296 | 314 |
| Dental Fillings Price in Georgia | 68 | 80 | 80 | 87 | 137 |
What Is the Procedure for a Filling? How Long Will it Take?
A dental filling is a straightforward, quick procedure , and should only take minutes to carry out. If your dentist confirms that you need a filling, they will first discuss with you the various materials available before the actual procedure begins. Silver amalgam used to be the most common choice in the past (because it was cheap and hard-wearing) but there are now health concerns over its mercury content. Most patients nowadays seek alternative filling materials that don't contain mercury . These include materials like composite resin or porcelain that provide a much more cosmetically-pleasing, tooth-coloured result.
Once you have chosen your filling material, a local anaesthetic is administered around the tooth to be treated, which numbs the area. After a few minutes, the dentist will begin to remove the decayed area(s) with a hand tool, or laser.
After all the decay has been removed, the surface of the tooth is cleaned and the filling material applied directly to the cavity. After a few moments, once the material has hardened, the dentist can shape and smooth the filling so that it feels comfortable to complete the treatment.
Can I Rely on the Quality of Dental Care in Georgia?
The standard of dental education in Georgia is on par with what dentists at home receive, and clinics treating international patients tend to be contemporary, modern and equipped with the latest state-of-the-art diagnostic and therapeutic technologies. Our partner facilities also adhere to world-renowned standards on hygiene and safety, so there's no need to worry that dental care in Georgia is in any way inferior to what you are used to at home.
Why Should I Book an Appointment for Dental Fillings in Georgia with Dental Departures?
1: Dental Departures has helped over 100,000 patients obtain high-quality dental care overseas.
2: We have more than 10 years' experience working with the best dental providers in the world.
3: Before we partner with any dental facility, we carry out our own background checks which include:
● Onsite visits
● Checking legal/criminal records
● Verifying dentist qualifications and experience
● Authenticating professional memberships
4: Dental Departures offers a Best Price Guarantee , so you'll pay the lowest prices available.
5: Our website includes plenty of information to help you make your own informed choice of what clinic is right for you with prices, location maps, clinic photos and more. Take a look at our top-rated clinics in Georgia for dental fillings:
● Confident Dental Clinic Tbilisi
● Clinic Elite Dentistry and Aesthetics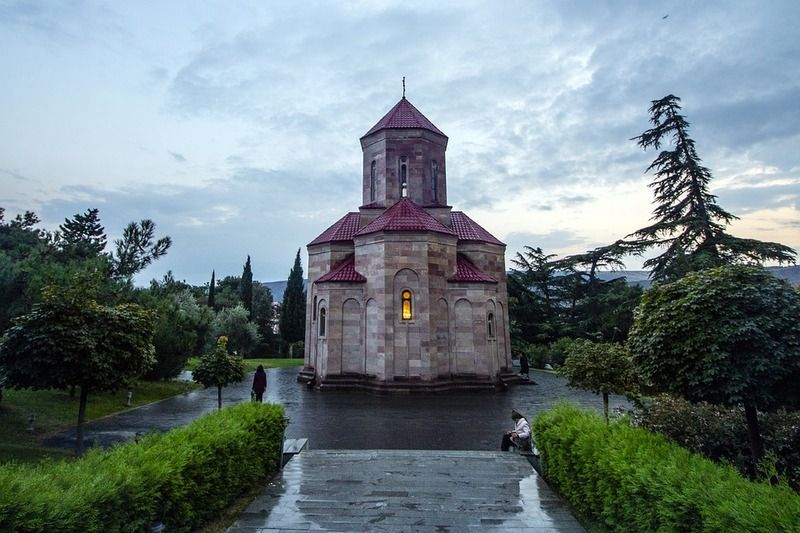 Booking an Appointment for Dental Fillings in Georgia
After you've looked through our growing number of listings in Georgia, book your appointment online through our site in a matter of minutes. Have any questions about filings in Georgia? Then don't hesitate to contact Dental Departures'Customer Care Team today.
Sources:
Dental Check-Ups. National Health Service. 17 September 2018.
https://www.nhs.uk/live-well/healthy-body/dental-check-ups/" target="_blank
Burhenne, Mark. Know Before You Go: Teeth Cleanings. Ask the Dentist. 30 August 2019.
https://askthedentist.com/know-before-you-go-teeth-cleanings/" target="_blank
Nordqvist, Christian. What is Periodontitis? Medical News Today. 18 January 2018.
https://www.medicalnewstoday.com/articles/242321.php" target="_blank
Higuera, Valencia. Tooth Cavities. Healthline. 15 November 2017.
https://www.healthline.com/health/dental-oral-health-cavities" target="_blank
Murphy, Caleb. How to Fill a Cavity: Materials, Process, Pain and Cost Authority Dental. 5 April 2019.
https://www.authoritydental.org/cavity-filling" target="_blank
Dental Amalgam: A Health Risk? Colgate. Website accessed 23 January 2020.
https://www.colgate.com/en-us/oral-health/procedures/fillings/dental-amalgam-a-health-risk" target="_blank