Last fact-checked: 14 October 2020
Find a top-quality clinic for dental fillings in the United Arab Emirates. Dental Departures has years of experience working with trustworthy dental providers across the world. Book your appointment with us at a verified clinic and take advantage of our best price guarantee.
Why Are Dental Fillings So Important to Dental Health?
In modern dentistry, preventive dental care is one of its foundations. Preventing disease is much more preferable than treating diseases once they have become established. Regular visits to the dentist help to check for signs of early gum disease, as well as nip small problems in the bud, preventing further treatment and discomfort down the line. This is why check-ups, professional teeth cleaning and remedial treatments like fillings are so important.
When Would I Need a Tooth Filling?
Our mouths are full of bacteria. A regular oral hygiene routine, combined with avoiding eating and drinking sticky, sugary food and drinks, will help create a hostile environment for bacteria, making it difficult for the bacteria to stick to our teeth and produce the acid that erodes our teeth, leading to decay.
Tooth fillings are required when your tooth has decayed. Decay is caused by acid-producing bacteria that are present in our mouths all the time. They thrive in sticky, sugary environments that make the surfaces of our teeth easier for bacteria to adhere to. Keeping our mouths clean by brushing and flossing twice daily creates a hostile environment, preventing bacteria from multiplying and reducing the amount of acid they produce from attacking our teeth. It is this acid that leads to tooth decay.
While brushing and flossing are an essential part of your dental care routine, visiting a dentist regularly for a check-up, teeth cleaning and remedial treatments like fillings is an essential part of this regime.
How Much do Fillings Cost in the UAE Compared to the UK and Eire?
Check out the table below to compare dental fillings prices in UAE and your home country:
| | | | | | |
| --- | --- | --- | --- | --- | --- |
| | UK £ | EUR € | US $ | AUS $ | NZ $ |
| Dental Fillings Price at home | 157 | 182 | 200 | 296 | 314 |
| Dental Fillings Price in UAE | 90 | 104 | 118 | 172 | 180 |
[Please note that these are approximate, averages prices collated at the time of writing.]
What Is the Procedure for a Filling? How Long Will it Take?
Most dental fillings only take a matter of minutes to carry out, and you'll probably be in and out of the dentist's office in less than an hour (or even faster if there is no wait).
The dentist will first numb the area around your tooth with local anesthetic before commencing the procedure. Any decayed areas are removed with a laser or specialised hand tool. The ensuing cavity is cleaned thoroughly and the filling material applied. Once the filling material has hardened, the dentist smooths, shapes and polishes the filling to complete the procedure.
While silver-coloured amalgam fillings used to be the filling material of choice several decades ago (mainly because it was hard-wearing and inexpensive) most people these days opt to have tooth-coloured porcelain or composite filling material instead. Metal fillings are still available, including gold, but amalgam is less popular, not only because it doesn't provide a good cosmetic result, but also because of the controversy over mercury used in the material.
Why Should I Trust a Dentist in the UAE?
Dental tourism to the United Arab Emirates, particularly in Abu Dhabi and Dubai, is on the up. There has been major investment into private dental services in the UAE, and clinics offer luxurious facilities, skilled dentists and exclusivity—something that many visitors to the country have come to expect.
Before you book an appointment with a dentist overseas, it's always worth your while carrying out your own research. However, with Dental Departures, you don't have to. All of the clinics listed with us have already been pre-screened, so you can book your appointment with complete confidence.
Our background checks investigate legal/criminal records, verify dentist qualifications and confirm professional memberships. We visit clinics personally, collate real patient reviews and include prices, clinic photos, location maps and other information to help you to make your own informed decision in terms of where to go.
Top-rated clinics for your dental fillings in the United Arab Emirates include: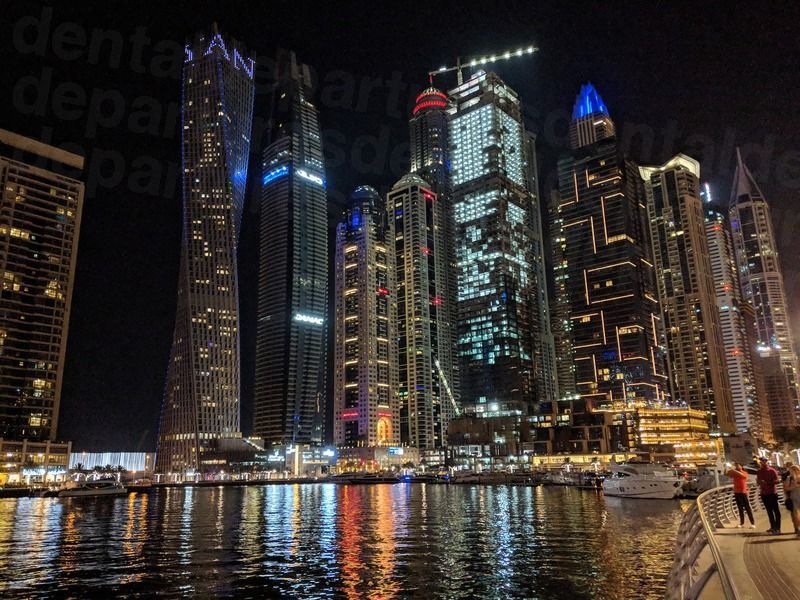 Booking an Appointment for Dental Fillings in the United Arab Emirates
Book an appointment online for your dental fillings in the UAE. You can do so right here at any time of the day or night, at no charge to you If you'd like to know more or have any questions, don't hesitate to contact Dental Departures' Customer Care Team.
Sources:
Dental Check-Ups. National Health Service. 17 September 2018. https://www.nhs.uk/live-well/healthy-body/dental-check-ups/
Nordqvist, Christian. What is Periodontitis? Medical News Today. 18 January 2018. https://www.medicalnewstoday.com/articles/242321.php
Burhenne, Mark. Know Before You Go: Teeth Cleanings. Ask the Dentist. 18 January 2019. https://askthedentist.com/know-before-you-go-teeth-cleanings/
Murphy, Caleb. How to Fill a Cavity: Materials, Process, Pain and Cost Authority Dental. 5 April 2019. https://www.authoritydental.org/cavity-filling
Dental Amalgam: A Health Risk? Colgate. Website accessed 8 November 2019. https://www.colgate.com/en-us/oral-health/procedures/fillings/dental-amalgam-a-health-risk