Last fact-checked: 20 February 2020
Need a root canal but shocked by the price at home? What if we told you that you can save 75% (and quite possibly your tooth) by going for your root canal in Colombia? Dental tourism is the way to go if you want to enjoy a vacation and save a fortune on your dental care. With Dental Departures, you can choose from a range of quality-checked, reliable clinics throughout Colombia and dozens of other countries.
Do I Need a Root Canal Treatment?
If you're lucky, you may have no symptoms whatsoever. However, the majority of us are usually alerted to a problem when we experience swelling in the gum line near the infected tooth. This swelling may be painful and contain pus, potentially resulting in an unpleasant taste in your mouth.
A dentist can confirm whether you have an infection of the soft tissue in the center of your tooth, which will require a root canal procedure to fix. It is at this point that you find out how expensive the treatment is, particularly if the tooth needs a crown to strengthen it after the root canal procedure has been carried out. And the eventual result for those that choose not to get a root canal? One less tooth, as it will need to be extracted to prevent recurring painful infections.
Is a Root Canal Treatment Suitable for Dental Tourists?
Although root canals can often be completed in one visit, the procedure an take up to two weeks to complete, depending on whether there is an infection, and whether you need an extraction. The treatment is usually no more painful than a filling, although it does take a little longer to carry out.
One thing to bear in mind is that if your tooth is infected, the treatment cannot be carried out until the infection has been cleared up. If you are planning on traveling to Colombia for your treatment, obtaining antibiotics from a dentist at home to treat any infection beforehand is advisable. This way, once you arrive in Colombia, the dentist there can start the procedure immediately and you will save travel and accommodations costs.
What Happens During a Root Canal Procedure?
A root canal procedure is needed to solve problems such as infections in the root of the tooth (or dental pulp). Before modern root canal treatment, infections in the dental pulp usually led to the extraction of the tooth. Nowadays, a dentist is able to find and treat problems in the dental pulp without removing the tooth.
Root canal treatment takes one or two visits, dependent upon a number of factors, such as how extensive the damage is, or whether there is an abscess. These days, with the help of CAD/CAM and 3D milling, root canals can be performed by some clinics in a day or two.
After your treatment is complete, your root canal won't feel any more uncomfortable than having a dental filling.
On the first visit, x-rays are taken to confirm the extent of any disease and the damaged pulp is removed from the tooth under a local anesthetic. The tooth is thoroughly cleaned and filled with flexible plastic material. A temporary filling is put on top of that to prevent debris from entering the tooth and causing infection.
On the second visit, your dentist will then fit a permanent filling or a crown, providing there is no sign of infection. There is no reason why, with regular check-ups and good oral hygiene, your root canal treatment cannot last a lifetime.
What are the Prices for Root Canals in Colombia?
The price of a root canal in Colombia is around a quarter of what you'd pay at home, as the table below demonstrates:
| | | | | | |
| --- | --- | --- | --- | --- | --- |
| Root Canal Cost (including post core and standard crown) | US $ | CAN $ | UK £ | EUR € | AUS $ |
| Root Canal Cost - home | 2,200 | 3,000 | 1,700 | 1,900 | 3,000 |
| Root Canal Cost - Colombia | 550 | 729 | 428 | 479 | 764 |
Will the Quality of a Root Canal in Colombia be as Good as Home?
Colombia's medical and dental tourism arrivals are on the up. This is predominantly due to the low prices but also the fact that it is now a safe, accessible country with a highly-rated healthcare system confirmed by the World Health Organization. Choose a reliable facility and there is no reason why your root canal treatment in Colombia should be any less successful than it would be if you'd decided to have the treatment at home.
Clinics treating international patients use the most up-to-date technologies, such as CAD/CAM (computer-aided design/computer-aided manufacture), 3D/CT scanning and digital x-rays; highly-skilled dentists also follow world-renowned protocols on hygiene and safety.
We always recommend that you do your own research, but when you book with Dental Departures you know that you will be seen at a quality-checked clinic that has already been background-checked by us. We look at legal/criminal records as well as confirm professional memberships and dentist qualifications. We also carry out onsite visits and you can view clinic photos, read real patient reviews and compare prices on our site.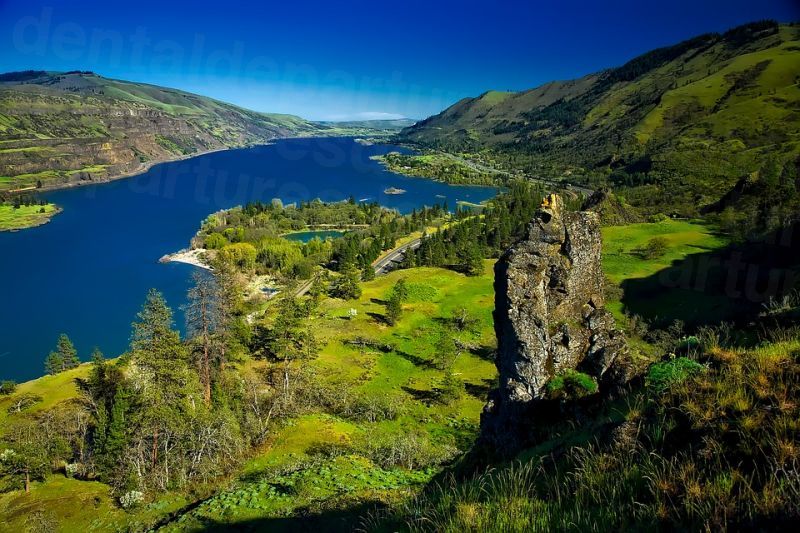 Where Are Your Clinics Located in Colombia?
Our listed clinics are located in some of the major tourist destinations throughout Colombia. Take a look at our destination overviews below:
Bogota:
Colombia's capital is a thriving, creative hub that gets better and better every season. Entrepreneurs and collectives across the capital ensure that neighborhoods are brimming with new ideas, innovations, and events, like LGBTQ-friendly tango dancing, chic shoemaking and artisan coffee houses. There is much to discover and plenty on offer once you have finished your dental care. Recommended clinics in the capital include Dentica by Cristina Suaza.
Medellin:
Once the home of infamous drug baron Pablo Escobar, Medellin is now shaking off its dubious past with a rebirth that is staggering in terms of both speed and what is being achieved. Flower festivals, botanical gardens, incredible restaurants and a hip and happening culture are just some of the things flooding the city with forward-thinking creativity that is poles away from its past. Check out one of the best dental clinics in the city, International Smiles.
Cali:
Often referred to by its shorter moniker, Santiago de Cali has been described as the Havana of South America thanks to its ubiquitous salsa clubs, only matched in number by Cuba and Puerto Rico. Historic neighborhoods, like the bohemian San Antonio "old Cali", boast hipster shops, restaurants and bars catering to locals and visitors who want to experience the eclectic, laid-back style of the city. For dental treatment, visit Estetica Dental Avanzada if you're in town.
Booking Root Canals in Colombia with Dental Departures
You can book an appointment for a root canal in Colombia online. Check out our prices—we guarantee you'll always pay the lowest with Dental Departures, or get in touch with our Customer Care Team if you'd like to know more, or get a free quote.
Sources:
Burhenne, Mark. Know Before You Go: Root Canals. Ask the Dentist. 14 July 2018. https://askthedentist.com/root-canals-know-before-you-go/" target="_blank
Fasbinder, Dennis J. 25 Years of Chairside CAD/CAM Dentistry. Journal of the American Dental Association. 1 June 2010.
https://jada.ada.org/article/S0002-8177(14)63733-8/abstract" target="_blank
International Organization for Standardization. Website accessed 2 January 2019.
https://www.iso.org/about-us.html" target="_blank
McShane Wulfhart, Nell. 36 Hours in Bogota. New York Times. 27 December 2018.
https://www.nytimes.com/2018/12/27/travel/what-to-do-in-bogota.html" target="_blank
Stewart, Stanley. How Medellin Went From Murder Capital to Hipster Holiday Destination. The Telegraph. 4 January 2018.
https://www.telegraph.co.uk/travel/destinations/south-america/colombia/articles/medellin-murder-capital-to-hipster-destination/" target="_blank
De Klerk, Jacqui. Looking for Culture in Cali. The Telegraph. 4 January 2018.
https://www.lonelyplanet.com/colombia/southwest-colombia/cali/travel-tips-and-articles/looking-for-culture-in-cali/40625c8c-8a11-5710-a052-1479d2755edb" target="_blank
Dental Tourism in Latin America: 5 Top Countries for High-Quality Care at Low Cost. International Living. 9 August 2017.
https://internationalliving.com/top-5-latin-american-countries-for-low-cost-high-quality-dental-care/" target="_blank