Last fact-checked: 20 February 2020
Enjoy a vacation as a dental tourist and save on the cost of your root canal in Cartagena de Indias, Colombia. If the prices at home are unaffordable, then one way of obtaining this important (and tooth-saving treatment) is by combining your dental care with a vacation. It's the best of both worlds!
With Dental Departures, you can find reliable, background-checked dentists. And if that's not enough, our best price guarantee ensures you'll never pay more than you should.
What Is a Root Canal Treatment and Why Would I Need It?
While there is a glimmer of hope that in the future root canals may be a thing of the past thanks to stem cell treatment. Until that day arrives this relatively straightforward procedure is the only way of saving your tooth if the soft tissue in the center of the tooth has become infected. The treatment, while reasonably innocuous, strikes fear into many people (and not just because of the price), although the procedure is usually no worse than a filling.
Once the soft tissue in the pulp chamber of the tooth becomes infected, the only way of permanently getting rid of the infection is to remove the soft tissue, right down to the tooth roots. The soft tissue is made up of nerves and blood vessels, which, after the tooth has emerged, serve little purpose. This means that they can be safely removed without causing any detrimental effects.
If you forego the treatment, you will be susceptible to recurrent infections, leading to only one other possible scenario: having that precious tooth extracted.
What Are the Signs that I May Need a Root Canal?
Some people have no symptoms whatsoever, and it will only become apparent with an x-ray or scan that there is a problem. The majority of people, however, do have symptoms that usually begin with a tingling sensation around the tooth in question, followed quickly by swelling in the gum line. This may be painful and infected material may seep out, leaving a rather unpleasant taste in the mouth.
What Happens During the Root Canal Procedure?
The root canal procedure is nothing to be alarmed about. Your dentist will numb the area around the tooth with a local anesthetic (just like when you get a filling) so you won't feel pain during the treatment. Unlike a filling, which generally only takes minutes to carry out, a root canal may take two to three hours, depending upon how many roots need to be cleaned. Your dentist will be able to tell you once x-rays have been taken.
The first thing to be aware of is that the dentist will not perform a root canal procedure if you currently have an infection. Thus, if you are planning on having the treatment in Cartagena, it is best to start a course of antibiotics prescribed by a dentist at home before you travel. This way, when you visit the dentist in Cartagena, your infection will have cleared up. If your dentist in Cartagena needs to prescribe antibiotics, your treatment won't be carried out until seven to 10 days after that. So, if time is of the essence, make sure you sort this before you leave home.
Once you have made it to Cartagena (ideally infection-free), the dentist will first examine your mouth and take further x-rays to confirm there is no infection and to identify the tooth roots. A local anesthetic will be administered to numb your mouth and the procedure will commence once the anesthetic takes effect.
A hole is made in the top of the tooth so the dentist can access the pulp chamber in the center. All the infected material is meticulously removed from the chamber, as well as the roots and their canals. The resulting cavities are thoroughly cleansed and antibiotic medication may be placed in the tooth once the cleaning process is finished. A temporary filling is used to seal the tooth to prevent any further bacteria from entering the tooth. It's temporary because the dentist will want to ensure no infection remains before they seal it with a permanent filling, which is harder to remove should the need arise.
You will return to the dentist who will remove the temporary filling and replace it with a permanent one, providing that everything is satisfactory.
Sometimes, the structure of the tooth can be compromised after a root canal treatment, making it weak. In this instance, the dentist may recommend a crown; if your dentist has CAD/CAM technology, it is possible for this to be carried out, onsite, while you wait. Otherwise, impressions will be made and sent to an external lab, which may add another couple of days onto the time you'll need to spend in Cartagena.
What Are the Prices for Root Canals in Colombia?
The price of a root canal in Colombia is around a quarter of what it costs at home, as the table below demonstrates:
| | | | | | |
| --- | --- | --- | --- | --- | --- |
| Root Canal Cost (inc. post core and standard crown) | US $ | CAN $ | UK £ | EUR € | AUS $ |
| Root Canal Cost - home | 2,200 | 3,000 | 1,700 | 1,900 | 3,000 |
| Root Canal Cost - Cartagena | 1,000 | 1,300 | 775 | 885 | 1,400 |
Will the Quality of a Root Canal in Cartagena Be as Good as at Home
Providing you choose a reliable dentist, there is no reason why your root canal treatment in Cartagena shouldn't be successful. The key is to spend time researching your dentist and clinic to ensure they have the necessary skills, qualifications and reputation to carry out the procedure you require.
To assist you in your search, Dental Departures have already carried out background checks, including criminal/legal record checks, verification of dentist qualifications and confirmation of professional memberships. We also carry out onsite visits and publish real patient reviews on our site. With clinic photos, maps, prices and other information available to you on our listings pages, you can choose your dentist with confidence, knowing that everything checks out and that you are booking with a reliable facility, like these:
● Centro de Implantes de la Costa by Julio Oliver
Is Cartagena a Good Location for Dental Tourism?
Absolutely. The walled Old Town is laid back, ideal for just taking in the scenery and checking out the attractions. You can have a drink on top of the wall while you watch the sunset over the Caribbean, and there are oodles of good restaurants and shops for spending lazy days pottering about. It's UNESCO listed and steeped in history, so there's no end of interesting sites.
If you prefer things a little more lively with clubs and discos where you can dance the night away (preferably before your treatment), head to Boca Grande or El Laguito. While there are city beaches in town, you might want to get a speedboat to one of the nearby islands for typically Caribbean palm-fringed, white, sandy beaches.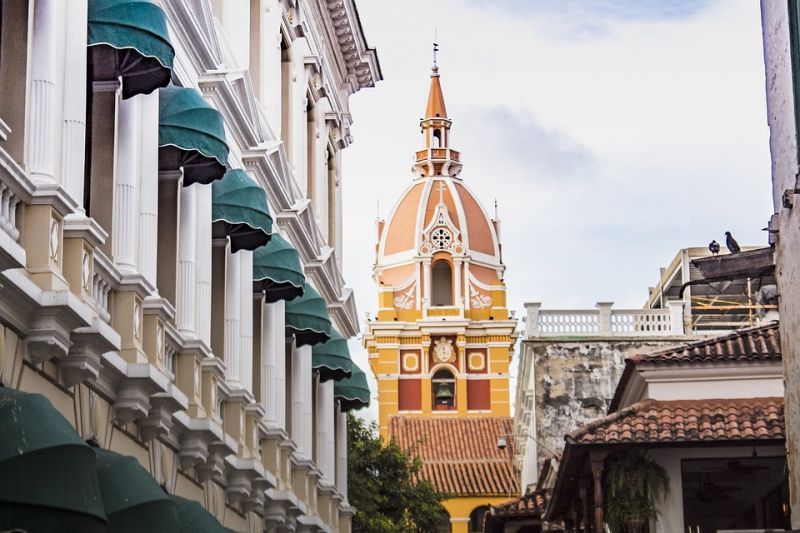 Getting Started with Your Dental Trip to Cartagena
Speak with our Customer Care Team if you'd like to know more, get a free quote or book an appointment for a root canal in Cartagena, which can also be done directly online through our site. You can always ask us about hotels and other services, like insurance and finance.
Sources:
Pratt, Elizabeth. Stem Cell Treatment Could Spend the End for Root Canals. Healthline. 7 February 2018.
https://www.healthline.com/health-news/stem-cell-treatment-for-root-canals#1" target="_blank
Burhenne, Mark. Know Before You Go: Root Canals. Ask the Dentist. 1 February 2019.
https://askthedentist.com/root-canals-know-before-you-go/" target="_blank
Port, Fortresses and Group of Monuments, Cartagena. UNESCO. Website accessed: 30 January 2019.
https://whc.unesco.org/en/list/285" target="_blank
Hamre, Bonnie. All About Traveling in Cartagena. Trip Savvy. 12 September 2018. https://www.tripsavvy.com/cartagena-colombia-guide-1635583" target="_blank
Tooth Abscesses - Overview. Mayo Clinic. Website accessed: 1 March 2019.
https://www.mayoclinic.org/diseases-conditions/tooth-abscess/symptoms-causes/syc-20350901" target="_blank