Last fact-checked: 5 April 2020
Root canal treatment can be notoriously expensive in some parts of the world. The good news is that you can save a substantial amount of money on your root canal in Split, Croatia.
This gorgeous location on the Dalmatian Coast offers visitors a historic, lively location and could be just the ticket to combine your trip with a holiday to make the most of your savings.
Do I Need a Root Canal?
Although some people who require a root canal are asymptomatic (have no symptoms), the majority usually have a sign of gum infection, which often starts as a tingling sensation in the area around the infected tooth. A swelling soon follows, which may be painful and ooze infected material (pus) if touched.
A root canal is indicated if the soft tissue in the centre of your tooth (the pulp chamber) becomes infected. This happens when the hard, outer shell of the tooth has been breached by bacteria, usually through tooth decay or gum disease.
Once an infection has established itself inside the tooth, it is unlikely to go away of its own accord, which is why root canal treatment is required.
The treatment removes the infected material from the tooth, cleans it and seals it, preserving the structure and function of the tooth. If you want to keep the tooth, there is no viable alternative to a root canal procedure.
What Is the Procedure for a Root Canal?
If a tooth extraction is required, it may require more than one visit to the dentist to complete a root canal procedure. The actual root canal procedure is usually carried out in one session, although it may take several hours, depending on how many roots and root canals the tooth has. Some teeth have one root and one root canal, whereas large molars may have three roots, each with two root canals.
In this latter situation, the procedure will obviously take longer. The stages can be summarised as:
If you have pain or swelling and visit the dentist, they will examine the area and take diagnostic tests, such as an x-ray. This will confirm damage to the tooth and whether an infection is present. The dentist will prescribe a course of antibiotics to clear up the infection. A root canal treatment cannot be carried out unless the tooth is infection-free.
Although a root canal might rank up there with the most feared dental procedures, it really is no worse than a dental filling, albeit it takes a while longer to carry out.
The procedure is carried out under a local anesthetic, and so the dentist will inject the anesthetic into your gum line to numb the area before the treatment commences. A small hole is made in the top of the tooth, allowing the dentist to access the chamber in the centre. Infected and dead material is removed from here first and then the dentist will do the same with each root and canal until all the decayed material has been removed. The inside of the tooth is then cleaned, and an antibiotic may be placed in the empty cavity before the hole is sealed with a temporary filling. A temporary filling is placed to ensure there is no sign of infection.
On your return, the dentist will examine the tooth, possibly taking further x-rays, and if all is fine will replace your temporary filling with a permanent one. This is carried out under local anaesthetic, just like a normal dental filling.
Not all patients will require a crown after their root canal. However, if your dentist has had to remove a large amount of decay from your tooth, it may weaken the tooth's structure and so a crown will be needed to strengthen it.
Is a Root Canal Treatment Suitable for Dental Tourists?
Yes. Every year hundreds of thousands of patients travel to destinations around the world for specialty dental care, including root canals. In fact, following your treatment, you'll find it easy to carry on with everyday activities as there is little, if any, pain following a root canal procedure.
The entire procedure, from infection removal to placement of a crown (if required) may well add up to more days than you have available on your trip to Split. [2]
If you have an infection prior to your visit, you will want to proceed with a course of antibiotics that lasts between seven and 10 days. That way, the dentist can begin treatment almost as soon as you arrive.
If you do need a crown, a dental clinic that offers CAD/CAM (computer-aided design/computer-aided manufacture) may be a good option as some clinics can manufacture your crown in-house while-you-wait, rather than having to send out to an external laboratory, which usually takes longer.
How Much Does a Root Canal Cost in Split Compared to the UK and Ireland?
You can make huge savings on the root canal prices in Split compared to home:
| | | | | | |
| --- | --- | --- | --- | --- | --- |
| Root Canal Cost | UK £ | EUR € | US $ | CAN $ | AUS $ |
| Root Canal Price—at home | 900 | 1,000 | 1,100 | 1,474 | 1,600 |
| Root Canal Price—Split | 90 | 100 | 110 | 147 | 160 |
Note: the prices above are approximate. Please check our current prices for your selected clinic for estimated costs of treatment.
What About the Quality of Dental Care in Split? Is it Reliable?
The best dental clinics in Split offer excellent services to international patients. Facilities are modern, dentists highly-skilled and all follow internationally-recognised protocols on hygiene and safety.
Here's the "but:" you need to take time to do your own research when choosing a facility. With Dental Departures, this is a given as we have already pre-screened all the facilities you see listed on our website by checking dentist qualifications, verifying professional memberships, carrying out clinic visits and collating real patient reviews. Our listings also include clinic photos, prices and location map to help you make a decision as to the best clinic in Split for your root canal treatment.
Check out three of our most highly-rated clinics in Split offering affordable root canal treatment:
● Dentech, Dental Centar Radovic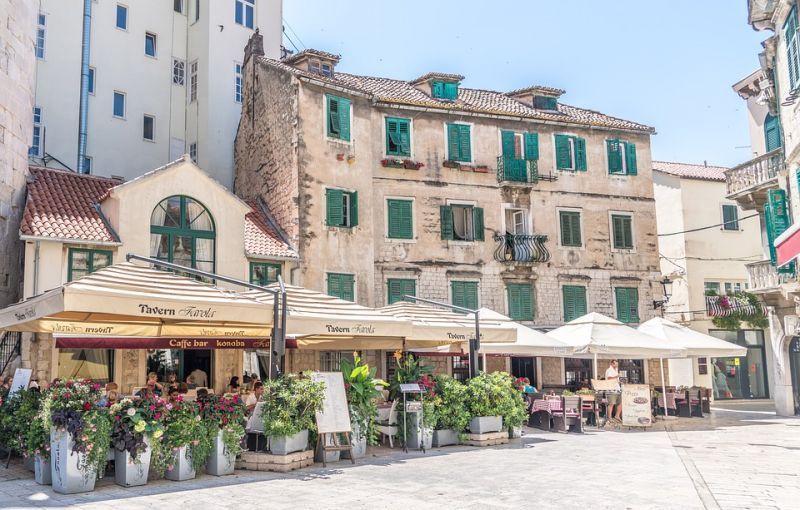 How Can I Book?
Speak to Dental Departures' Customer Care Team to find out more about root canals in Split. They can also book an appointment, obtain a free, no-obligation quote or give you details about the other services we offer, such as dental insurance, hotel bookings or finance.
Other convenient online booking options (at no charge to you) are displayed below.
Sources:
Burhenne, Mark. Understanding the Root Canal. Ask the Dentist. 13 June 2018https://askthedentist.com/understanding-the-root-canal/" target="_blank
Chouman, Sarah. Gum Disease: Stages, Prevention and Treatment. Ask the Dentist. 14 June 2019 https://askthedentist.com/gum-disease-stages-prevention-treatment/" target="_blank
Dental Health and Root Canals. Web MD. Website accessed 17 June 2019. https://www.webmd.com/oral-health/guide/dental-root-canals#2-5" target="_blank
Galan, Nicole. How Long Will Pain Last After a Root Canal? Medical News Today. 20 February 2018. https://www.medicalnewstoday.com/articles/320978.php" target="_blank