Last fact-checked: 5 April 2020
You can save more than two-thirds on the cost of a root canal in Zadar, Croatia with Dental Departures. Whether you're off on holiday or plan to visit specifically for a root canal procedure, we can help you find a quality-checked dentist that offers reliable dental care that's on par with what you're used to at home.
Do I Need a Root Canal?
When a tooth infection raises its ugly head, you're probably going to about it, or at least your local dentist will upon a quick glance inside your mouth...
It often forms in the gum, around the infected tooth. Symptoms may first appear as a tingling sensation, but that will soon develop into a swelling which often becomes painful. A visit to the dentist and diagnostic tests will usually confirm if there is an infection in the soft chamber in the middle of a tooth that a root canal is required.
How Do Teeth Become Infected?
The pulp chamber becomes infected when bacteria, which are always present in our mouths to some degree, manage to gain access to the centre of the tooth. This may be caused by the tooth being damaged in some way with chips, cracks or as a result of tooth decay. If you have gum or periodontal disease, another possibility is that an infection in the gum has traveled into the tooth root and through the root canals. This is why regular check-ups with a dental health professional and preventive treatment can keep your oral health in tip-top condition and stop conditions like this from developing.
What Does Root Canal Treatment Actually Entail?
A root canal procedure may involve several different stages, dependent upon your own individual circumstances.
If you have an infection, the first thing your dentist will need to do is prescribe antibiotics to clear it up. No dentist will carry out the root canal treatment unless the infection has gone. Antibiotic courses usually take at least a week; thus, if you want to minimise the time in which you physically need to be in Zadar for treatment, undergoing a course of antibiotics prescribed by a dentist at home (before you travel to Zadar) is a good idea.
Although it fills many people with dread, the actual root canal procedure is little worse than a filling—it just takes longer to carry out. Each tooth has between one and three roots, and each root has one or two root canals. All must be cleared of debris and so it stands to reason that the more roots and root canals your tooth has, the longer it will take your dentist to complete.
Root canals are carried out under local anaesthetic. Once the area around your infected tooth is numb, the dentist begins by making a hole in the top of the tooth. From here, the pulp chamber can be accessed and the methodical process of removing the infected material begins. Once the chamber is cleared, the work to clear the infected material from the roots and root canals is carried out. When all are clear, the dentist will clean the ensuing cavities thoroughly and seal the tooth with a temporary filling.
The filling is temporary so the dentist can make sure no infection is present before filling the tooth permanently, as permanent fillings are more difficult to remove than temporary ones.
Your dentist will ask you to return after several days (giving you ample time to take it easy in Zadar, exploring the sights or lazing on the beach).
It's also worth noting here that if the tooth in question has been badly damaged, or the dentist has had to remove a large area of decay, then you may need to have a crown to strengthen the tooth. In the past, this may have added another few days to the proceedings. However, many modern dental clinics now have CAD/CAM (computer-aided design/computer-aided manufacture) technology, which means that they don't have to wait for an external lab to make your crown. In fact, with an onsite laboratory, your dentist will be able to measure, manufacture and fit your crown while you wait.
Is a Root Canal Treatment Suitable for Dental Tourists?
● Absolutely. Providing you can get started with antibiotics before you travel to Zadar then your root canal procedure can be completed in around a week. Even if you need a crown, this will still be feasible if your dentist has CAD/CAM as mentioned above.
● The root canal procedure is not painful and just like a filling, the worst you should experience after it is a numb mouth for a few hours while you wait for the local anaesthetic to wear off.
● Zadar is an enjoyable city for any traveller. It's home to a mix of ancient architecture, modern glass-fronted restaurants and an eclectic nightlife scene. It's also a major port city with terrific views over the Adriatic Sea; ferries can take you to nearby islands with beaches (almost) rivaling the Caribbean. Hiking enthusiasts will discover many adventure trails in the surrounding national parks which makes Zadar a good, all-round destination for everyone.
Can I Rely on the Quality if I Head to Zadar for a Root Canal?
Zadar's dental facilities are good. Dentists are well-trained and highly-skilled working in clinics equipped with the latest diagnostic and therapeutic technologies. But, by booking an appointment with Dental Departures you can take the guesswork out of whether the facility you have chosen is up to the standard you require. This is because we have already pre-screened all the facilities listed on our website, checking dentist qualifications and professional memberships; collating real patient reviews and carrying out onsite visits.
Our listings also include prices, clinic photos and location maps to give you all the information you need to form your own opinion of what dental facility is best for you.
Some of the clinics in Zadar you may want to consider for your root canal include:
How Much Do Root Canals Cost in Zadar?
Compare root canal prices in Zadar with your home country:
| | | | | | |
| --- | --- | --- | --- | --- | --- |
| Root Canal Price | UK £ | EUR € | US $ | CAN $ | AUS $ |
| Root Canal Price – at home | 900 | 1,000 | 1,100 | 1,400 | 1,600 |
| Root Canal Price - Zadar | 230 | 300 | 333 | 438 | 484 |
Please do note that the prices above are approximates calculated at the time of writing. Check out our individual clinic listing pages for more up-to-date figures for a range of dental treatments.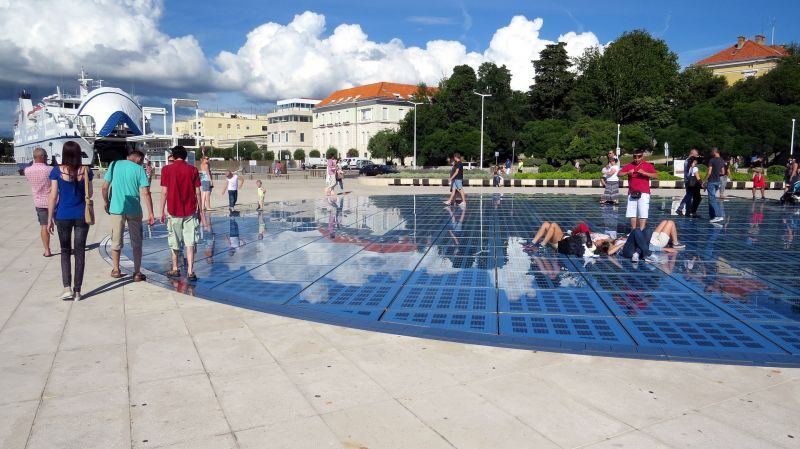 Further Information about Root Canals in Zadar:
Speak to Dental Departures' Customer Care Team for further information about root canals in Zadar or if you'd like a free, no-obligation quote. You can also scroll down to see a number of other convenient online booking options.
Sources:
Higuera, Valencia. Tooth Cavities. Healthline. 15 November 2017. https://www.healthline.com/health/dental-oral-health-cavities" target="_blank
Nordqvist, Christian. What is Periodontitis? Medical News Today. 18 January 2018. https://www.medicalnewstoday.com/articles/242321.php" target="_blank
Dental Check-Ups. NHS. 17 September 2018. https://www.nhs.uk/live-well/healthy-body/dental-check-ups/" target="_blank
Burhenne, Mark. Understanding the Root Canal. Ask the Dentist. 13 June 2019 https://askthedentist.com/understanding-the-root-canal/" target="_blank.
Sandilands, Tracey. CAD/CAM Dentistry: What is it? Colgate. Website accessed: 24 July 2019. https://www.colgate.com/en-us/oral-health/basics/dental-visits/cad-cam-dentistry--what-is-it-" target="_blank