Mexico City's Distrito Federal dentists offer affordable dental care in historic surroundings and is only a few hours away flying time away for many Americans. A sophisticated city, it is the perfect place for general and specialist dental care and a destination that is extremely popular for many visitors from north of the border. Let Dental Departures help you find your quality-checked dentist in The City of Palaces.
Distrito Federal is the seat of federal powers in Mexico, and based in Mexico City, which is often referred to as Mexico City D.F., or simply D.F.
As Mexico's capital City, Mexico City Distrito Federal is the most important financial, political, cultural and educational center in the country, and one of the most significant in north America. Although an enormous city, tourists flock to its historic center, which offers culture, heritage, glamour and modernity in a compact and easy navigable area.
The National Palace, Metropolitan Cathedral, Palace of Fine Arts and El Zocalo square provide a stunning colonial backdrop to a city rich with cultural heritage and contemporary development. The Aztecs discovered the city and this, as well as the Spanish influence, is evident everywhere.
The Aztec temple ruins of Templo Mayor (Major Temple), the Spanish colonial-era buildings and modern architecture sit within meters of each other, alongside other influences, such as the Champs Elysees-inspired Paseo de la Reforma and one of the longest single avenues in the world, the Avenida de los Insurgentes.
Beautiful parks, vibrant squares and extensive shopping facilities ensure the Distrito Federal delivers modern and sophisticated facilities in a historic setting. Dental patients are assured of receiving similarly high-class dental care in clinics equipped with the latest technology and most up-to-date amenities.
Where is Distrito Federal, Mexico?
Mexico's capital city is is located in Central Mexico. It is found in the Valley of Mexico, on the site of the drained Lake Texcoco, surrounded by mountains and volcanoes.
Why visit a dentist in Distrito Federal?
For visitors from North America frequent, low-cost flights into Mexico City ensures its status as one of Mexico's premier destinations. It is a modern city with all the mod cons you would expect with services, facilities and other amenities on a par with what you get at home.
The historic center is obviously a big draw for tourists. Its museums and galleries are cultural highlights, while its parks and squares provide visitors with plenty of places to relax and watch the world go by. Visit a dentist here and you are never too far away from the action.
If you're looking for a dentist who is affordable but also reliable then at least one of our dentists in the Distrito Federal should fit the bill. We background check our verified dentists, so anyone booking an appointment through us can always rely on getting a dentist who has had criminal and legal record checks, as well as their qualifications. We list our dentists' qualifications and their area of expertise on our site, along with clinic photos, virtual tours, real patient reviews and prices so you can compare and choose who is best for you.
Booking with us also guarantees you the best prices. Take a look:
• Average cost of a single dental crown in the US $1,200, At a Distrito Federal dentist as little as $250
• Average cost of root canal, post and crown in the US$2,200, At a Distrito Federal dentist only $650
• Average cost of dental implant and crown in the US$3,900, At a Distrito Federal dentist around $1,000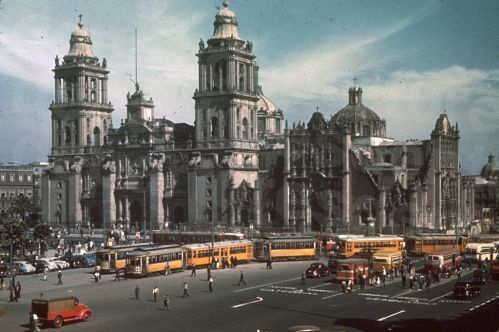 (Image by: Chalmers Butterfield)
Where to stay?
You will be spoilt for choice on places to stay in the Distrito Federal. Treat yourself to 5* boutique hotel luxury but without the expense for less than $100 per night per room. If you're on a budget there are clean but basic hotels for less than $20 a night and within reasonable distance of the popular historic center.
Some of our dentists offer free or discounted hotel or apartment accommodation, depending on what the duration or type of dental treatment is, so please enquire about this. Many of our clinics also offer free hotel or airport transportation, for your added convenience.
Is it safe?
Yes – there are currently no US governmental travel advisory warnings for Mexico City Distrito Federal. We recommend that you take ordinary common-sense precautions over the safety of your person and belongings like you would in any unfamiliar city anywhere else in the world.
The Distrito Federal is bustling, cosmopolitan and historic and your enjoyment of it poses no more threat to your safety (and in many instances less) than visiting some of America's cities.
Is the quality of care the same as back home?
The quality of care by dentists in Mexico is as good as it is at home, providing you do your homework and make sure you choose a reliable dentist. This is where we strive to provide you with dentists who we are confident in, and who have been background-checked so we know their qualifications and areas of expertise. Alongside our clinic visits and real patient reviews this information is all freely available for you to compare, and to make an informed choice.
Quality can actually encompass a number of factors, which together contribute to your overall experience – and because we are all individuals with different expectations, some factors may be more important to some and less important to others. This is why we present the information for you to make your own choice – it may be important for you to have an American Dental Association dentist; or the use of new technologies or equipment may be one of your preferences; or a lot of positive patient reviews may interest you – whatever it is, we give you the option to decide.
What happens if something goes wrong? Does my dental care have guarantees or warranties?
All of Dental Departures' verified dentist offer guarantees or warranties for your peace-of-mind. The length of the warranties differ from clinic to clinic, and also depending on what treatment you have, but some clinics offer lifetime warranties on dental implants, for example, which is obviously something to bear in mind if you are worried about the quality of treatment here.
We work hard to ensure our dentists offer high-quality services that are just as good as anything you would get at home. We know that very occasionally things can go wrong, but as a commitment to our customer-care ethos we will endeavor to get any problem you have resolved quickly.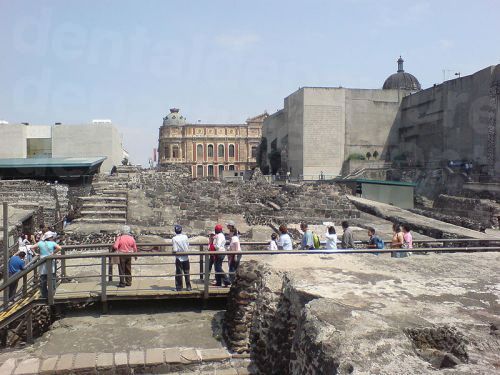 (Image by: Soman)
Do I need to speak Spanish?
Mexico City may be the largest Spanish-speaking city in the world but with its many visitors and established migrant communities you are likely to hear different tongues spoken all over the city. English is widely spoken in the tourist areas, hotels, restaurants and shops and our dental clinics have English-speaking staff so you won't find it a problem being understood.
What payment methods are accepted by most dental offices?
Our dentists all accept US cash, but other payments vary from office to office. Our website has details of each clinic's accepted payments so please check the clinic page of your specific dentist to see whether debit cards, credit cards or checks are preferred. Please bear in mind that a small processing fee of between 3-4% is sometimes added to credit card payments.
Is my US or Canadian Dental Insurance accepted?
Before you travel you should check with your insurance provider if they allow 'out-of-network' care. If they do, you will be able to have your treatment in Mexico D.F. and reclaim the costs when you get home.
Please make sure to get the appropriate documentation and forms from your insurance provider to bring with you. Your dentist in Mexico will need to complete these for you to submit your claim.
When is the best time to visit one of our dentists?
Our dentists are open all year round, but depending on what your preferences are, you may want to organize your visit to coincide with either quieter or busier times, or when the weather suits you better.
Mexico's Distrito Federal has good weather throughout the year, but there are two distinct seasons – rainy from May to October and dry from November to April. The rainy season is the quietest time of year, but despite the sudden downpours it is still warm with plenty of sunshine in between the rain.
Is it handicapped accessible?
Mexico City D.F. is huge and one of the best ways of getting around is by taxi. In common with many of Mexico's cities, parts are wheelchair friendly but others aren't. The Mexican government is at the forefront of the disabled rights movement in the developing world, and while things are improving for disabled access, there is still some way to go.
You will find wheelchair-friendly hotels and shopping malls and other public places, such as the airport, but you may have to enquire before you go anywhere specific if you can get around. Some of the older historic buildings may prove to be difficult.
Most of our dentists are wheelchair accessible, and many offer pick-up and drop-off services to get you to and from your hotel to your appointment – speak to us about your requirements and we will make sure we get you to one of our dentists.
What is the downside? What should I know about visiting?
Visitors to the Distrito Federal should be aware that the city is a high altitude location, at around 2000 meters above sea level. The city is densely populated and at certain times of year, the high altitude and traffic may cause higher than normal smog levels. Although hard-hitting measures have been taken to combat the pollution, at busy times of the year it can still be a problem.
Dental patients should be aware that throughout Mexico local anesthesia is the standard pain relief medication, rather than sedation using gas (nitrous oxide). Gas sedation is available by prior arrangement with most of our clinics, so if you think you are going to need this (or anxiety medication such as valium) just talk to us about it so we can organize this with your dentist. As a licensed anesthesiologist's services are required for gas sedation it will cost an additional $400-$600.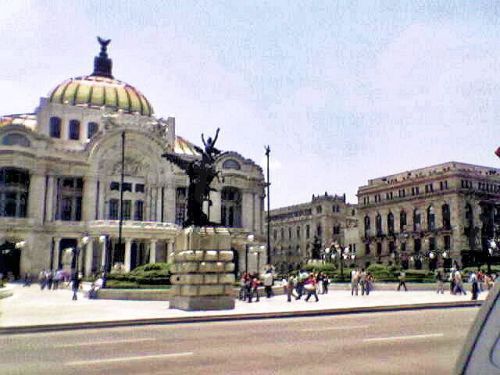 (Image by: Joaquin Martinez)
What else is there to do?
Although the historic center (Centro Historico) is full of famous landmarks and is a UNESCO World Heritage Site, the Distrito Federal is much more than its center. If you have some time to explore the city it is definitely worth visiting other neighborhoods which have their own attributes – flea markets in Tepito and La Lagunilla, Art Deco architecture in Condesa and Santa Fe's business and financial district. The 'floating gardens' of Xochimilco in the southern borough is also a UNESCO World Heritage Site and to miss out on some of these other neighborhoods is not making the most of what this city has to offer.
The D.F. is a cosmopolitan city with immigrant communities who have settled here from around the world in neighborhoods including Chinatown and Koreatown. Shopping is, as you would expect, extensive. Luxury goods retailers can be found on Polanco's Avenida Presidente Masaryk and Antara Polanco, as well as in other neighborhoods across the city. For a more bohemian experience of dining and outdoor shopping the neighborhoods of San Angel, Coyoacan, Roma and Condesa offer a relaxed ambiance.
Bus and walking tours are a popular way to see the city, but there are a number of other transport options that make a novel alternative. Segway tours takes you past all the attractions in the historic center; or you can get a bird's eye view of the Teotihuacan Pyramids in a hot air balloon or ride a gondola through the floating gardens at Xochimilco.
Getting there – flying in
Regular flights from around the world bring most people visiting the area to Mexico City's Benito Juarez International Airport.
Distance to town from airports and other destinations:
• Mexico City International Airport: 7 miles (11 kms), 15 minutes
• Tepotzotlan: 31 miles (50 kms), 47 minutes
• Cuernavaca: 50 miles (80 kms), 1 hour
• Puebla: 85 miles (137 kms), 1.5 hour
• Popocatepetl: 55 miles (88 kms), 1.75 hours
• Xochicalco: 64 miles (103 kms) 1.5 hours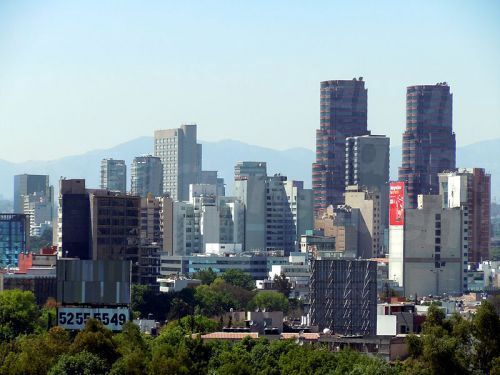 (Image by: Rutlo)
How do I book an appointment?
Call us on our toll-free number or book online for a dental appointment in Mexico City. Find a trustworthy and affordable dentist in Distrito Federal and other areas throughout the city with Dental Departures. We offer exclusive discounts and you will always pay the best prices available with us – guaranteed.
(Main Image: bdebaka)