Last fact-checked: 24 February 2020
Get a new smile on the Bay of Flags' newest purpose-built resort with our dentists in Nuevo Vallarta. Nestled between the Pacific Ocean and the Sierra Madre mountains this modern resort has everything for a fantastic holiday and excellent, affordable dentistry.
Nuevo Vallarta is sandwiched between Puerto Vallarta to the south – its older, traditional sister resort – and the Riviera Nayarit to the north, which is on the way to becoming one of Mexico's most attractive holiday destinations. Almost 200 miles of coastline dotted with islands and flanked by jungle and mountains makes it a beautiful part of the world to visit.
Nayarit's coast caters to all tastes–from luxury waterfront hotel complexes to camping in bohemian Sayulita and from humpback whale spotting to surfing there will be something to suit. Discover solitary beaches or be part of the vibrant night-time crowd in Puerto Vallarta; explore ruins and archaeological sites; do some bird watching and play golf in one of the world-class courses in the area.
Nuevo Vallarta was designed with tourists in mind to offer an unforgettable time in Mexico, with entertainment and activities arranged around the land and the water, and with the new marina bringing a touch of Venice to the Pacific Coast.
Along with internationally recognized restaurants, shopping, bars and discos you will discover everything here to make your stay a memorable one.
As a dental patient, you will find the facilities here to be first-class, from both a medical and a tourist perspective. This attractive location delivers contemporary treatments with reliable medical care in modern clinics, and Dental Departures can help you discover the best.
Where Is Nuevo Vallarta?
Nuevo Vallarta is a residential community located around 15 minutes north of Puerto Vallarta's International Airport. It is in the Bahia de Banderas (Bay of Flags), on the edge of the Pacific Ocean, and is well placed to access the resorts and amenities here and the neighboring state of Jalisco, as well as the resorts just north along the Nayarit Riviera.
Why Visit a Dentist in Nuevo Vallarta?
Nuevo Vallarta is a luxury resort located in a stunning part of Mexico. Pristine white beaches overlook the crystal Pacific Ocean, and two marinas lined with restaurants and bars create an exciting buzz. You will discover plenty of interesting towns around the area, and nearby chic Puerto Vallarta is not too far away with its heritage, culture and old-town ambiance.
If you are visiting for dental care you will find plenty of things to do–or not to do if you feel like doing nothing at all. Relax on the beach, stroll around the marina, take a boat trip or do some shopping – a holiday here is geared to treating yourself, and there are lots of ways to do just that.
If you are here to treat yourself to a new smile, you'll definitely find the prices something to smile about:
• Average cost of a single dental crown in the US $1,200; in Nuevo Vallarta around $350
• Average cost of root canal, inc post core and crown in the US $2,200; in Nuevo Vallarta around $650
• Average cost of dental implant and crown in the US $3,900; in Nuevo Vallarta $1,875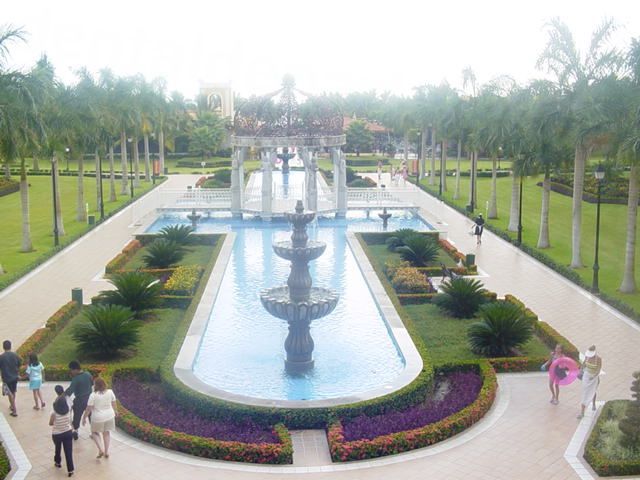 (Image by hectormtz)
Where to Stay?
You won't be short of accommodation options in and around Nuevo Vallarta. From all-inclusive resorts overlooking the ocean to small family-run hotels in the mountains, you're bound to find something just right for you. Head south toward Puerto Vallarta for nightlife and north toward the Riviera Nayarit for something more peaceful.
Is the Quality of Care the Same as Back Home?
At Dental Departures we background check all our dentists as well as performing criminal and legal checks. We also personally verify our dentists' qualifications and visit the clinics. Booking an appointment through Dental Departures means you have the benefit of our experience in finding a reliable dentist, but you can also check out our clinic listings for each clinic and see clinic photos, take virtual tours and read real patient reviews, giving you an opportunity to 'look before you book'.
We understand that traveling abroad for dental care is a big decision, and we make it as straightforward and as easy as we can. If you're still not sure or have any questions or concerns, we invite you to speak with a member of our knowledgeable Customer Care Team – they're more than happy to assist you.
If you take a look through our site you'll find lots of information regarding our dentists throughout Mexico. The key message is that our dentists are reliable. We only list clinics we would send our own families to – if we're not happy then we don't list them on our site.
Many of our dentists are accustomed to treating overseas patients. Moreover, they want to make sure that you are happy, which is why many of them choose to have training overseas with qualifications that are recognizable to North Americans. For this reason, you will also find a large proportion of dentists are members of the American Dental Association, which should further reassure you they adhere to the same rules, protocols and standards as their American counterparts.
The state of Nayarit may not yet be the busiest tourist destination in Mexico, but our dentists in Nayarit have the facilities and skills to ensure your quality dental care.
What Happens If Something Goes Wrong? Is My Work Guaranteed?
All our dentists provide warranties on the work they do and the materials used. So, if you have had any lab work done, for example, dentures, crowns or veneers, then you are also covered should the prosthodontic fail.
Luckily, complications are rare events with our dentists, but if you experience an issue, we will work with the clinic to get it put right. Just get in touch with us and we will speak with the dental clinic on your behalf.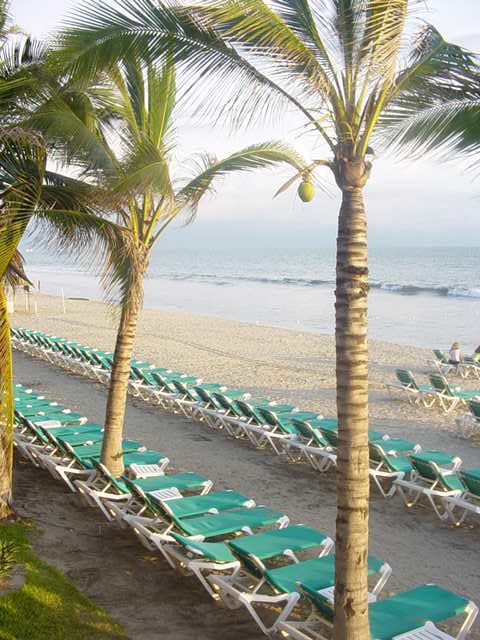 (Image by hectormtz)
Do I Need to Speak Spanish?
It's always nice to speak a few words in another language when visiting another country, but in most of Mexico it isn't essential, and certainly not in a tourist haven like Nuevo Vallarta.
What Payment Methods Are Accepted?
Most of our dental offices accept US dollars in Nuevo Vallarta, and other payment methods such as debit cards, traveler and personal checks and bank transfers, as well as credit cards. You can check each individual clinic's accepted payment methods on our website. Please be advised that most credit cards are subject to a small processing fee of between 3 and 4%.
Is My US or Canadian Dental Insurance Accepted?
Most dentist offices in Mexico are unable to bill your insurance provider directly, but you may be able to claim the expenses yourself once you have returned home. Before you travel, check with your insurance company if they allow for 'out-of-network' care.
If they do, you will be able to reclaim the cost of your treatment (up to the value of your insurance). Please make sure you get the appropriate forms or documentation before you travel.
When Is the Best Time to Visit One of Our Dentists?
Nuevo Vallarta is pleasant to visit all year round, although you may find that Puerto Vallarta is very busy during certain times of the year–December through to March is peak season; June to September is the low season and also the rainy season. Temperatures are hot and humid and there are downpours, but it is sunny enough for all but the most ardent beach bunnies. This is also a good time to get discounts on restaurants, accommodation and other amenities.
Our listed clinics are open throughout the year.
Is Nuevo Vallarta Wheelchair Friendly?
This is a newly developed town, established around 20 years ago. Thus, you will find it considerably easier to get around here than some of the more traditional Mexican towns, where steep hills, cobblestone streets and non-existent sidewalks are the norm.
New hotels and developments are being built, which these days are much more likely to be wheelchair friendly.
We can always find a dentist for you who is accessible–and many of our dentists offer transportation from your hotel to the clinic – just get in touch and let us know your requirements.
What is the Downside? What Should I Know about Visiting?
There are no particular downsides to visiting Nuevo Vallarta, aside from the usual grumbles of beach vendors or time-share touts. Most can be avoided with a firm but polite 'no thanks'.
Dental patients should be aware that the standard method of pain relief in Mexico is a local anesthetic. If you require sedation dentistry then this can be arranged by most of our dentists, but you will need to request it in advance as the services of an anesthesiologist will be required. This will incur additional fees of between $400 and $600.
Patients should also be aware that prescription anxiety medication, such as Valium, will also need to be ordered in advance.
What Else is There in Nuevo Vallarta?
Nuevo Vallarta's long beach is lined by luxury hotels and grand residences with tropical gardens, and its two marinas are bordered with restaurants and galleries. What it lacks in history it more than makes up for in attractions, offering a smorgasbord of entertainment and pastimes to suit modern-day vacationers. Tennis clubs, three golf courses, a zoo, a dolphin aquarium and a waterpark are just some of the activities on offer.
As you would imagine, the long, wide, white each is a hub of goings-on. The water is warm with some waves to splash about in – but no strong currents – and is great for boogie boarding, banana boating and any other water-based pursuits. Of course, there is always the option of lying back with a margarita or a cold beer under the shade of a palapa, and watch the world go by.
Nature lovers will find wildlife in abundance but with some species, such as the Olive Ridley turtles who return year upon year to lay their eggs on the shores on Nuevo Vallarta and the jaguars inhabiting the Sierra de Vallejo, proving a little more elusive to spot that others. The Mangrove Wildlife and Ecology Cruise offers the perfect platform for those wishing to get up close to crocodiles, iguanas, birds and other wildlife in its natural state.
You can find an abundance of charter boat operators in the area, including the African Queen Steamboat Tour, a replica of the boat used in the movie (Night of the Iguana) with Humphrey Bogart and Katherine Hepburn, which was filmed in nearby Puerto Vallarta.
For a total relaxation experience, you can visit one of the many destination spas and indulge in some real rest and recuperation.
As the sun goes down, exclusive bars and restaurants come to life and if you still have the energy after a fun-packed day you can continue with the party in discos and dance clubs, or enjoy a pleasant stroll under a starlit beach.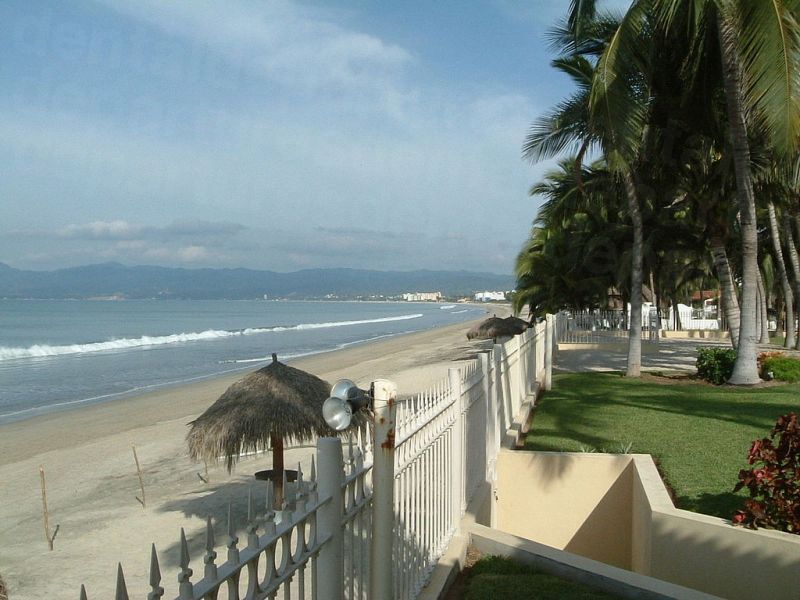 (Image by Ruiz)
Flying in?
The nearest airport is Puerto Vallarta (PVR), a15-minute drive south of Nuevo Vallarta.
Distances to Nearest Airport and Other Tourist Destinations:
•Puerto Vallarta International Airport: 7 miles (11 km) 14 mins
•Puerto Vallarta: 9 miles (15 km) 18 mins
•Sayulita: 20 miles (33 km) 31 mins
•Bucerias: 8 miles (12 km) 16 mins
•San Francisco, Mexico: 22 miles (36 km) 29 mins
•Cruz de Huanacaxtle: 11 miles (19 km) 20 mins
•Tepic: 96 miles (155 km) 2 hrs
How Do I Book
We offer you various ways to book an appointment with one of our dentists in Nuevo Vallarta. Book online via our website, use the online chat facility or send us an e-mail. Alternatively, you can use our toll-free phone number and talk with one of our friendly Customer Service representatives. We're always happy to answer any questions you may have and our services are free to use. Find and book your quality-checked dentist with Dental Departures.
Sources:
Trevinojan, Julissa. Medical Tourism is Booming in Mexico. Pacific Standard. 9 January 2018. https://psmag.com/economics/medical-tourism-is-booming-in-mexico
U.S. News. Best Times to Visit Puerto Vallarta. 2017. https://travel.usnews.com/Puerto_Vallarta_Mexico/When_To_Visit/
Statement on Dental Tourism: Ethical Obligations of Dentists. American Dental Association. November 2009. https://www.ada.org/en/about-the-ada/ada-positions-policies-and-statements/statement-on-dental-tourism-ethical-obligations-of