Find a good dentist in Queretaro with absolute confidence by booking with Dental Departures. Our knowledgeable and friendly team are always on hand to provide reassurance making the process of booking your dental trip abroad as easy as possible.
Queretaro is a small state in North-Central Mexico, to the northwest of Mexico City. It is one of the most geographically diverse states in the country, adorned with mountains, desert and tropical rainforest. The climate is also varied, being (usually) cool and humid in the south, dry with very little rainfall centrally and a desert climate to the north.
The pine-clad Sierra Gorda mountains give way to hills and farmlands, providing a backdrop for a wide array of recreational attractions and activities, while the Magic Towns and the state capital, Queretaro de Santiago, offer colonial-era architecture, handsome plazas and a taste of Mexico's historic past.
One of the capital's major attractions is the 74-arched aqueduct, built in the early part of the 18th century to supply drinking water to the city from the surrounding springs. Rising high above the streets it is an impressive site, and was still in use to carry water until 1970.
Villages with quaint cobblestoned streets lined overlooked by craft shops and galleries provide a peaceful environment to mooch away a few hours. Alternatively, why not take a tour to one of the areas opal mines, where you will be able to see how these semi-precious stones are mined and turned into jewelery?
There are a wide range of outdoor activities to suit all ages and abilities, including archaeological sites – there is evidence of human habitation here for 4000 – 6000 years; national parks; wine tours; ecotourism; horse-riding and golfing.
As a dental tourist, the quality of care you receive in Queretaro will only be enhanced by the features in the area, allowing you to indulge in as little or as much activity as you want in a peaceful, tranquil environment that has a lot going for it.
Where is Queretaro?
Queretaro is in North-Central Mexico, around 130 miles (210kms) to the northwest of Mexico City.
Why visit a dentist in Queretaro?
Close to Mexico City, Queretaro offers something different to Mexico's lively coastal resorts. The colonial capital and Magic Towns have a unique atmosphere and character that provide visitors with some of Mexico's best inland travel experiences, affording a glimpse into the real Mexico. Excellent road networks, a safe and peaceful state, friendly people and fewer tourists means a cultural experience that is second-to-none.
Visiting a dentist in Queretaro with Dental Departures assures you of reliability and good-quality services. Facilities are as good as anywhere at home, with dentists who are well-qualified and experienced in their particular areas of expertise. Whatever your dental needs are, from a filling to a dental implant, you will find they can be met here, but at prices considerably less expensive than at home.
Here's a look at the average prices for some of our popular procedures in Querataro, where average savings of 70% are achievable:
• Average cost of a single dental crown in the US $1,200, At a Querataro dentist around $315
• Average cost of root canal (inc. post/core and crown) US $2,200, At a Queretaro dentist only $630
• Average cost of a dental implant in the US $3,900, At a Queretaro dentist around $1,400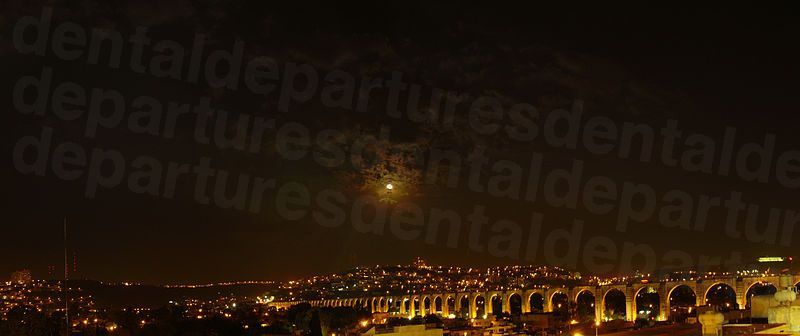 (Image by: Pedro Jacob)
Where to stay?
Choose to stay in Colonial boutique, or modern international chain hotel – there are lots of accommodation options in Queretaro. There are also self-catering suites if you prefer a more home-from-home experience where you have your own cooking facilities.
From the State Capital, Santiago to Queretaro, to the pretty towns and villages, such as Tequisquiapan, elsewhere in the state, you will find good quality choices with all the amenities you would expect, including pools, wi-fi and restaurants.
Is it safe?
The whole State of Queretaro is safe, with no travel warnings issued by the US Department of State.
Is the quality of care the same as back home?
Yes – if you find a reliable dentist. Obviously, this is easier said than done, but Dental Departures aims to make the whole process a lot more satisfactory for patients, giving you the information you need so you can make your own decision.
We background-check all our dentists, looking at legal and criminal records, as well as confirming dentist qualifications, experience and their professional memberships. When you book with us, you already have peace-of-mind that these essential rudimentary checks have already been carried out.
On our website, we list the qualifications and memberships our dentist and clinics have, as well as giving you high-resolution photos, real patient reviews and prices. We have listings for over 3,500 dentists in 32 countries, making it easy to search, compare and find your dentist quickly.
Generally, we have found the standard of our employed by our dentists in Mexico easily matches up to the services providing by your dentist at home, and in some cases, exceeds it. Dental tourism is a growth industry in the country, and clinics here take it very seriously. They know patients will come here looking to save on the price of their care, but not at the expense of their safety – and patients will only continue to come if the standards are good. These days, a bad experience can be transmitted around the world in moments via the internet, which is why standards remain high.
What happens if something goes wrong? Does my dental care have guarantees or warranties?
All of our clinics provide warranties or guarantees on their work – that includes the actual procedure the dentist performs, as well as the materials they use.
In the very rare event there is a problem, our dentists will get it put right, no questions asked. Dental Departures is committed to providing customer service that is a cut above the rest, and we are more than happy to act as your advocate if there is some aspect of your care you have a problem with – you only need to let us know.
Of course, we do realize that traveling back to a foreign country is all very well but that even though our dentists will fix any problem for free, that doesn't help if you have to pay travel and accommodation charges. For this reason, we have got together with some insurance providers who offer low-cost dental insurance cover for complications, which we would advise you to take out so you don't have this worry on your mind.
Do I need to speak Spanish?
English is spoken at all our dentists so it doesn't matter if you don't speak Spanish. You will find that most tourist facilities also speak English, and it is widely spoken throughout Queretaro.
What payment methods are accepted by most dental offices?
Our dentists accept US dollars, but please check out each individual clinic listing on our website to find out what other methods of payment are accepted. Certainly bank transfers, personal/travelers checks and debit/credit cards are widely accepted, although you may find that your dentist doesn't accept them all. Please be advised that most credit card transactions are subject to a small processing fee, normally between 3 and 4%.
Is my US or Canadian Dental Insurance accepted?
It isn't likely that your dentist in Queretaro will be able to accept your US or Canadian dental insurance, but you may be able to claim back your expenses if your provider allows for 'out-of-network' care. If your insurance company does allow for out-of-network care, you will get a lot more for your money in Mexico – be certain you travel with all the appropriate paperwork.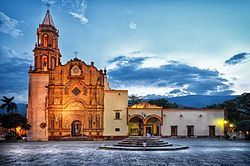 (Image by: Tobias Contreras)
When is the best time to visit one of our dentists?
You can visit on of our dentists in Queretaro whenever is suitable for you as they are open all year round.
The climate in Queretaro is mild all year round, with the hottest temperatures April through June and the coolest December to February. Most rain is seen from June to August.
Is it handicapped accessible?
Most of our dentists have wheelchair friendly facilities, with many providing free transport from your hotel to and from your appointment.
Obviously, in the countryside it may not be easy to get around in a wheelchair, and similarly some towns and villages may be steep, or have cobblestoned streets, making it difficult. Many hotels will have wheelchair-friendly facilities, and even if you are out-and-about, there is usually someone around who can come to your assistance if you do get stuck.
If this is one aspect of your trip that concerns you, don't hesitate to get in touch with our Customer Care team and let them know your needs. We can always find a way of getting you to see one of our great dentists!
What is the downside? What should I know about visiting?
The standard method of pain relief in Mexico is local anesthesia, rather than sedation. Many of our dentists do offer sedation dentistry, but it usually have to be arranged in advance, as an anesthesiologist will have to be booked. This incurs an additional charge of around $400.
Prescription medication, such as Valium, also has to be ordered in advance.
Dental patients should be aware that local anesthesia, rather than sedation, is the standard form of pain relief in Mexico. If you think you will need sedation, many of our dentists can arrange for this, but they will need to arrange for the services of an anesthesiologist, so you will need to discuss this option in advance. It usually carries an additional charge of around $400.
What else is there to do in Queretaro?
The road network in the area is well-developed, making it easy to explore by car.
Most people visiting the state check in at the state capital, Santiago de Queretaro, which is one of the old Silver Mining cities and steeped in history. A pretty, colonial city, it was here where the Mexican Independence Movement met in secret to discuss their plans to overthrow the Spanish rulers, and it was also here where the Mexican Constitution was written in 1917 – a document that formed the basis of Mexican law today. The historic center of Queretaro is a UNESCO World Heritage site.
The city lends itself to exploration by foot. The colonial center is well maintained and fastidiously clean. Baroque architecture, mansions, churches and charming alleys and side-streets beckon further investigation, and at night the charming pedestrianized streets are gently lit and just the thing for an evening stroll to discover the perfect bar or restaurant.
The Pueblo Magico of San Sebastian Bernal is home to the Pena de Bernal, the third largest natural monolith in the world, after the Rock of Gibralter and Rio de Janiero's Sugarloaf Mountain. Described as a magical place by visitors, the Colonial town is overlooked by the rock, where the energetic can take a trip to get fantastic views of the town and surrounding landscape. The town is good for shopping and the local street food "Gorditas de Migaja".
Tequisquiapan is another pretty town whose main square is surrounded by stone arches and where you'll find a treasure trove of galleries and craft shops. There are also specialist craft markets here, as well as the popular Cheese and Wine Fair in May and June. The name means "place of water and teuqesquites" referring to the traditional hot springs – just the thing for rejuvenating your energy after a hard day sight-seeing.
San Juan del Rio is another charming town with a pleasant climate and thermal waters. Together with its large old converted haciendas, some converted to hotels and restaurants, it has a very special feel about the place.
Outside of the towns there is a host of opportunity for adventure in the countryside, national parks and archaeological sites. There are caves at Los Herrera, trails at River Extoraz canyon, quad biking at ATVs (all-terrain vehicles) in the Sierra Gorda or if all that is too energetic you can go hot air ballooning for a more serene way of seeing the sights.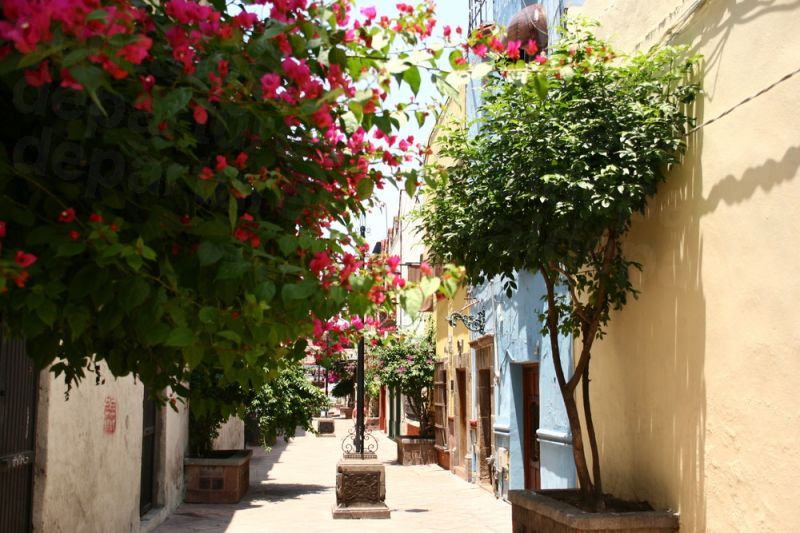 (Image by: Ralf Schönekerl)
Getting there – flying in
Queretaro does have an international airport serving a couple of US cities, but the majority of people fly into Mexico City and made their way from there.
Distance from state capital (Santiago de Queretaro) to airport and places of interest nearby:
• Mexico City International Airport: 130 miles (210 kms), 2 hrs 20 mins
• Tequisquiapan: 46 miles (74 kms), 53 mins
• Bernal: 35 miles (56 kms), 41 mins
• San Juan del Rio: 34 miles (54 kms), 34 mins
• San Miguel de Allende, Guanajuato: 40 miles (64 kms), 49 mins
• Guanajuato: 93 miles (151 kms), 4 hr 35 mins
How do I book an appointment?
Call our toll-free number and speak with one of our Customer Care Team, or book online via our website. Dental Departures offers you quality-checked dentists in Queretaro, and we promise to always give you the best prices available – and that's guaranteed.
(Main Image: travellete)