Last fact-checked: 17 February 2021
Combine your annual holiday with a dental tourism trip by visiting a quality-checked dentist in Tunisia. Dental Departures has helped over a hundred thousand patients meet their oral healthcare or cosmetic dentistry needs at clinics overseas—and for the guaranteed best prices available.
Discover more about this enchanting country, including a lowdown on Tunisia's excellent dentists, the types of procedures available, prices, tips for when you're there and how to book your treatment with Dental Departures.
Tunisia–In Brief
Tunisia is located in North Africa bordering Algeria, Libya and the Mediterranean Sea. Boasting a fascinating 3,000-year history, 700 miles of sandy beaches and countless archaeological treasures, Tunisia is firmly back on the tourist map after a couple of years in the doldrums.
Inhabited by Berber tribes, in the 12th century BC, Phoenicians started to settle along the coast, establishing a city at Carthage, which grew into one of the greatest metropolises in the region. After a series of battles, the region fell to the prevailing Romans in the 2nd century BC, who subsequently ruled for the next 500 years. In the 7 th century, Arab conquerors converted the population to Islam where it was ruled by a succession of dynasties and empires until the French took power in the 19th century. Tunisia finally achieved independence in 1956.
Today, Tunisia has a diverse culture. This is partly thanks to the long periods of French and Ottoman rule, as well as the fact that Muslims, Christians and Jews have been living side by side in the region for centuries.
The capital city, Tunis, has a number of diverse neighbourhoods where you can take your pick from surroundings that include French colonial, Arab medina, clifftop villages, UNESCO World Heritage Sites and beachside suburbs.
The rest of Tunisia is no less endowed with fascinating and unique locations. Winding, cobbled, bougainvillea-filled streets; palm-clad beaches; ancient medinas lined with vendors selling all manner of bric-a-brac; Roman ruins; film sets; desert oases and activities that include a varied nightlife, golf, water sports, Scuba diving and off-road rallying, there is much more to Tunisia than you'd imagine.
If you're looking for a value-for-money holiday in a destination that also offers affordable dental care, Tunisia is a great bet.
The expertise of the dentists here is exceptionally good, and with well-equipped, modern facilities that adhere to internationally-recognised standards on hygiene and safety, you can be confident that your care in Tunisia will be just as good as what you're used to at home.
Why Choose Tunisia for Dental Care?
Sophisticated and laidback, Tunisia has a high degree of dental and medical expertise and has been welcoming medical tourists for decades.
The training for dentists in Tunisia is comparable to that in countries such as the UK. There is only one Faculty of Dental Medicine in Tunisia, which is located in Monastir. Admission is exclusive to students across the country who have received the highest grades. It is supervised by the Ministry of Public Health and the Ministry of Higher Education and Scientific Research. Training lasts for five years, plus a one-year internship. After that, students take their final examinations in order to qualify as a dentist. Further training can then be undertaken by students who wish to specialise in a certain area.
Private dental clinics are equipped with the latest technologies and hire English-speaking staff. There has been a huge investment in both public and private healthcare services in the country recently; coupled with the lower cost of living in Tunisia compared to countries such as the UK and Ireland, it's an ideal excellent destination for receiving affordable dentistry without compromising on quality.
Many clinics are equipped with state-of-the-art technologies, including 3D/CT scanning, digital x-rays and CAD/CAM (computer-aided design/computer-aided manufacture) for accurate diagnoses, tailor-made treatment plans and quick results.
More people than ever before are becoming dental tourists—and not just for the big, expensive one-off procedures. With private dentistry costs skyrocketing across Europe, and the ever-increasing difficulty of finding an NHS dentist for those in the UK, more people are starting to take care of their everyday dental needs while on their annual holiday. Thus, check-ups, routine dental treatments and cosmetic dentistry are just as popular with dental tourists as dental implants are.
The flying time from the UK and Ireland is around 4.5 hours—so it's not a particularly arduous journey, which may be a consideration if you are limited on time. As the country is located on the North African continent, the weather makes this a year-round destination; even in January and February, the coldest months, temperatures are often in the high teens (or 60-70F), so it's pleasantly warm if not baking hot. If you want to avoid the highest temperatures, stay clear during July and August.
How Much Do Dental Treatments Cost in Tunisia?
The prices of popular dental treatments in Tunisia compared to your home country are listed in the table below:
UK Price

(£)

Tunisia Price

(£)

Eire Price (€)

Tunisia Price

(€)

Savings

All-on-4® treatment concept

16,000

5,000

19,000

6,000

68%

Crowns

1,200

174

1,500

200

85%

Fillings

150

61

180

72

59%

Implants

3,000

700

3,600

850

73%

Veneers

1,000

227

1,180

170

77%

Dentures

1,400

273

1,700

324

80%

Root Canal

1,000

280

1,250

334

72%

Whitening

400

250

450

300

37%
(Note: the prices above are approximate. Please check our current prices for your selected clinic for estimated costs of treatment).
Where to Stay in Tunisia?
Most of our dental clinics in the country are currently located in the capital, Tunis, although we are partnering with new clinics all the time, adding to the destinations where you can visit a dentist in Tunisia.
The neighbourhoods in Tunis include La Marsa—whitewashed early-to-mid-20 th century buildings and grand villas wrapped around a bay that stretches to palm-lined beaches and cliff tops; Centre Ville is the centre of town and while its faded grandeur could do with a lick of paint, its wrought-iron balconies and grand doorways could only be French; the Medina and its maze of alleys and souks is a UNESCO World Heritage Site, and Sidi Bou Said is a pretty, clifftop, whitewashed village overlooking the azure waters of the Med.
Elsewhere in the country, there are seaside resorts, oases towns and even underground troglodyte villages. You'll find plenty of accommodation options to suit from budget to chain hotels to boutique hotels.
Will I Be Safe in Tunisia?
Since the terrorist attacks of 2015, security in Tunisia has improved considerably. Generally, Tunisia is a safe country to visit and travel around, but be aware of bag-snatching and pick-pocketing in busy city areas, such as downtown Tunis, and try to steer clear of hassle from unofficial tour guides and touts.
Some western governments do advise against travel to areas bordering Libya, border crossings with Algeria, the far southern desert region and the Jebel Chaambi National Park.
Why Book an Appointment with Dental Departures for a Treatment in Tunisia?
1: We have over 10 years of expertise in the dental tourism sector, and have helped over 100,000 patients find affordable, high-quality dental care all over the world.
2: Dental Departures guarantees the best prices online; if you see a lower price for your dental treatment on another website, we'll match it.
3: We carry out background checks on all the facilities listed on our website, which include:
● Legal/criminal records searches
● Confirmation of dentist qualifications
● Verification of professional memberships
● Onsite visits
● Collating and publishing real patient reviews
4: Our listings include useful information, such as prices, location maps and clinic photos. Take a look at some of our top-rated dental clinics in Tunisia (Tunis).
● Cabinet Dentaire Dr. Ridha Bessrour
● Cabinet Dentaire Dr. Ahmed Besrour
What Happens if Something Goes Wrong? Is My Dental Care Guaranteed?
It is worth understanding that there is always a risk with any dental or medical procedure, wherever in the world you have it carried out. We are all different, which means our bodies don't always react in the way that is expected. Having said that, modern medical techniques are incredibly accurate and there is far less scope for problems.
But, that doesn't mean you should throw caution to the wind, and choosing a reliable facility should be uppermost in your thoughts as this will have a huge bearing on your treatment outcome being successful.
We have had only a tiny percentage of patients who have had any problems, which have been minor and easy to remedy, but all of our dental partners offer warranties or guarantees, so any problem can be dealt with for free before you go home.
If you are having major dental work, you may want to consider taking out medical complications insurance, which covers travel and accommodation expenses if you need to travel back to Tunisia to see your dentist for any reason.
What Language Do the Dentists in Tunisia Speak?
Arabic is the national language of Tunisia. Although English is spoken by our dentists and in main tourist areas, you will find that French is the second language outside of the resort areas.
What Payment Methods are Accepted in Tunisia's Dental Clinics?
The Tunisian Dinar (TND) is the currency in Tunisia. It is accepted in all of our dental clinics, as well as bank transfers, Visa/Mastercard credit/debit cards and travellers cheques. Please check the listing page of your preferred clinic for specific payment information.
When Is the Best Time to Visit Tunisia?
Our dental clinics are open all year round, but if temperatures of about 30C (86F) are too hot, it's best to avoid July and August. Otherwise, the weather is reasonable, even in winter, but Spring (March-June) and Autumn (September-October) will give you hot weather without it being too stifling.
What Else Is There to See and Do in Tunisia?
If you're heading to Tunis, the Old Medina is a must-see. Winding, narrow streets, the chaotic souks, luxurious palaces and plenty of places to shop or sit down for a coffee and a breather take you back to a different era. The Bardo Museum displays mosaic arts from ancient sites and is one of the most renowned across North Africa. It is one of the most impressive exhibits you'll see. Like many cities, Tunis can be exhausting so the Parc du Belvedere provides a welcome respite, and you can visit the Museum of Modern Art in the middle of the park.
Just outside of Tunis are the ancient ruins of Carthage with the remains of its old walls, gates and amphitheatre dating back centuries—definitely a sight to see for anyone with even a remote interest in history. Although Tunisia is often seen as a beach holiday destination, it does have some incredible attractions—both natural and man-made.
The Roman amphitheatre at El Jem is extremely well-preserved—some would say on a par with the Colosseum in Rome (minus the selfie-stick waving crowds) and was the third-largest amphitheatre of the Roman Empire. You can walk the dungeons underneath the arena or sit in the seating tiers above and imagine the ferocious battles that took place all those centuries ago.
El Jem was used as a set in both the Life of Brian and The Gladiator, but Tunisia has proved to be a draw for film crews for decades. The set from Zeffirelli's Jesus of Nazareth was in Monastir, and was used again by the Pythons in Life of Brian.
Many of the Star Wars movies were shot in Tunisia, including the very first one, which was shot in Matmata. Travelling to Matmata, there is basically nothing but desert, but once you reach the village you'll find huge craters dug out of the earth acting as courtyards and gardens with rooms hollowed out of the sides where families live to escape the searing sun. It really is unlike anywhere else on Earth.
Other interesting locations include the Oasis towns along the Sahara Desert, including Kebili, Douz, Tozeur and Nefta where the lush palm trees, markets and camels put you in mind of the old Foreign Legion films.
Tunisia is not a huge country, and you can get around reasonably easily in a rental car or public transport. So, there's no need to stay in Tunis for the whole time after your dental care if you want to see some of the country's other attractions.
Getting Around Tunisia
In Tunis, there are yellow city buses, but most visitors take taxis because they are very cheap compared to European and American standards—and they are fitted with meters. You can also negotiate a fee for a full or half-day. The TGM is the train connecting Tunis to the beach neighbourhoods of La Marsa, Sidi Bou Said, Carthage and La Goulette, and there are also trams.
The SNCFT rail services connect Tunis with other major towns in the south, including Gabes, Sousse and Sfax, and there are ample buses/coaches providing intercity links. There are also long-distance louages, which are taxis that only start the journey when they are full, so you may have some time to wait.
Car hire is available, but it is relatively expensive compared to other forms of transport.
Visa Requirements in Tunisia
Nationals of the UK, Ireland, the US, Canada, Australia and New Zealand can visit Tunisia for up to 90 days without a visa.
Distance from Country Capital (Tunis) to Other Domestic Tourist Destinations:
● Carthage, 10 miles (17 km)
● Hammamet, 40 miles (65 km)
● Bizerte, 43 miles (70 km)
● Sousse, 91 miles (147 km)
● Monastir, 105 miles (169 km)
● Gabes, 257 miles (414 km)
● Matmata, 295 miles (496 km)
● Douz, 334 miles, (539 km)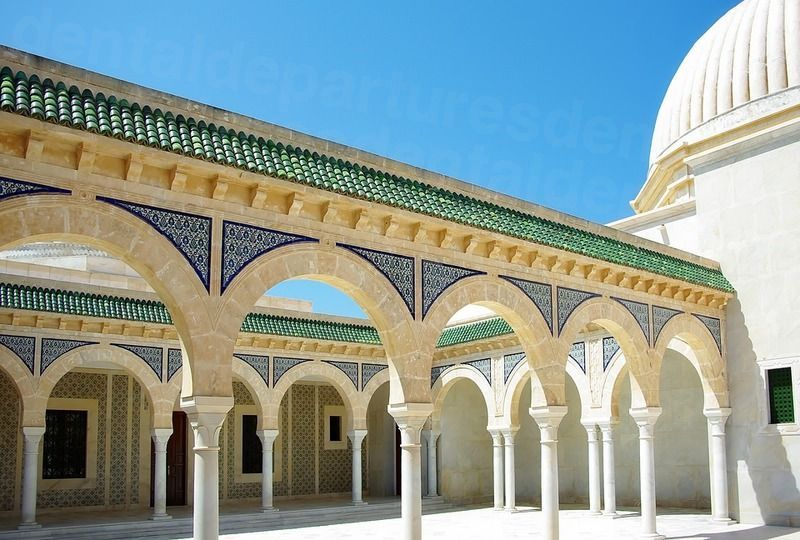 How
Do I Book My Dental Appointment in Tunisia?
Book an appointment online with one of Dental Departure's dentists in Tunisia. Contact our Customer Care Team for a free quote, or ask them about finance, hotel bookings, or any other aspect of dental tourism. Or, if you have already selected your clinic, you may schedule your appointment right here online, at any time of the day or night, with no charge to you.
Sources:
Morris, Hugh. Is it Safe to Book a Holiday to Tunisia? The Telegraph. 6 March 2019. https://www.telegraph.co.uk/travel/destinations/africa/tunisia/articles/thomas-cook-tunisia-cheap-holidays-is-it-safe/
Barbour, Nevill et al. Encylopaedia Britannica. 23 January 2020. https://www.britannica.com/place/Tunisia
Dental Check-Ups. NHS. 17 September 2018. https://www.nhs.uk/live-well/healthy-body/dental-check-ups/
Higuera, Valencia. Tooth Cavities. Healthline. 15 November 2017. https://www.healthline.com/health/dental-oral-health-cavities
Cosmetic Treatment. Oral Health Foundation. Website accessed: 17 February 2021. https://www.dentalhealth.org/cosmetic-treatment
Tunisia. World Heritage Centre. UNESCO. Website accessed: 17 February 2021. http://whc.unesco.org/en/statesparties/TN
Sandilands, Tracey. CAD/CAM Dentistry: What is it? Colgate. Website accessed: 17 February 2021. https://www.colgate.com/en-us/oral-health/basics/dental-visits/cad-cam-dentistry--what-is-it-
Clarys, Hanna. The Top 10 Things to Do and See in Tunis. Culture Trip. 9 February 2017. https://theculturetrip.com/africa/tunisia/articles/the-top-10-things-to-do-and-see-in-tunis/