Last fact-checked: 30 March 2020
Think again if thought dental veneers were too expensive. If you head off to Bali you can save a small fortune by having your veneers in Ubud. It's a win-win situation as you can get that new smile while enjoying a holiday in this fabulous location.
How Will Dental Veneers Help My Smile?
Dental veneers are a quick treatment whereby wafer-thin shells of tooth-coloured material are placed over the front of the teeth to improve their appearance. The veneers are custom-made in a laboratory to fit your teeth exactly. They can correct multiple cosmetic problems with your teeth including:
● Irregularly-shaped teeth
● Discoloured teeth
● Damaged teeth that are chipped or cracked
● Gaps between teeth
● Crooked teeth
What Are The Advantages of Dental Veneers?
● Stain-resistant
● Can be colour-matched to your existing teeth, or if you are having a row of veneers you can have them whiter for a really dazzling smile
● Suitable for patients with sensitive gums
● Look natural yet still strong and long-lasting
● The tooth structure doesn't need to be changed too much
● They can create a white, even smile with straight teeth in just a few days rather than years (if you underwent orthodontic treatment to straighten your teeth).
What Are the Disadvantages of Veneers?
● Not a viable option if you have poor dental health; for example, decay or active gum disease
● If you grind or clench your teeth this may damage the veneers
● You must maintain a particularly good oral hygiene regime, including visiting the dentist regularly as teeth with veneers are still susceptible to decay.
● Your teeth may become more sensitive to hot and cold because a small sliver of enamel is removed from the front.
What Is the Procedure for Dental Veneers?
The procedure for veneers is straightforward, but you will need to factor in two or three visits to the dentist during your holiday in Ubud. This includes:
Consultation and Treatment Planning: Your dentist will need to assess your dental health and whether veneers are appropriate for you. You should come prepared and explain what you are trying to achieve—and also do ask any questions about the limitations of the treatment. Find out as much information about veneers treatments beforehand as this will help you to have a good understanding so you and your dentist will be on the same page. Veneers are made from a variety of different materials, including porcelain, zirconia and composite—each with its own pros and cons, which your dentist will talk you through so you can choose what's best for you.
If you and our dentist are happy that the treatment is right for you, the next stage is the preparation of your tooth (or teeth).
Teeth Preparation: The dentist will need to prepare your teeth to receive the veneers. A tiny sliver of enamel is removed from the front of the teeth receiving the veneers so that when the veneers are attached they will be in-line with your other teeth. Impressions of your teeth are made and sent to a dental laboratory where your veneers are made-to-measure.
Placement of Veneers: Your dentist will place the veneer over the tooth temporarily to examine colour and fit, adjusting the veneer by trimming it to ensure it is flush. Once happy with it, the dentist will clean, polish and etch the tooth which ensures a strong bond with the veneer. An adhesive is applied to the veneer which is positioned on the tooth, and a special light is applied to activate the bonding chemicals in the adhesive which hardens it quickly. Excess adhesive is removed and any further adjustments are carried out to complete the procedure.
Can I Trust the Quality of Veneers in Ubud?
Absolutely. The dental clinics in Ubud are staffed by skilled dentists, equipped with the latest technological advances and use the same world-renowned brands and materials you'll find at dental clinics at home.
But—it is worth taking the time to do your own research to find a reliable clinic that has a good reputation and provides maximum comfort. The dental clinics in Ubud you'll find on the Dental Departures site have all been pre-screened and are only listed if everything checks out. Our checks include confirming dentist qualifications, affirming professional memberships and collating patient reviews. You can see details under each listing, as well as clinic photos, prices, location maps and other information to help you make an informed choice before booking with us.
The clinics you may want to take a look at in Ubud for your veneers include:
● Bali Dental & Implants Centre
What Are the Prices of Dental Veneers in Ubud?
The savings on dental veneers in Ubud are enormous. You can save over 80% per veneer, which means you can get five veneers in Ubud for the price of one at home. Plus, with Dental Departures, you are guaranteed the best prices .
| | | | | | |
| --- | --- | --- | --- | --- | --- |
| | AUS $ | NZ $ | UK £ | EUR € | US $ |
| Dental Veneers Prices at home | 2,480 | 2,583 | 1,461 | 1,745 | 1,871 |
| Dental Veneers Prices in Ubud | 470 | 489 | 256 | 295 | 334 |

Ubud is the cultural centre of Bali. The immediate area has plenty in the way of attractions, as well as spas, yoga retreats and alternative therapies. Plus, being in the centre of the island, it's not too difficult to explore and spend time at one of Bali's incredible beaches. You'll not be stuck for things to do in between your visits to the dentist.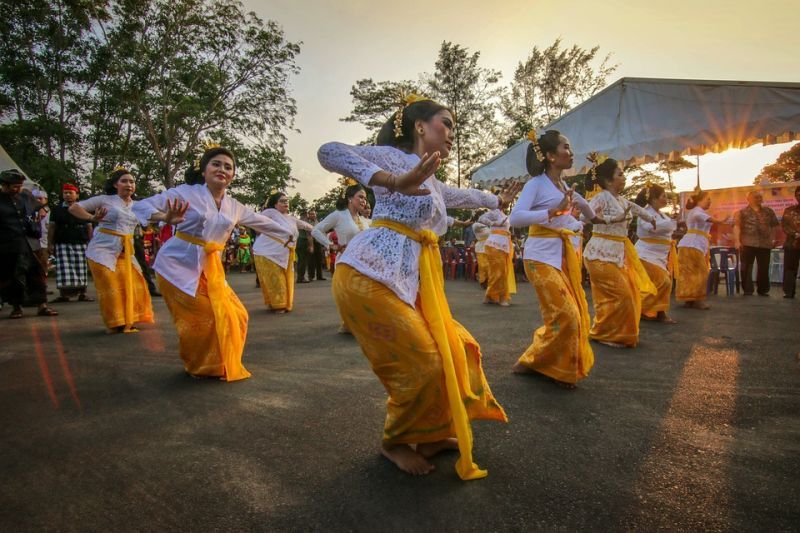 How to Book Veneers in Ubud?
Speak to our Customer Service Team to find out more about dental veneers in Ubud. You can book your appointment online at any time of the day or night, at no charge to you. We can also assist you with other aspects of your trip, including hotel booking, insurance and finance. Just think—a new smile is just around the corner—and you can bring it back from your next holiday abroad.
Sources:
Auger, Steve. How Do Veneers Work? Colgate. Website accessed: 13 February 2019. https://www.colgate.com/en-us/oral-health/cosmetic-dentistry/veneers/how-do-veneers-work-0515" target="_blank .
Cardellino, Carly. Important! 23 Things You Need to Know Before Getting Veneers. 4 December 2018. https://www.cosmopolitan.com/style-beauty/beauty/a13051650/what-are-veneers/Cosmopolitan" target="_blank .
Dental Health and Veneers. Web MD. Website accessed 13 February 2019. https://www.webmd.com/oral-health/guide/veneers#1" target="_blank
Sutcliffe, T. Ubud: Inside Bali's Cultural Epicenter. CNN Travel. 14 February 2018. https://edition.cnn.com/travel/article/ubud-bali-things-to-do/index.html" target="_blank
Composite vs. Porcelain Veneers – Choosing the Right Material. Your Dentistry. Website accessed: 29 March 2019. https://www.yourdentistryguide.com/veneer-materials/" target="_blank