Transform your smile with low-cost dental veneers in Spain. This simple, cosmetic dentistry treatment is very effective and with little downtime is the perfect holiday treatment for a smile makeover.
If you have wonky, yellow teeth then you may not be so willing to flash them when you smile. One of the easiest ways of improving your appearance is by fixing your smile, and while cosmetic dentistry procedures offer a number of ways of doing this, some of the treatments are time-consuming (braces) and others only fix one tooth (dental implants). Dental veneers make a dramatic difference to your smile and can give you the self-confidence you've been lacking if you've been embarrassed to smile because of your teeth which, in turn, makes you look more attractive and enhances your facial features.
You may wonder that if a treatment is this miraculous at changing smiles why more people don't have it? The answer is because it's too expensive. This is why Spain is a good option for dental veneers. Clinics in Spain offer international patients, particularly those from the United Kingdom and the Republic of Ireland, good value for money as well as reliable, highly-skilled dentists.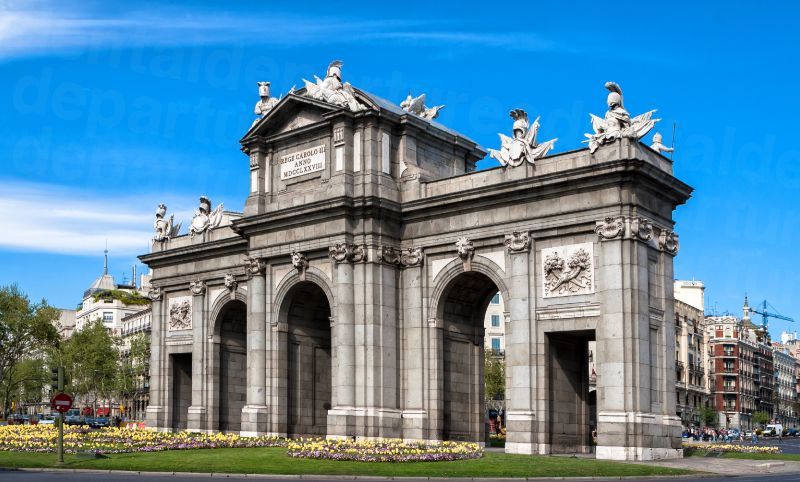 How do dental veneers work?
Dental veneers are a cosmetic dentistry treatment. That is to say, they improve the appearance of your teeth but don't have any effect on your dental health. The veneers are actually thin shells of porcelain or composite resin material that are bonded to the front of the tooth, essentially covering the tooth behind it. So, problems like a stained or discoloured tooth (even those due to antibiotic staining), a chipped or broken tooth or uneven or misshapen tooth can all be fixed with dental veneers.
If your smile is crooked the veneers can be placed in a row (typically four, six or eight, depending on how many of your teeth you show when you smile) to instantly produce a straight, white smile. This is an alternative to time-consuming (and unsightly) orthodontic treatment with braces, which may take many years to straighten your teeth.
What is the procedure for dental veneers?
The procedure typically involves two trips to the dentist and includes at your first visit:
· Assessment, Treatment Planning and Tooth Preparation
At your initial consultation the dentist will examine your mouth and x-rays may be taken. If you are deemed suitable for veneers and you agree to go ahead with the treatment your teeth will be prepared at this point. This involves removing a sliver of enamel from the front of the tooth (which is where the veneer will be placed) and taking impressions of your teeth. The impressions are sent to a lab where your veneers will be made.
At your second visit to the dentist several days later, the veneer is fixed to your tooth with a special light-activated adhesive that bonds the veneer securely to the tooth.
If your dentist offers CAD/CAM technology then it may be possible to carry out all parts of the treatment, from initial consultation to fixing the veneer in just one visit. CAD/CAM is computer-aided manufacture/computer-aided design whereby a mock-up of your mouth is produced on a computer and you and your dentist can design your smile together. This allows you to see the veneer (veneers) in place and make adjustments so you are completely happy with the look. The computer then sends the information to your dentist's onsite lab and your veneer is milled while you wait.
Why is Spain a good place to get veneers as a dental tourist?
1: As a holiday location Spain is obviously a favourite country to visit for both Brits and Irish. While the whole country has something to offer, the Mediterranean coast still attracts vast numbers of holidaymakers, as well as ex-pats who have either made the region their permanent home, or have a holiday home in the area.
This stretch of coast and inland has some of the most varied scenery and attractions in the country. Notwithstanding the miles of beaches there are plenty of other attractions that make the area a draw for those in-the-know who have ventured inland from the coast.
There are wonderful examples of Moorish architecture around the area, particularly the stunning Alhambra in Granada, but also in Malaga, Cordoba and Seville. The White Towns (Pueblos Blancos) of Andalucia are also worth a trip for their stunning views, and for something different there is Juzcar. Originally a White Town that was painted blue for The Smurfs movie, the townsfolk liked it so much they decided to stay blue.
Bathe in hot springs in Murcia, explore the caves in Nerja, go back in time to the Wild West in The Tabernas Desert, learn flamenco in Seville, surf in Tarifa or relax in ancient spas and baths in Barcelona, Seville or Almeria. These are just some of the things that make Spain such a great experience – and that's before you've even got started on the markets, the cuisine and getting used to eating dinner at 10 pm!
2: If you are planning on having a holiday when you get your veneers the treatment actually takes up very little time. Plus, apart from some tooth sensitivity for a day or two after the treatment there is virtually no downtime.
3: The same brands and materials that are available to your dentist at home are available in Spain so no need to worry that you will be receiving low-quality veneers. Clinics in Spain typically offer good-quality services because they are privately run, and patients will just go elsewhere if the services are not up to scratch.
4: You can book an appointment in complete confidence with Dental Departures. We know there are varying degrees of quality in dentistry, which is why all the clinics listed with us have been background checked, this includes confirming dentist qualifications and professional memberships as well as publishing real patient reviews. We also include prices in our listings so you can easily compare and find the best dentist for your circumstances. Check out some of our top dental clinics in popular holiday locations in Spain:
5: In Spain, veneers prices are considerably lower than at home.
How much do veneers in Spain cost?
There are regional variations in the UK regarding prices. For example, veneers in Manchester will usually be marginally cheaper than in London, but the prices in Spain blow them all away in terms of cost-effectiveness:
| | | | | | | |
| --- | --- | --- | --- | --- | --- | --- |
| | UK £ | EUR € | US $ | CAN $ | AUS $ | NZ $ |
| Dental Veneers at home - Cost | 1,461 | 1,745 | 1,871 | 2,525 | 2,480 | 2,661 |
| Dental Veneers in Spain - Cost | 414 | 495 | 530 | 715 | 703 | 754 |
It's certainly worth considering getting your dental veneers in Spain. The savings are incredible just for one veneer, but if you are looking at getting several then there really is no contest. If you want to discuss your options, get in touch with our Customer Care Team who will talk things through with you, book your appointment or get you a free quote.