Treat yourself to a new smile with low-cost dental veneers in Malaga , Spain. If your self-confidence has taken a bit of a knock because your teeth disappoint you then make it right while on holiday. Just think, your holiday photos will never have looked better and when you get home, you'll still wear that brilliant smile!
One of the easiest ways of transforming how we look is with our smile. It has been said repeatedly that your smile is the first thing people notice about you. Therefore, it is worth showing an attractive, confident smile, since first impressions count.
What are dental veneers?
A dental veneer fits to the front of a tooth, essentially providing a much nicer looking façade for a tooth that is discoloured, chipped, misshapen or just plain dreadful. They are made from strong materials that are bonded to the front of the tooth and are extremely hardwearing, lasting for years if you look after them carefully.
Veneers can be fitted to a single tooth, or, many people nowadays get veneers fitted as an alternative to orthodontic treatment (braces). Orthodontic treatment takes years, and braces are uncomfortable and unsightly. For many who did not have the treatment as a kid, many times it is not an option once they reach adulthood. Veneers are an alternative and while there are no positive benefits to your dental health, they make a huge difference to the aesthetics of your smile. As a result, if the veneers are applied to your upper teeth in a row of 4, 6 or even 8 veneers (the teeth that are most prominent when you smile) they can transform an uneven smile to uniform, pearly rows of beauty.
Is Malaga a good location for dental tourists?
Malaga is a great location for dental tourists, particularly if you take advantage and enjoy a holiday at the same time you get your veneers. The City of Malaga is in the middle of the Costa del Sol, which is where the airport is located. You have many selections for your holiday, as the coast is dappled with resorts that are always popular with the British and Irish.
Clearly, beach life is high on many visitors' priorities, which may also encompass water-based activities such as diving, snorkelling, water skiing, boat trips and many other pursuits.
Culturally, there is plenty to discover in terms of ancient architecture from the Moors, Romans and Spanish Modernistas. La Alcazaba is the huge Moorish fortress above the city of Malaga. It is discernible from almost anywhere in the city and you can get a lift up there from the old town, as well as a bus or taxi-ride. You can walk, of course, if you feel energetic.
The Roman Theatre is just down the hill from Alcazaba features several tiers of seating and a visitor centre, while the huge Malaga Cathedral in the Old Town is an impressive combination of Renaissance and Baroque architectural styles.
Sports fans might consider a football game at the local La Liga football team, or you have a choice of exceptional golf courses. The Parador de Malaga dates from the 1920s and offers 18 holes among palms, eucalyptus and sand dunes.
Are dental veneers suitable for dental tourists?
Affirmative – dental veneers are one of the best treatments to get as a dental tourist in Malaga because:
1: The procedure is quick and simple to carry out. It typically involves two visits to the dentist – the first to prepare the tooth or teeth receiving the veneer(s) and to make impressions to send to the lab that makes your veneer; and the second visit is to get the veneer fitted.
However, dentists with CAD/CAM (computer-aided design/computer-aided manufacture) technology, such as Crooke & Laguna Malaga may be able to plan, manufacture and fit your veneers in just one day.
2: There is virtually no downtime after the procedure (although some people may experience tooth sensitivity for a day or two).
3: The improvement in your smile is dramatic.
4: The costs are much less in Malaga than at home.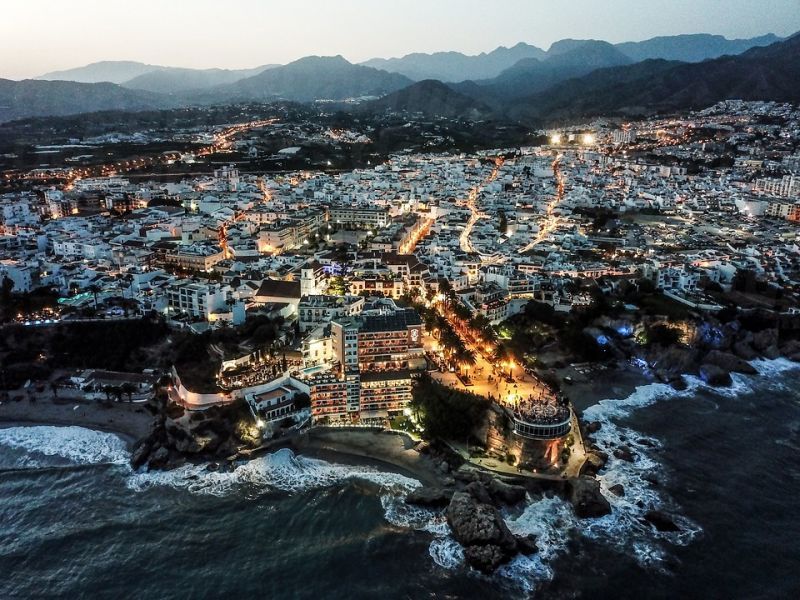 What is the cost of dental veneers in Malaga?
If you get your veneers in London, expect to pay upwards of £1,500 per veneer and although the cost of veneers in Manchester will be lower, they are still higher than the prices in Spain:
| | | | | | | |
| --- | --- | --- | --- | --- | --- | --- |
| | UK £ | EUR € | US $ | CAN $ | AUS $ | NZ $ |
| Veneer Prices at Home | 1,461 | 1,745 | 1,871 | 2,525 | 2,480 | 2,661 |
| Veneer Prices in Malaga | 414 | 495 | 530 | 715 | 703 | 754 |
What is the quality of veneers in Malaga?
If you select a trustworthy dentist, the quality of the dental care in Malaga should be just as good as at home. Dental tourists can expect to receive high-quality services because dentists are competing for customers. Basically, dentists who deliver the best services at the most competitive prices are likely to have more clients.
Clinics for dental tourists are modern and equipped with state-of-the-art technologies. They adhere to international standards and recognized health and safety protocols, and use world-renowned materials and brands, including Lumineers and e-Max veneers.
While there are never any guarantees that your dental work will be successful, give yourself a head start by ensuring you go to a clinic that is reliable. You should, always do your research. Conversely, by booking with Dental Departures you are assured that we have already performed our own background checks – and verify on our site the details of dentist qualifications, professional memberships and real patient reviews. These help you garner an overall picture, and along with clinic photos and prices, it enables you to make an informed decision on where to go.
How long do veneers last? Do they need any special care?
Veneers are extremely hardwearing and withstand the usual pressure that your teeth have. They should last for many years – typically around ten – providing you look after them. They do not involve special care but you should carry out good oral hygiene practices with regular brushing, flossing and visiting your dentist regularly for check-ups. If one of your veneers falls off, you can get it fixed by any dentist at home.
The Bottom Line
If you consider getting dental veneers in Malaga, speak to our Customer Care Team to book an appointment, or get a free quote. They can also locate hotels, arrangefinance and insurance so you can get the smile you've always wanted.