Brighten up your smile laser teeth whitening in Malaga – where you'll pay around 50% less than at home. If you're heading to the Costa del Sol for a holiday then take advantage of the lower prices and give your smile the HD treatment.
The Province of Malaga is one of the most popular destinations on the Spanish mainland. Synonymous with British package holidaymakers, it is renowned for providing a home-away-from-home and appeals to families, singles, young and old who want to guarantee two weeks of fun in the sun.
Good bus and train services in the Cota del Sol makes it possible to visit other resorts in the area, even if you haven't got a car, but it is surprising that all most Brits manage to see of the capital city, Malaga, is the airport. They are missing a trick, as the Old Town is endowed with quaint, narrow streets where you can stumble across interesting shops, bars and restaurants. With a stunning Moorish fortress on top of the hill overlooking the city, a Roman amphitheatre and centuries old churches, this city has a lot more going for it than people realise.
If you want to go even further afield inland into Andalucia, you'll discover the picturesque Pueblos Blancos (White Towns) perched precariously on mountainsides that offer amazing views and authentic Spanish cuisine.
If you are considering a holiday location for your laser teeth whitening then Malaga hits the spot.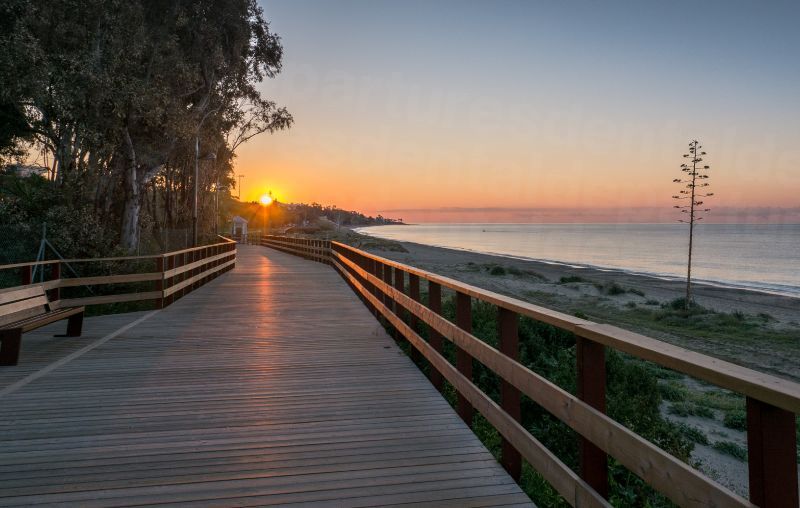 What is the cost of laser teeth whitening in Malaga?
Compare the prices for teeth whitening in Malaga with your dentist in, say, Manchester. Teeth whitening prices have come down substantially, but you'll still save a couple of hundred pounds in Malaga.
| | | | | | | |
| --- | --- | --- | --- | --- | --- | --- |
| | UK £ | EUR € | US $ | CAN $ | AUS $ | NZ $ |
| Laser Teeth whitening cost – home | 387 | 462 | 496 | 669 | 667 | 705 |
| Laser Teeth whitening cost – Malaga | 209 | 250 | 268 | 362 | 355 | 381 |
Is laser teeth whitening a god treatment for dental tourists?
Almost every dental procedure is a good option to have as a dental tourist, but laser teeth whitening is one of the easiest, and most effective in terms of making a huge difference to how you look. It is purely a cosmetic dentistry treatment, so has no benefits to your dental health, but it may help your self-esteem and self-confidence if yellow-stained teeth have made you conscious about showing your smile.
There is virtually no downtime like there might be with other dental procedures, i.e. no swelling or waiting for your gums to heal. Some people have said they have experienced slight tooth sensitivity after the treatment for a day or two, but it soon settles down.
Is laser teeth whitening suitable for everyone?
The majority of people are suitable for laser teeth whitening, but if you have some dental health issues already, like gum disease, gum recession or cavities then the procedure is not recommended as it is likely to cause pain and damage to your teeth or gums. You wouldn't put in a new kitchen without fixing the rotten floorboards, and so treating any underlying dental health issues is always wise before you have the whitening treatment.
Laser teeth whitening does not remove all stains, for example antibiotic stains caused by Tetracyline.
What about other teeth whitening treatments?
There are other teeth whitening treatments, although none are as effective as laser teeth whitening. These include:
This is the most common teeth whitening treatment. It is probably effective at removing surface stains from the teeth, like red wine or coffee, but even with regular use has little effect on lightening the shade of your teeth.
At-home teeth whitening kits. You can get these from the dentist, but will need a couple of visits. A custom-made tray that fits over your teeth is filled with whitening gel. This is normally worn overnight for 14 nights. Your dentist will take impressions of your mouth at your first visit, which are sent to a lab to make your trays. You will return to your dentist a few days later to pick-up the trays and whitening gel and to have a demonstration of how they should be used. These whitening kits will lighten your teeth by several shades, but it is not as effective as laser teeth whitening.
Can I trust the quality if I get laser teeth whitening in Malaga?
Yes. Dental tourists can expect to receive good-quality care in Malaga that is on a par with what they would receive at home. Dentists are highly-skilled, internationally-recognised protocols and standards followed and clinics are equipped with the latest technologies. World-renowned brands and materials are available in Spain, just as they are at home, including Zoom!® and BriteSmile® laser teeth whitening systems.
While you can generally rely on the dental care in Spain to be of a good quality, it is always worth doing your own research. We know this isn't always easy to do, which is why we have made the process a lot simpler for global dental patients. All the clinics featured on our website have all been carefully vetted by us. We do a number of checks, including onsite visits, legal/criminal records and verification of dentist qualifications and professional memberships. We also collate real patient reviews which are published on our site, alongside clinic photos and prices. There is no foolproof way of determining whether a dentist or clinic is reliable, but assessing a number of factors, as we do, gives you a good overview and enough information to be able to make an informed decision for yourself.
Take a look at some of our quality-checked clinics in Malaga for yourself:
What is the procedure for laser teeth whitening?
The laser teeth whitening procedure only takes around two hours:
1: The dentist will first use a shade chart to provide a 'before and after' check on how many shades lighter your teeth are after the treatment.
2: Your teeth will be cleaned to remove stains and tartar.
3: The mouth is prepared. A rubber dam is placed around the teeth to protect the soft tissues inside the mouth as only the teeth should be exposed to the bleaching gel.
4: You will be asked to wear protective goggles to protect the eyes from the laser beam.
5: The gel is applied to the teeth.
6: The laser is applied to the teeth to activate the bleaching agents in the gel.
7: Gel is removed after 15 minutes.
8: Steps 5, 6 and 7 are repeated twice.
9: The dentist makes sure all traces of the gel are removed and cleans your teeth again.
10: Shade chart is held up to your teeth to assess how many shades lighter your teeth now are.
The Bottom Line
If you're heading off to the Costa del Sol on holiday and you've been wanting to get your teeth whitened then it makes sense to get your laser teeth whitening in Malaga. Our Customer Care Team will happily talk you through the process and book your appointment, so get in touch and take a step closer to your brand new smile.