Perk up your smile on holiday with teeth whitening in Antalya —one of the most simple and affordable cosmetic procedures but one that can make a huge difference to how you look. Plus, it will cost you around half the price it does at home.
Antalya is located on the Turkish Riviera and is a popular holiday destination with miles of golden beaches, the turquoise waters of the Gulf of Antalya and an abundance of history throughout the area that always makes a holiday to Turkey irresistible. If you're getting dental care on your holiday, this destination is one of the best places to do it.
What Teeth Whitening Treatments Can I get in Antalya?
While some teeth whitening treatments are more effective than others, you can get the following teeth whitening products/procedures on holiday in Antalya:
· Whitening toothpastes and other over-the-counter products: designed for regular use, these have very little (if any) whitening effect on the teeth.
· At-home whitening kits available from your dentist. These contain specially-made trays that you fill with bleaching gel and fit over your teeth while you sleep. Each tube of gel typically lasts for two weeks, and it will certainly lighten your teeth by a few shades. You can also buy more gel from the dentist as required. The home whitening kits are often bought by patients who want to maintain the whiteness of their teeth after they've had laser teeth whitening.
· Laser teeth whitening carried out at a dental office. There are a number of different brands on the market, including BriteSmile®, Zoom!® and others. However, apart from the slightly varying times that the lightening gel is applied to the teeth, the end result is not dissimilar, no matter what brand your dentist uses. This is by far the most effective method of whitening teeth with teeth becoming up to 14 shades lighter.
How Much Can I Save on Teeth Whitening in Antalya?
Laser teeth whitening prices in Antalya are shown below, compared to prices in your home country:
| | | | | | |
| --- | --- | --- | --- | --- | --- |
| | UK £ | EUR € | US $ | CAN $ | AUS $ |
| Laser Teeth whitening cost – home | 387 | 462 | 496 | 669 | 667 |
| Laser Teeth whitening cost – Antalya | 200 | 245 | 260 | 360 | 350 |
Am I Suitable for Teeth Whitening?
Teeth whitening procedures are not suitable for everybody. If you have any gum problems or sensitive teeth then laser teeth whitening may well exacerbate your problem, leaving your teeth feeling 'on edge' and gums that are sore and tender.
Some staining cannot be removed with teeth whitening procedures. This is because teeth whitening only works on stains on the outside of the teeth. Stains that are caused by, for example, tetracycline exposure in the womb are on the inside of the tooth—so you will be wasting your money if you pay for teeth whitening to fix this particular problem.
What Happens During the Laser Teeth Whitening Procedure at the Dentist?
The laser teeth whitening treatment generally takes around two hours and only one visit to the dentist. During your initial consultation the dentist will examine your mouth and take a detailed history from you to ensure you are suitable for the procedure.
The procedure begins with the dentist matching the colour of your teeth to a corresponding colour on a shade chart, so you can see what colour they are when the process started, and compare it with the colour of your teeth after the procedure.
The dentist will then clean your teeth thoroughly, and prepare your mouth by placing a rubber dam around your teeth to protect the soft tissues in your mouth from the bleaching gel. You will also be asked to don protective eyewear to shield your eyes from the laser beam. The bleaching gel is then applied to the teeth, and the laser directed at your teeth activate the bleaching properties in the gel. This is the point at which the whitening systems may differ. Some only require the gel and laser to be applied once (but the gel must stay on the teeth for 45 minutes). Other systems require the gel to be applied for only 15 minutes at a time, before the laser is applied, the gel removed and the process repeated another two times.
At the end of the required time, the dentist removes all the gel on your teeth and cleans them again. Your teeth will be noticeably whiter, and using the shade chart you will see exactly how many shades lighter your teeth have become.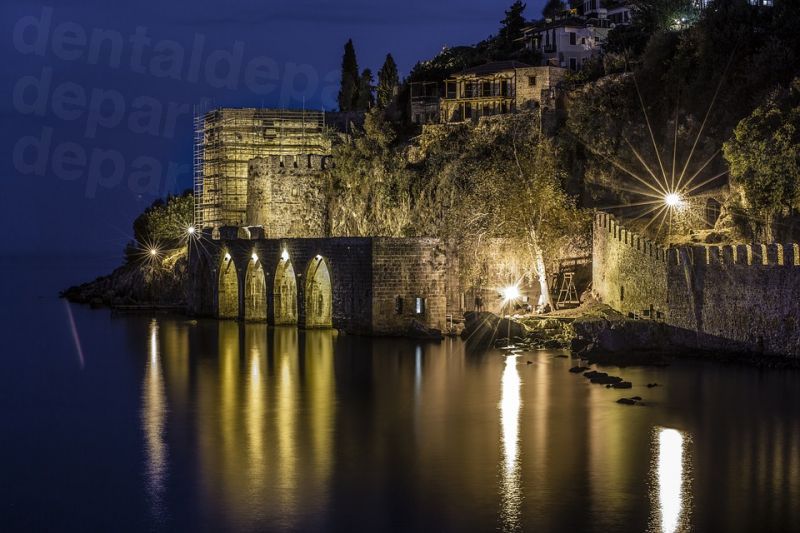 How Do I Get an At-Home Whitening Kit?
You will need to attend the dentist's office twice to get the at-home whitening kit. During the first visit, impressions of your teeth are made using a putty-like material that is put in a tray and fitted over your teeth. After a minute or two, the tray will be removed with the impression of your teeth in the material. This is sent to a laboratory who will then make trays to fit over your teeth exactly. These trays will hold the whitening gel.
The dentist will arrange for you to go back to the office to pick up your kit when the trays are ready, demonstrating how to use the gel and trays.
Can I Trust the Quality of Teeth Whitening Treatments in Antalya?
Dentists in Turkey have training on a par with Western training—five years at medical school to qualify as a dentist, and then further training if they want to specialise. Clinics catering to international clientele are generally modern and well-equipped. They also conform to recognised international protocols on hygiene and safety so there is no need to worry that you are visiting a country with sub-par standards.
If you book with a reliable clinic the standard of dental care is generally good, but it's always wise to err on the side of caution when choosing to undergo any form of medical or dental treatment. It's your body so you should do whatever you can to take care of yourself, and do your research so you understand the pros and cons of any procedure and are in a position choose a trustworthy clinic.
The clinic listed with Dental Departures have all been background checked by us so you are assured you will receive good-quality when you book through us. Our checks include onsite visits and legal/criminal records. We also confirm dentist qualifications and professional memberships, as well as collate real patient reviews which are published on our site. Prices, maps and clinic photos are all available too, so you can get a real feel for any of our clinics before setting foot inside them.
We have plenty of clinics in Antalya where you can get your teeth whitened, but you may want to take a look at our top-rated facilities for starts:
How Do I Get Started?
Book an appointment for your teeth whitening in Antalya online, or speak to our Customer Care Team to find out more.