Do you want to restore your missing teeth? Your pearly whites can be replaced by an advanced treatment called All On 6. Costa Rica is a destination for Americans and Canadians seeking for high-quality yet affordable dental treatment. Continue reading to know more about All on 6 and the quality of dental implants in Costa Rica.
What is All on 6?
All on 6 is a modern technique that replaces the whole arch of teeth with just six implants. The implants are attached to the replacement teeth (bridge or denture). This innovative approach is carried out in just one day. Local anesthesia is given to patients. All on 6 is also called "teeth in a day" because the extraction of teeth, insertion of implants, and replacement of teeth can take place in one day.
All on 6 is a viable option for edentulous (toothless) or semi-edentulous patients who need stable replacement teeth. It shortens treatment time and minimizes surgical procedures like a sinus lift. Since additional procedures are eliminated, it cuts down your dental expenses.
You will need to consult an experienced dentist to know if this is best for you. A complete examination, as well as an evaluation of your dental and medical status, will be taken to determine your suitability for the treatment.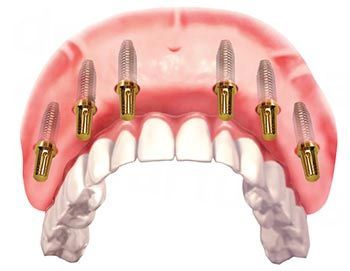 Why get an oral care in Costa Rica?
Costa Rica attracts many Americans and Canadians because of its proximity to the those countries. It brings many tourists seeking high quality medical/dental treatments offered at lower prices.
Dentists in Costa Rica are comparable with their US counterparts in terms of the quality of dental service, facilities, and qualifications of the dentists. The dental facilities are fully equipped with modern technology such as digital x-rays. Dental clinics like Costa Rica All On Fou r and Clinica Mario Garita invested in on-site laboratory that produces impressive restorations for implants, crowns and veneers.
How about the dentists in Costa Rica?
The dentists in Costa Rica are on par with their counterparts in your home country. In fact, clinics like Costa Rica All On Four are staffed with dentists who are active members of the American Dental Association, American Academy of Cosmetic Dentistry and the International Congress of Oral Implantologists. They specialize in Prosthodontics (specialist in teeth replacement), Cosmetic Dentistry, Full Mouth Restorations including All on Four dental implants. Their exposure in the international setting helps them to deal effectively with patients from overseas.
What is the cost of All on 6 in Costa Rica?
The cost of All On Four in Costa Rica is approximately USD $8,500 (CAD $11,473; UK £6,637). Compared to US, it's USD $26,000 (CAD $35,094; UK £20,301). Prices of dental treatment in Costa Rica is indeed lower than other countries.
If you're looking for a better alternative to replace your teeth, consider All On 6. Costa Rica clinics will help you shape up your smile without shelling out a huge amount of cash. Find a dentist with the help of Dental Departures and book an appointment.