Take time to get a professional teeth cleaning during your holiday in Thailand. To help you find the best dentist for your oral care, check out our teeth cleaning review, Thailand top clinics, and affordable treatments compiled by Dental Departures.
Teeth Cleaning
According to the American Dental Association (ADA), it is important to get regular checkup and professional teeth cleaning at least twice a year. This will help you achieve optimal health and prevent you from oral problems.
A trip to Thailand is a good opportunity to get a preventive treatment. During oral examination, the dentist will check your teeth, gums, and jaw. Sometimes diagnostics test like x-ray is recommended to evaluate your dental health. The dentist will inspect if there's tooth decay, cracks, or any irregularities in your teeth. Teeth cleaning will be carried out to remove plaque and tartar. After treatment, you need to practice proper oral hygiene – brush, floss, and rinse with mouthwash regularly. Eat healthy food and stay away from bad habits that will ruin your pearly whites.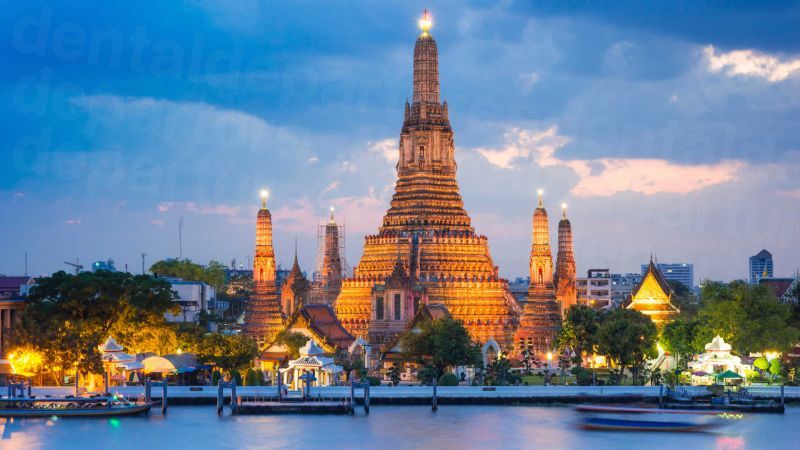 Thailand Top Clinics
You can get preventive care from the top dental clinics in Thailand that offers superior dental service. The quality-checked clinics include the following:
Bangkok International Dental Center BIDC is the leading clinic in Thailand that has won numerous awards. It is accredited by the International Organization for Standardization (ISO) and the Joint Commission International (JCI). The dental center offers Preventive Dentistry to specialized treatments such as Periodontics, Endodontics (root canal therapy), Orthodontics, Oral Surgery, and Cosmetic Dentistry. It has specialists in Oral Surgery, Periodontics, and Endodontics. Prosthodontics (teeth replacement), and other fields that are certified by American Board of Prosthodontics, American Board of Prosthodontics, and the American Academy of Cosmetic Dentistry (AACD).
Bangkok Smile Dental Clinic is also recognized by the International Organization for Standardization (ISO). It has an ultramodern facility with an in-house laboratory. The clinic offers teeth cleaning to specialized procedures such as Root Canal Treatment, Orthodontics, Oral Surgery, Cosmetic Dentistry, and Dental Implants. Specialists in Family Dentistry, Pediatric Dentistry, Root Canals, Oral Surgery, Orthodontics, and Prosthodontics (teeth replacement) provide exceptional care. They are certified by organizations like The Royal College of Surgeons in Ireland and the World Federation for Laser Dentistry (WFLD).
Teeth Cleaning Price (Thailand Clinics)
Get preventive care in Thailand at an affordable price. The cost of teeth cleaning in Thailand is shown below.
Price Comparison of Teeth Cleaning
| | | | | | |
| --- | --- | --- | --- | --- | --- |
| | AUD | NZD | USD | CAD | GBP |
| Price in Thailand | AUD $38 | NZD $41 | USD $29 | CAD $39 | GBP 23 |
| Other countries | AUD $167 | NZD $179 | USD $126 | CAD $170 | GBP 98 |
As you can see, it's very affordable to get an oral care in Thailand. You'll get big savings on your dental cost at the same time enjoy a fantastic vacation in the Land of Smiles.
Browse the clinic profiles to see the reviews, prices of treatment, and other dental services in Thailand. Get in touch with our Customer Service Team to book an appointment.