Putting off treatment can lead to even bigger dental health problems down the road, which can end up being even more expensive to cure. You can find many excellent dental clinics in Alicante, a province in the southeast of the country which borders the Mediterranean Sea.
Alicante Doubles as a Top Dental Tourism and Holiday Destination
Home to well-known seaside resorts like Benidorm, Alicante offers the opportunity for a holiday in the sun alongside your dental care. Other top cities and towns to visit in the region include the capital, also called Alicante, along with Elche, Torrevieja, and Teulada. The warm climate, wonderful beaches, and friendly local hospitality all keep British holidaymakers coming back.
Tourism has helped fuel development across Spain's Costa Blanca, and the range of dental care providers to cater to British visitors has risen as well. Many bilingual Spanish dentists have set up practices in the region so they can offer convenient service for dental tourists. The cost of running a dental clinic in Alicante is also less expensive than in more populous places like Madrid and Barcelona, so dentists can pass on these savings to you.
The Price of Dental Treatments in Alicante
Be in no doubt, dental treatment in Alicante will cost you less than in the United Kingdom, and that goes for everything from an uncomplicated filling to more advanced dental implant surgery. The savings you could make range from a few hundred pounds to more than £15,000. To give you an idea of the price difference between Alicante and the UK for a variety of dental procedures, check out the comparisons below:
If you need root canal treatment for one of your molars, you can expect to pay just over £1,000 at a private dental clinic in London, Birmingham, Manchester, Sheffield, or any other British city. Visit a dentist in Alicante and the price for this procedure drops all the way down to roughly £180, a saving of over £800.


It gets better though, because you can save even more off dental prostheses. UK dentists usually price a single zirconia crown at around £1,250, but in Alicante, a zirconia crown costs £270. For a porcelain veneer, you will pay in the region of £1,460 in Britain, whereas Alicante dentists charge roughly £335. Both crowns and veneers are around £1,000 less in Alicante compared to the UK.


Moving on to complete tooth replacement treatments, Alicante dental implant prices offer huge savings on UK costs. One complete titanium dental implant, including an abutment and crown, costs on average £3,045 at dental clinics across the British Isles. Visit a dentist in Alicante for a single implant and that price falls to just £1,090, almost £2,000 less.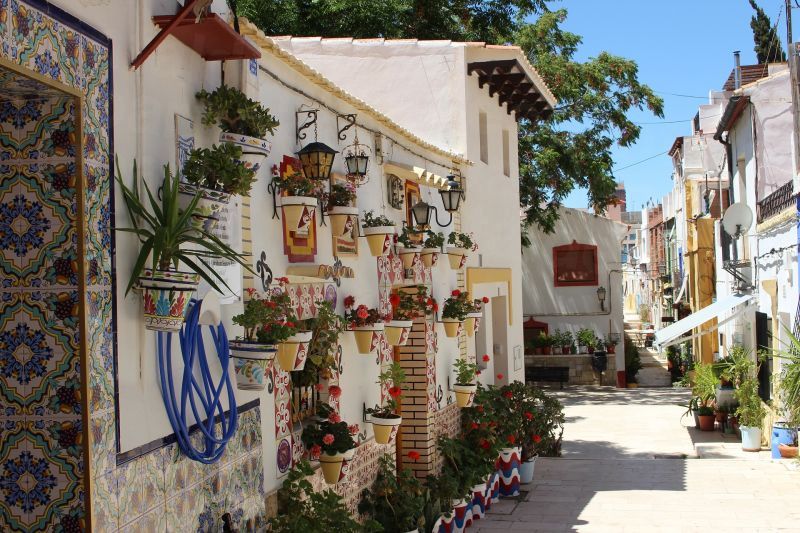 Two of the Best Dental Clinics in Alicante
To get you started on your search for a low-cost dentist in Alicante, here are two clinics that come recommended by patients who have been there and had their treatment. They are also Dental Departures Verified Clinics, which means they have passed our stringent four-part review process, including a dental license check, an inspection of their treatment rooms, and a survey of their online reputation.
Apadent Dental Care is a highly-rated Alicante dental clinic that scores five stars for patient satisfaction. This longstanding practice was founded over 30 years ago in 1986, by Dr. Juan Carlos Garcia Aparicio, and since then his team of specialists has helped thousands of British patients in need of affordable dental care. Their onsite dental laboratory is equipped with the latest in CAD/CAM dentistry technology, and all the dentists working here speak fluent English.
More top Alicante dentists are found at Consuelo Flores Dental Clinic, a modern practice located close to the University of Alicante. Highly-qualified and experienced periodontists, endodontists, and prosthodontists work here, so whether your needs cover general, cosmetic, or restorative dentistry, you will be able to get the right treatment. Find out what past patients thought of the care they received at Consuelo Flores Dental Clinic by reading some of the reviews on their clinic page.
Book Your Appointment With a Dentist in Alicante at Dental Departures
Setting up an appointment at either of the two above clinics, or any other dental clinic in Alicante, is quick and easy with Dental Departures. Use our online appointment scheduler to choose a time and date that suits you, then we will take care of the rest. You can expect an email confirming your Alicante dental appointment shortly after you make your request.
If you need to change the date or time of your visit just get in touch and we can do that for you. Even if you need to cancel your appointment, that is ok too. All we ask is that you give us at least 24 hours' notice for an appointment change or cancellation, then we can promise you will not have to pay any charges.
Perhaps you have some questions about Alicante dentists, or maybe you would prefer to speak with somebody over the phone to book your appointment. Just give our Customer Care Team a call for expert assistance. And remember, any treatment you book through Dental Departures is covered by our Best Price Guarantee. Go ahead and get the dental care you need at a price you can afford today.
Sources:
Dental Tourism in Spain: Avoiding the NHS Dentistry Crisis. Deadline News. 24 September 2018. http://www.deadlinenews.co.uk/2018/09/24/dental-tourism-in-spain-avoiding-the-nhs-dentistry-crisis/
Murphy, Caleb. Dental Implant Timeline: What To Expect At Every Stage Of The Procedure. Authority Dental. 28 January 2019. https://www.authoritydental.org/dental-implants-process
Root Canal Explained. American Association of Endodontists. https://www.aae.org/patients/root-canal-treatment/what-is-a-root-canal/root-canal-explained/
Which Dental Prosthesis Is Right For You? Colgate Oral Care Center. https://www.colgate.com/en-us/oral-health/life-stages/adult-oral-care/which-dental-prosthesis-is-right-for-you