Looking at dental implants in the former Saigon – now known as Ho Chi Minh City? Find out more with Dental Departures.
Despite the advancements which have been made in providing dental care, millions of people in the world suffer from periodontal disease, injury, and tooth loss. Dentures and bridges have been the long-standing options for this population but according to dental implants reviews in Saigon, there is now a third option which surpasses them all.
What are dental implants?
In simple terms, a dental implant is a replacement tooth root. The implant offers a strong foundation for the removable or permanent replacement tooth. The teeth which are fitted are just like the natural ones.
Advantages of dental implants
Improved comfort
Because they are permanent and beautiful, you will be comfortable when eating, laughing or speaking in public.
Improved appearance
The implants feel and look like your natural teeth. Also, they are fused to your jawbone hence making them permanent. The beautiful smile you get after will be for life.
Easier eating
Sliding dentures make eating a nightmare. This is not the case with dental implants and you can take your favorite meals with confidence. You will suffer no pain too.
Improved oral health
You will not affect the status of the other teeth by getting dental implants as is the case with bridges. This takes care of the remaining natural teeth hence improving your oral hygiene.
The clinic Dental Departures recommend to their customers who wish to get dental implants in Saigon are:
a) Rose Dental Clinic
This is an award-winning clinic which not only takes care of your dental needs but health in general. Thousands of patients have gone home with beautiful smiles thanks to Rose Dental Clinic.
The team working here upholds professionalism and is always ready to help.
b) Elite Dental Vietnam
This clinic offers all services in dentistry and has invested in friendly and approachable staff. English is the standard language of communication and everyone working here is fluent in it. It ensures the needs and preferences of the clients are understood well.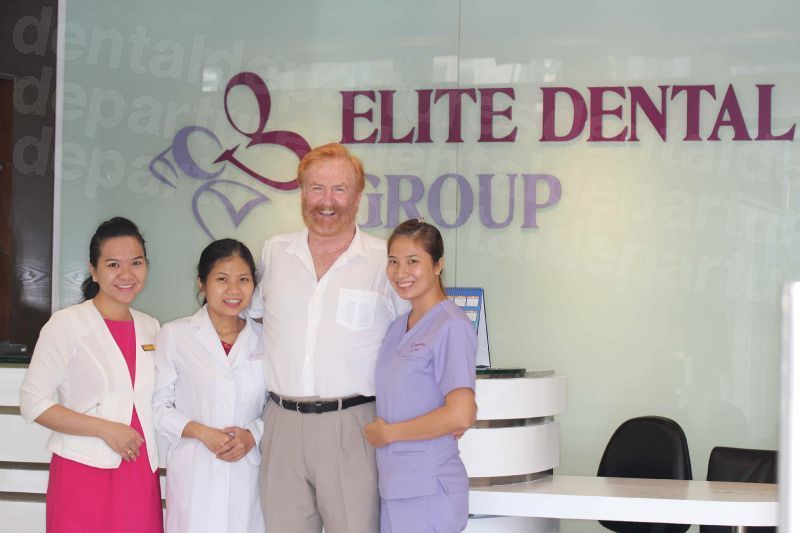 c) Serenity International Dental Clinic Ho Chi Minh City Branch
The location of the clinic at the center of Ho Chi Minh City is what draws many international clients to it. Not only is it quickly accessible to those coming by plane but also ensures visitors can easily access the amenities and good things the city has to offer.
The dental care here is of a high quality and it is affordable compared to what is charged in Europe, Australia, the US, and the UK.
d) Vinh An Dental Clinic
This clinic attracts dental tourists mainly because of the lower rates and high-quality dental care compared to what is charged back home. It has advanced technology and highly qualified dentists who will stop at nothing in providing the best dental care you can ever dream of.
How much do dental implants cost in Saigon?
You will pay USD $ 7500 ( AUD $ 10,133 UK £ 5793, CAN $ 9306, NZ $ 10,449) in Saigon for dental implants compared to an average of USD $ 15,000 ( AUD $ 18,846, UK £ 11587, CAN $ 18,613, NZ $ 20,898) in the United States.
Worldwide Beauty and Dental Hospital also comes highly recommended by Dental Departures. According to dental implants reviews in Saigon, the clinics listed above will not only give you value for your money but also great experiences.