With a thousand-year history, Poland is a delight for tourists. While boasting historic sites from Holocaust memorials to the red-brick fortresses of the Teutonic Knights, Poland is also home to some of the best dental clinics in Europe. In Poland, dentists provide quality dental implants for much less than the going rates in the UK.
Dental Implant Cost – Poland
With lower operating costs, a cheaper cost of living and an absence of the red tape found throughout the UK, dentists in Poland are able to offer you affordable dental implants. Check out the cost of dental implants at the three best-reviewed clinics in Poland:
Comparing this to the average dental implant cost of £3,000 (€3,417) in the UK means that the savings you make from even a single dental implant will easily cover the cost of your plane ticket and hotel accommodation in Poland.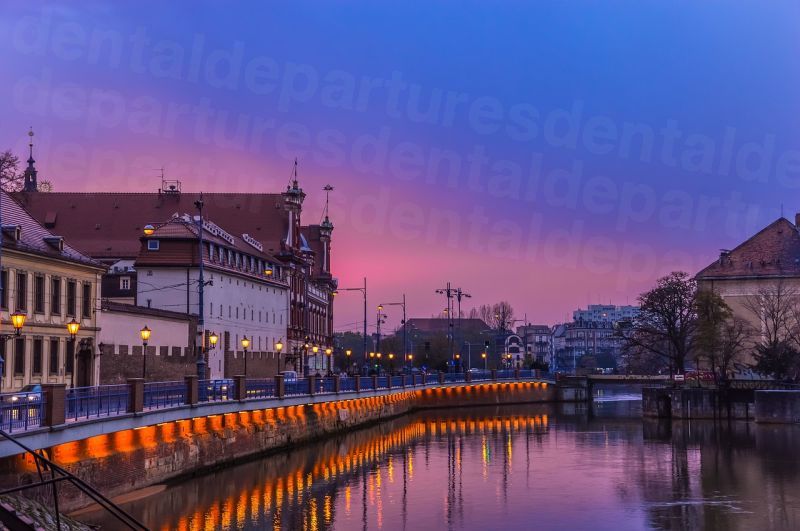 Now you know why Poland's dentists are able to offer such affordable dental implants, you should also bear in mind that we only add the most reputable dental clinics to our portal. Our screening process includes:
Onsite visits

Dentist and staff qualification verification

Dental association membership verification

Malpractice and criminal records checks

Authentic patient review feedback
We are here to help you pick the best clinic for your dental implants. Our vetting process removes any sub-standard dental clinics from the equation. This ensures that whilst you save money, you do not have to compromise on the quality of your dental implants or the quality of dental service. So long as you stick to the clinics on our site, you will always be heading to a first-rate facility. If you want, we can also connect you to previous patients. Talking to these past dental tourists will help you plan your own dental holiday.
An Unforgettable Holiday in Poland
With stylish medieval destinations like Gdańsk and Kraków and urban gems such as Warsaw, Poland is brimming with enchanting sites. As a dental tourist and traveller, you will have an amazing time in Poland. Also keep in mind that implant procedures require you to visit the dentist again after four to six months, which is the time it takes for the implants to fuse securely with your jawbone. So, you get to enjoy two wonderful holidays in Poland in addition to getting the smile of your dreams!
If you have the time, you can also venture beyond the cities to explore the hills, rivers, lakes and woods. With two trips being necessary, you can spread your holiday expenses across both trips. The local cuisine is based on native ingredients that include pork, cabbage, onion and mushrooms and provide an unforgettable experience. From log cabins and castles to heart-warming food and fresh-air pursuits, there is a lot in Poland to absorb, enjoy and remember.
Some of the must-see sites in Poland include:
Wawel Cathedral in Krakow

Paulite Monastery of Jasna Góra in Czestochowa

St Mary's Basilica in Krakow

Wieliczka Salt Mine in Krakow

Royal Castle in Warsaw

Chopin Museum in Warsaw

Wawel Royal Castle in Krakow

Kłodzko Fortress in Klodzko
Flying to and Staying in Poland
Most clinics in Poland for dental tourists are in the cities of Warsaw and Krakow. Check out the flight and hotel information for these cities:
Warsaw
London to Warsaw flight: £96 (€108), 2.5 hours duration
Three-star hotel: £53 (€59) per night
Five-star hotel: £167 (€187) per night
Krakow
London to Krakow flight: £116 (€152), 2.5 hours duration
Three-star hotel: £51 (€57) per night
Five-star hotel: £126 (€142) per night
Based on these average prices, you can easily spend less on your dental implants than you would in the UK, even after paying for plane tickets and hotel rooms.
An increasing number of tourists are visiting Poland each year. Many of these are dental tourists from countries like the UK who are looking for affordable dental care. The country has been the member of the EU since 2004, meaning that dentists here are subject to the same EU regulatory bodies as the dentists back home.
We recommend that you get personalized quotes from each clinic as you plan your dental holiday to Poland. Dentists on our listing will happily answer your questions and provide you with reliable quotes plus, if you book through Dental Departures, you will get warranties on all dental work and materials used during the process.