Only Your Local Dentists Need to be Scared!
The Dental Departures Halloween promotion is an amazing chance for you to save even more on your dental holiday. This Halloween you can save 5% on any treatment at the top dental clinics listed on Dental Departures. This discount further sweetens the deal where you save thousands of dollars thanks to dental tourism. You can check out our promotion here.
Don't miss this opportunity to save another couple of thousands dollars. Whether you live in Australia/New Zealand or the US/Canada, you can head to the closest dental tourism destinations to your country and avail yourself of this wonderful discount.
The Dental Departures Halloween promotion is the perfect example of how this portal has your best interest at heart. The commitment to help dental tourists is a big reason an expanding group of people flock to this dental tourism site to learn about high quality dental services at low prices.
Sitting on the Fence?
If you've been sitting on the fence about getting some dental treatment abroad, this is the perfect time to get it done and save some extra cash. You can easily browse through Dental Departures to see which clinics in your region offer the best treatments.
Whether you're looking for an all-on-four that costs a small fortune in your hometown or some other dental procedure, this is an excellent chance to save more. Let's look at the cost comparison for a couple of popular dental procedures.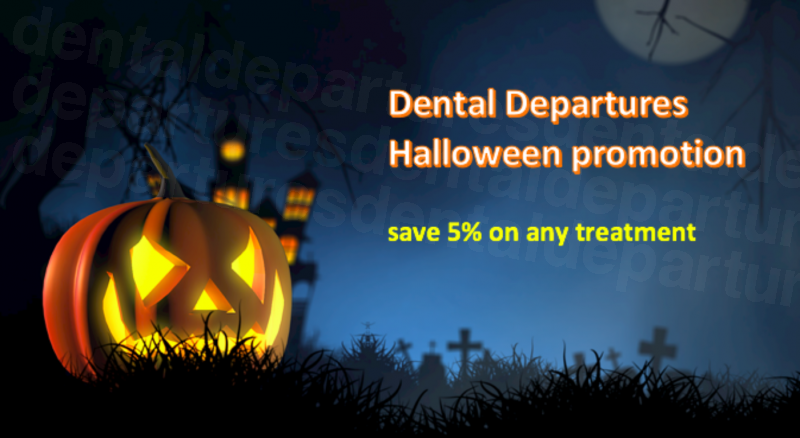 Dental Implants Savings
Here's a cost comparison for dental implants:
US and Canada
US: USD $3,913. Canada: CAD $5,026
Mexico: USD $1,250 / CAD $1,578
Costa Rica: USD $1,780 / CAD $2,247
Australia and New Zealand
Australia: AUD $5,098. New Zealand: NZD $ 5,238
Thailand: AUD $2,430 / NZD $2,731
Bali: AUD $2,028/ NZD $2,278
Now add another 5% savings and you can see why dental tourism is such a great idea especially this Halloween. Just use this promo code: DDHALLOWEEN2017.
All-on-Four Savings
Check out the cost comparison for all-on-four:
US and Canada
US: USD $34,417. Canada: CAD $45,582
Mexico: USD $9,817 / CAD $12,694
Costa Rica: USD $10,500 / CAD $12,626
Australia and New Zealand
Australia: AUD $33,910. New Zealand: NZD $ 34,841
Thailand: AUD $14,071 / NZD $15,810
Bali: AUD $5,433 / NZD $6,104
You can avail an additional 5% discount on top of these amazing savings this Halloween. Just use this promo code: DDHALLOWEEN2017.
Get the Frightfully Fantastic Combination of Low Prices and High Quality
While you get double savings on occasions such as this, you never have to compromise on quality. The low costs are mainly due to the lower operating expenses, lower living costs and high competition among clinics at top dental tourism destinations.
Dental tourism doesn't have to be a risky affair as some people might have you believe. Their misconception stems from the inability of some people to find reputable clinics abroad.
If you stick to the clinics listed at Dental Departures, you'll always be looking at great clinics. Of course, you can further shortlist the choices based on factors ranging from the clinic's location to your rapport with the clinic representative. In any case, you will be saving thousands of dollars and getting world-class treatment.
Only the Best Clinics
Dental Departures goes to great lengths in its background-checking process to ensure only the best clinics are added to the portal. For every clinic, you can view a combination of clinic descriptions, patient reviews, photos & virtual tours and pricing info in multiple currencies. So don't be scared about selecting the right clinic. With a little reading and smart planning, you can enjoy Dental Departures' Halloween promotion.
What's the Catch?
The prices are a treat. But there's no trick. The closest thing to a catch is perhaps finding and choosing the right clinic. As mentioned above, Dental Departures solves this problem. Along with the amazing discount, you're also getting superior customer service, free quotes, easy booking, and a whole lot more by visiting Dental Departures.
And don't forget the tourism part of dental tourism. Unless you're just doing an overnight thing to a location like Los Algodones, you can plan an amazing holiday around your dental procedure. Whether you're flying out to Costa Rica or Thailand, you can spend this Halloween in an amazing tourist destination. You can be smiling a more beautiful smile thanks to the savings and a wonderful vacation.
So think about what dental procedure you've been meaning to get and get it this Halloween. As you save 5% on any treatment, you can even bundle together different procedures on a single trip. Like combining a big procedure with a minor one. Feel free to discuss what's possible with the clinics you're considering. In any case, don't miss out on the frightfully fantastic Dental Departures' Halloween promotion.