Istanbul in Turkey is an up-and-coming dental tourist destination that offers affordable pricing on a whole range of cosmetic and restorative dental procedures.
We have partnered with a growing number of top dental clinics in Istanbul that offer the All-on-4® treatment concept (provided by Nobel Biocare) or All-on-6 dental implants; with modern facilities and highly-qualified doctors, booking your treatment here presents the chance to save over ten thousand pounds compared to high prices in the UK or other European countries.
How Much Can I Save on the All-on-4® treatment concept / All-on-6 Treatment in Istanbul?
Prices for all dental procedures are very reasonable in Istanbul.
All-on-4® treatment concept:
Prices for the All-on-4® treatment concept in Istanbul are around US $6,564 (AUD8,303, NZD9,100 £5,127, €5,560, CAD8,224).
In advanced western countries, this procedure can cost US $11,569 (AUD 14,634, NZD16,039, £9,037, €9,800, CAD14,497).
All-on-6:
An All-on-6 costs around USD $7,885 (AUD 9,975, NZD10,932, £6,160, €6,680, CAD9,879) in Istanbul.
This is significantly less than the USD $13,126 (AUD16,605, NZD18,198, £10,255, €11,120, CAD16,447) you would expect to pay in other countries.
Please note that these are estimates at the time of writing. Prices vary depending on how many teeth are being treated, as well as the chosen method for each patient's particular circumstances.
Top Clinics for Mouth Restorations in Istanbul
Please check out clinic listings for up-to-date prices for treatment in Istanbul below:
Is the All-on-4® treatment concept / All-on-6 a Viable Alternative to Dentures
With dentures, you may well face problems if they don't fit well or you don't get used to them. They also need regular maintenance and annual check-ups. It is also important to use them all the time rather than only when you are eating so that you don't suffer from gum shrinkage and do not face problems talking.
The All-on-4® treatment concept and All-on-6 treatment entails the attachment of a set of new teeth that are anchored to titanium posts placed inside the jaw bone that act like your natural teeth.
If you need teeth extracted, this can also be done before the procedure and you will possibly walk out of the clinic after several hours with a full mouth of temporary teeth. Either four or six implants are used and these support the entire arch of teeth. After the implants have healed, you can go back to have your permanent crowns (normally fixed to an acrylic dental prosthesis) attached.
Top Dental Clinics in Istanbul
Some of the most popular dental clinics in Istanbul offering implant-supported fixed bridges:
Click through to see some of the latest prices, dentist profiles, patient reviews, photos, clinic maps and more useful information.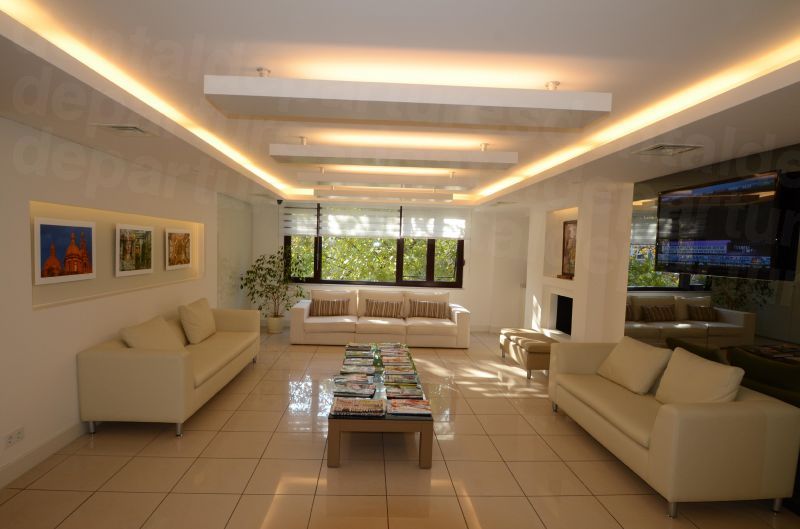 Getting Started with Dental Departures
Istanbul offers a heady mix of Asian and European cultures, the old and the new, churches and mosques co-existing, shopping at local bazaars or even malls, cruises and, if you go in the right season, you can see tulips as well.
So, you can combine an exciting holiday with the All-on-4® treatment concept or All-on-6 treatment when booking through our site. You can also schedule a free appointment or get a personalized quote via our Customer Care Team.
Sources:
Alderman, Lesley. For Most, Implants Beat Dentures, but at a Price. New York Times. 30 July 2019. https://www.nytimes.com/2010/07/31/health/31patient.html
Full Dentures, Partial Dentures, Denture Care—Learn More. Colgate. Website accessed: 8 February 2021. https://www.colgate.com/en-us/oral-health/cosmetic-dentistry/dentures/full-dentures-partial-dentures-denture-care-learn-more
Which Dental Prosthesis Is Right For You? Colgate. Website accessed: 8 February 2021. https://www.colgate.com/en-us/oral-health/life-stages/adult-oral-care/which-dental-prosthesis-is-right-for-you
European Society of Esthetic Dentistry. Website accessed: 8 February 2021. http://www.escdonline.eu/
International Congress of Oral Implantologists. Website accessed: 8 February 2021. https://www.icoi.org/