A holiday in Bali combined with a visit to a Bali dentist is an unbeatable combination. Arc Dental Clinic in Bali is highly recommended and has top-notch facilities for all kinds of dental work.
The increasing popularity of dental tourism
Dental work is something that you usually have to pay for, more especially when it is cosmetic dentistry that is not covered by any kind of insurance. And dental work is fairly expensive in most advanced and western countries. When costs are unaffordable, you really do think twice about splurging for cosmetic dentistry or spending money even routine check-ups and cleaning and this is where the best Bali dentist will come to your rescue.
The importance of oral health cannot be overemphasized. Recent studies have shown the link between many diseases and mouth health. Apart from that having a great smile and a full set of teeth enables you to eat and talk properly and boosts your self confidence.
As such, increasing numbers of people are lured by the twin attractions of lower-priced dental care and a holiday in an exotic location. Bali in Indonesia fits the bill in many ways since it has a vibrant nightlife, hotels at different price points, beaches and coral reefs, volcanic mountains and forests. Even factoring in the cost of travel, hotel stay, food and entertainment, you will still save significantly as the Bali dentist offers good quality dental care at affordable prices.
Why Arc Dental Clinic?
When you look through the internet for Bali dentist reviews one name that consistently comes up is of Arc Dental Clinic. It is popular with reviewers as well and you will come across this name in many unbiased forums as well. The clinic has a convenient location on Jalan Sunset Road in Kuta, Bali, close to the Carrefour Supermarket, so is easier to find. You can simply take a taxi and reach the place.
Arc Dental Clinic offers all kinds of dental treatments at affordable rates. Among the procedures and treatments you can get done are
Porcelain restorations

Bleaching and whitening

Dental implants

Crowns

Veneers

Root canal therapy

Gum treatment for all kinds of gum diseases and problems

Cleaning and scaling

Filling

Tooth extraction

Crowns

the All-on-4® treatment concept by Nobel Biocare
What's more Arc Dental Clinic offers a first-time consultation free along with a panoramic x-ray that will tell you (and the dentist) the condition of your teeth.
Other advantages of going to recommended Bali dentists
People recommend the best Bali dentist on the basis of their personal experiences. The dentists at Arc Dental Clinic are compassionate and spend time with you understanding your problems and finding the right solutions.
Arc Dental Clinic also has a master porcelain technician leading a team of experienced German trained technicians well versed in the use of the newest European and U.S. technology using modern equipment. With integrated Cad Cam computers and Ceramill® scanner, developed exclusively for digital dentistry, the lab at Arc dental clinic can make the exact shape and size and color of restorations needed, enabling a faster treatment time.
The clinic is headed by Dr. H.C. Thomas Koty, who has over 25 years of experience. He is a member of The Implant Prosthodontic Section of ICOI, The European Academy of Oral Implantology and The International Congress of Oral Implantologists among other affiliations. Other dentists at the clinic include Drg. I Nengah Adhi Muliaharta and Drg. W. Pradnya Dira Rata, both experienced in different specialties.
You will be even more interested when you read about the prices
According to a Medical Tourism Survey, many people travel to foreign countries because of affordable dental treatments and procedures offered by well-qualified dentists in state-of-the-art facilities at these places. In Bali, prices at the Arc Dental Clinic are very reasonable. To give you an idea
In Australia a root canal that will cost you an average of AU$2,856 (NZ$3,127, £954, €1,133, US$ 1,275, CAD2,940) will cost you only AU$250 (NZ$270, £139, €160, US$172, CAD250) at the hands of one of the best Bali dentists.
Dental crowns in Australia that cost AUD $1,558 (NZ$1,706, £987, €1,139, US$1,200, CAD1,603) will cost only AU$598 (NZ$ $655, £379, €438, USD $461, CAD $616) at Arc Dental Clinic. For more expensive procedures like dental implants the savings are even more significant.
All-on-4® treatment concept that will cost you an average of AU$33,751 (NZ$36,959, £19,383, €23,130, US$26,000, CAD34,740) in your home country will cost only AU$5,440 (NZ$5,958, £3,438, €3,943, US$4,247, CAD5,600) at Arc Dental Clinic.
Similar fractional prices apply to other procedures. These are considerable savings by any yardstick.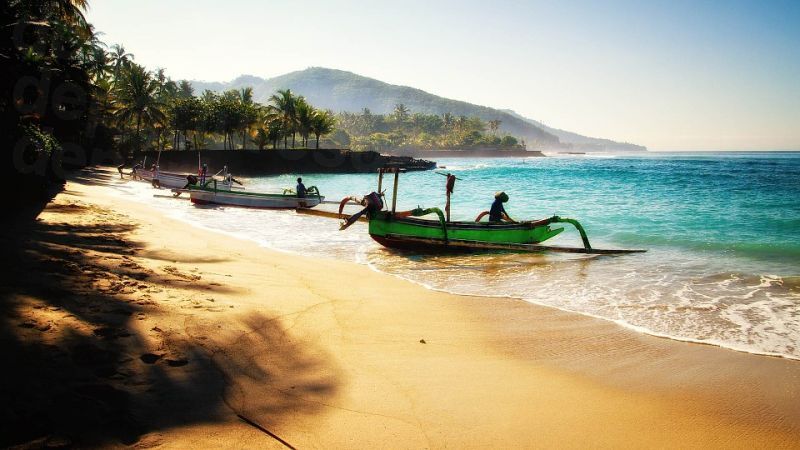 Bali dental tourism – holiday activities
Bali is a lush island paradise known as the 'Island of Gods'. The beaches - especially Kuta - are great for swimming and surfing, snorkeling and scuba diving, jet-skiing and canoeing. You can also go on whitewater rafting, ride glass-bottomed boats, stand-up paddling or rent boats and yachts or go on private tours. When you visit Arc Dental you are in the thick of all the action. So, you can visit your dentist in Kuta in the morning and return to your holiday activities straight afterward.
For those who prefer land-based activities, there is golfing, trekking, cycling, mountain or volcano climbing, bathing in hot springs, bowling, visiting family parks and botanic gardens and more. When in Bali don't miss going to the many Hindu temples or watch live cultural shows.
This tropical island also has many UNESCO world heritage sites including the Taman Ayun Temple, Ulan Danu Batur temple, Lake Batur, Pakerisan Valley and Jatiluwih Rice Terraces. You can take a guided tour or day trip that will take to all these sites.
Apart from all these activities and excursions, you can sample some great cuisines, Indonesian and international in restaurants, cafes and hawker stalls. You can also indulge in various spa therapies and Balinese massages that are known throughout the world. In fact, Bali is known for its meditation retreats, yoga and spas.
With dental prices that are inexpensive, with other holiday expenses that are eminently affordable, a dental holiday in Bali will enable you to smile with confidence. And Arc Dental Clinic offers all kinds of dental treatments and procedures at prices that will not burn a hole in your pocket.