Spotlight on Sani Dental Group
The Sani Dental Group is located in Los Algodones, Baja California, Mexico. Established in 1985, it now has a number of branches in the town, all offering an extensive range of general and specialist dental services to local and international patients – from check-ups to full mouth rehabilitation, and everything in between.
About the Sani Dental Group
With modern, contemporary facilities boasting state-of- the-art technologies, including 3D CT scanning,panoramic x-rays and their own onsite laboratory, the group are fastidious in delivering excellent care that surpasses the expectations of their patients.
Believing communication to be an essential element to achieving positive treatment outcomes, the staff at
Sani Dental
are fluent in English and Spanish and there is always a person who speaks the patient's language present in the treatment room while they are seeing the dentist.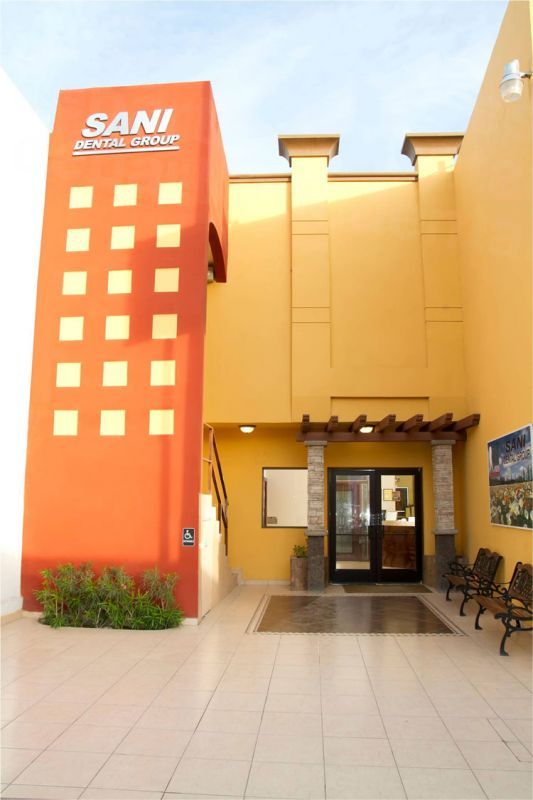 The Sani Dental Group has a highly-experienced and skilled, multidisciplinary team of dentists who work together to correct your dental health problems and give you a smile you can be proud of. With more than 30 dentists working across the group, they have the expertise to ensure all of your dental health problems are corrected in-house, without you needing to go anywhere else.
People are often worried about the standards of
dentistry in Mexico
being inferior to what they are used to, but if you choose a reliable clinic, like Sani, then you shouldn't have any problems.
Dental Procedures available at the Sani Dental Group
Sani Dental Group provides comprehensive dental services, from the simplest to the most complicated of interventions.
Everyday dental care includes a free initial consultation, fillings, crowns, bridges and dentures. The group also offers root canals and dental implants, as well as cosmetic dentistry services, including laser teeth whitening and veneers.
Sani Dental also offers pain-free laser dentistry – one of the most modern techniques in modern dentistry where a laser is used to provide an alternative to traditional techniques and is particularly helpful for patients as healing times are faster; some procedures requiring stitches in traditional dentistry may not with a laser; bleeding time is minimized because the laser aids blood clotting; infections are minimized as the laser sterilizes; surrounding tissues suffer less damage.
For prosthodontics (dentures, crowns, veneers), the group has its own in-house dental laboratory so that quality control can be maintained without having to send out to an external laboratory. This also reduces waiting times, which is something international patients, in particular, may be grateful for.
Dentist recommendations, Sani Dental Group
The Group employs the services of general and specialist dentists who have skills across a range of different disciplines, including:
 Dr Enrique Jimenez, the founding partner of the Sani Dental Group. An Oral Surgeon, he specialized in cosmetic dentistry and implants and has also received a Masters degree in Laser Dentistry.
 Dr Omar Gerardo Valero Monroy, an implantologist whose education has included qualifications in Surgical Prosthetics and Bone Regeneration; Extraction Complications and Sinus Lifting and Placement of Membrances.
 Dr Martha Eugenia Parra Ruiz whose education includes Endodontics, Occlusion and Rehabilitation and Successful and Provisional Restorations.
You can find lots of positives online about Sani Dental. Reviews from their patients rate them very highly:
Hugh, from Santa Cruz, USA in March 2017 said:
"Staff was really enjoyable to associate with. Also, this place is immaculate and so far I am pleased with the results. All my appointments were on time. What else could you ask for? Glad I came to Sani and I am recommending Sani to others. Enjoy."
What are the prices at Sani Dental?
Sani Dental prices compare very favorably in comparison with dental treatment prices in the United States and Canada. Here's some popular treatments:
Dental Filling Cost at Sani Dental (USD) $45; Dental Filling Cost in the United States $170
Dental Filling Cost at Sani Dental (CAD) $60; Dental Filling Cost in Canada $225
Dental Veneers Cost at Sani Dental (USD) $340; Dental Veneers Cost in the United States $1,200
Dental Veneers Cost at Sani Dental (CAD) $455; Dental Veneers Cost in Canada $1,600
Dental Implants Cost at Sani Dental (USD) $1,200; Dental Implants Cost in the United States $3,900
Dental Implants Cost at Sani Dental (CAD) $1,600; Dental Implants Cost in Canada $5,200
Why else should I consider the Sani Dental Group?
Los Algodones is easy to reach for North Americans, on the US-Mexico border, some 11 miles away from Yuma. Don't be put off by reports that all Mexican border towns are unsafe – Los Algodones is considered to be very safe and there are virtually no reports of drug-related violence in the area that blight some other towns along the Border.
The town is an archetypal Mexican Border town with its colorful, dusty roads, street vendors and shops advertising heavy discounts on pharmaceuticals and prescription glasses. Like other Border towns, it has capitalized on the steady stream of visitors coming from the North who are in search of a bargain. Haggling is the name of the game here, and you can certainly have a fun time trying to get the best prices for souvenirs, and anything else that takes your fancy. There's also plenty of spots to sit and watch the world go by with a long, tall, iced drink in your hand – and, of course, places to eat.
Many thousands of people make the trip to see an
Algodones dentist
from all over North America – the prices being one of the main reasons people initially make the trip. However, Los Algodones is becoming a byword in dental care as it delivers not only on price but also on expertise, as previous patients of Sani's can attest to. The town might look unassuming, but don't judge a book by its cover. Inside the modest exteriors of the buildings here are contemporary facilities with up-to- the-minute equipment and, of course, skilled medical staff.
Sani Dental prides itself on delivering optimal services that ensure patients obtain the best treatment outcomes. Their services are fully guaranteed and you are always assured that you will receive highly- individualized dental care tailored to your exact needs.