Teeth Whitening in Hanoi
Get your teeth whitened while on a holiday in Hanoi. In-office or Laser Teeth whitening treatment effectively improves the shade of your teeth. You'll see an improvement after the session. However, it's important to know that stains caused by aging, trauma, or exposure to some minerals are not easily removed. Teeth whitening is not also recommended in children below 16 years because it might irritate the nerve of their tooth. It's not also recommend in pregnant, lactating women, people with sensitive teeth, and those with dental restorations. If you want to know if this treatment is right for you, consult a dentist in Hanoi so they can check your mouth and assess your suitability for the treatment. Upon confirmation, the dentist will cover your gums and soft tissues before the treatment. You'll be given instructions on how to maintain your teeth after the procedure.
Teeth Whitening Price: Hanoi vs. Other Countries
The cost of Teeth Whitening Treatment is lower compared to Australia and New Zealand. Here's the price comparison of Laser Teeth Whitening.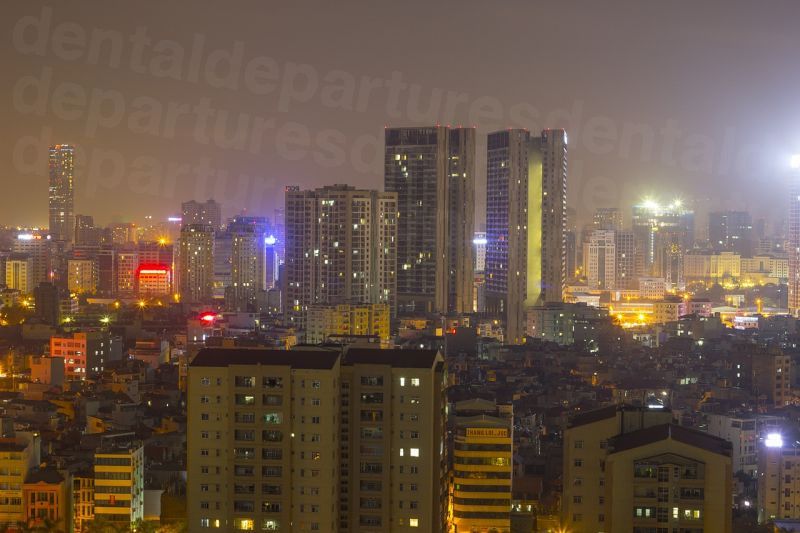 Teeth Whitening Price: Hanoi vs. Other Countries
| | | | | | |
| --- | --- | --- | --- | --- | --- |
| | AUD | NZD | USD | CAD | GBP |
| Hanoi | AUD $232 | NZD $249 | USD $175 | CAD $236 | GBP 137 |
| Other countries | AUD $657 | NZD $705 | USD $496 | CAD $669 | GBP 387 |
Quality of Care in Hanoi
The clinics listed by Dental Departures offer superior oral care. We checked their facilities, verified the qualifications of the dentists, and reviewed their professional memberships. The quality-checked clinics include the following:
Serenity International Dental Clinic is a modern facility with well-trained dentists that provide advanced treatments such as General Dentistry, Restorative Dentistry, Orthodontics, Cosmetic Dentistry, and Oral Surgery. Treatments include laser teeth whitening, veneers, bonding, crowns, dentures, braces, and dental implants. The clinic is equipped with Laser System, digital intraoral radiography, digital OPG, Cone Beam Computed Tomography (CBCT), and other dental technology.

Australian Dental Clinic 's goal is to provide healthy, beautiful smiles in a comfortable environment. It offers laser teeth whitening, veneers, Invisalign braces, dental implants, and other treatments. The dentists are certified by organizations like International Congress of Oral Implantologists (ICOI).

Minh Thu Dental Clinic has been serving patients for more than 25 years with high quality services. Treatments covered by this clinic include laser teeth whitening, fillings, root canal therapy, crowns, veneers, and dentures. The dentists are members of organizations like the World Federation of Orthodontists (WFO) and the International Congress of Oral Implantologists (ICOI).
The teeth whitening cost in Hanoi is cheap enough to get on your holiday. Find a clinic before your trip by browsing the clinic profiles. Check the teeth whitening cost, Hanoi dentist profiles, reviews, and information about the treatment. Book an appointment with the help of our Customer Service Team.