From Ankara to Istanbul; Izmir to Antalya, this mini Dental Departures guide presents some of the best clinics across Turkey for safe, affordable dental implants.
Read on to learn why you should no longer be putting off having dental implants due to the often prohibitively expensive prices back home.
Replacing Missing Teeth is Important for Your Dental Health
When you lose a tooth or multiple teeth, the balance of your dental structure is served a knock. Suddenly neighbouring teeth have lost some of their support, and the gap allows your remaining teeth to shift position. When a tooth moves it can also become loose, so just one missing tooth can lead to even more lost teeth.
Missing teeth can also have a detrimental effect on the health of your jawbone. The bone in your jaw stays healthy and strong when you can chew properly and put pressure on it. Without teeth, your jawbone will become weak and even shrink in size, which can alter the appearance of your face.
Different Dental Implant Options Available in Turkey
If you are missing just one or perhaps a few teeth, using individual dental implants to replace them is likely your best option. A small hole is drilled into your jaw and an implant is then placed inside. Once your implant has fused with your jawbone, a process called osseointegration, an abutment and crown are then attached to the implant. A ceramic crown can be created to match the colour of your other teeth, or if you would prefer a gold dental crown for extra durability is possible too.
To replace a full arch of missing teeth, using single dental implants would be time-consuming and expensive. A better option is likely to be an All-on-4, which uses four dental implants to permanently attach a complete bridge of false teeth to your jaw. If you have any remaining natural teeth in your mouth, these will have to be extracted before All-on-4 treatment begins.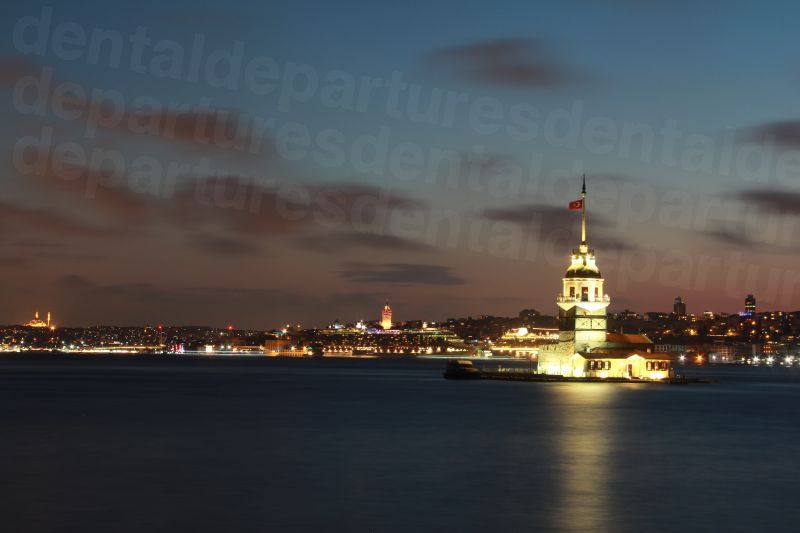 What to Expect After Your Dental Implant Treatment
Whichever type of dental implant treatment you decide to have, once it is complete you can expect the proper function of your mouth to be restored. If you have a dental implant to replace a missing front tooth, the aesthetics of your smile will also be improved. With an All-on-4, you will experience a total smile transformation.
Complications associated with dental implants are very rare, with this type of dental treatment having been developed and improved for over 50 years.
The fact that invasive surgery is necessary for dental implants means that the treatment does carry with it a low risk of infection. This is why patients must have healthy gums and follow a daily oral health routine if they want to be eligible for dental implant surgery.
Top Clinics in Turkey for Dental Implants
Below, we have identified four of the most popular destinations in this culturally rich country where patients can opt to go for their dental implants, with a clinic recommended for each one. Click through to see more information, or find our full list of dental implants clinics in Turkey here.
Arranging Your Turkish Dental Care is Simple with Dental Departures
Once you have decided which dentist you would like to visit in Turkey, arranging your appointment could not be easier. Use the Dental Departures online appointment scheduler to set up a consultation within just a few minutes, any time of the day or night. Cancellations are free for up to 24 hours before your scheduled visit.
With dental implant prices in Turkey 70% cheaper than in Britain, it is no surprise that so many British patients are making the most of low-cost Turkish dental care. If you have any questions, just give our Customer Care Team a call; they will talk you through the booking process and provide you with any assistance you might need.
Sources:
Dental implants. NHS. 28 August 2018. https://www.nhs.uk/live-well/healthy-body/dental-treatments/#dental-implants
Pretty, Steve, Dr. Replacing Missing Teeth. Bupa Dental Care. Website accessed: 24 October 2020. https://www.bupa.co.uk/health-information/dental-oral-health/teeth-replacing
Ditcher, Darin. The Biologic Fundamentals of Osseointegration. Spear Education. 7 January 2016. https://www.speareducation.com/spear-review/2016/01/the-biologic-fundamentals-of-osseointegration
Hodges, John A, DDS, FICIO. When is All-on-4 the best option? 5 factors to consider when creating your dental treatment plan. Dentistry IQ. 1 November 2017. https://www.dentistryiq.com/articles/2017/11/when-is-all-on-4-the-best-option-5-factors-to-consider-when-creating-your-dental-treatment-plan.html
Higuera, Valencia. What to Know About Dental Implant Complications and Failure. Healthline. 4 September 2018. https://www.healthline.com/health/dental-implant-problems