You are not limited to visiting the capital Ankara or the cultural hub of Istanbul, because you will discover quality dental clinics in Antalya, Izmir, plus other Turkish cities and towns. Find out about some of the best Turkish dental clinics right here at Dental Departures, and also learn a little more about why you should no longer put off having dental implants .
Replacing Missing Teeth is Important for Your Dental Health
When you lose a tooth or multiple teeth, the balance of your dental structure is served a knock. Suddenly neighbouring teeth have lost some of their support, and the gap allows your remaining teeth to shift position. When a tooth moves it can also become loose, so just one missing tooth can lead to even more lost teeth .
Missing teeth can also have a detrimental effect on the health of your jawbone. The bone in your jaw stays healthy and strong when you can chew properly and put pressure on it. Without teeth, your jawbone will become weak and even shrink in size, which can alter the appearance of your face.
The Different Dental Implant Options Available to You
If you are missing just one or perhaps a few teeth, using individual dental implants to replace them is likely your best option. A small hole is drilled into your jaw and an implant is then placed inside. Once your implant has fused with your jawbone, a process called o sseointegration , an abutment and crown are then attached to the implant. A ceramic crown can be created to match the colour of your other teeth, or if you would prefer a gold dental crown for extra durability that is possible too.
To replace a full arch of missing teeth, using single dental implants would be time-consuming and expensive. A better option is likely to be an All-on-4 , which uses four dental implants to permanently attach a complete bridge of false teeth to your jaw. If you have any remaining natural teeth in your mouth these will have to be extracted before All-on-4 treatment begins, so this treatment is best for edentulous patients.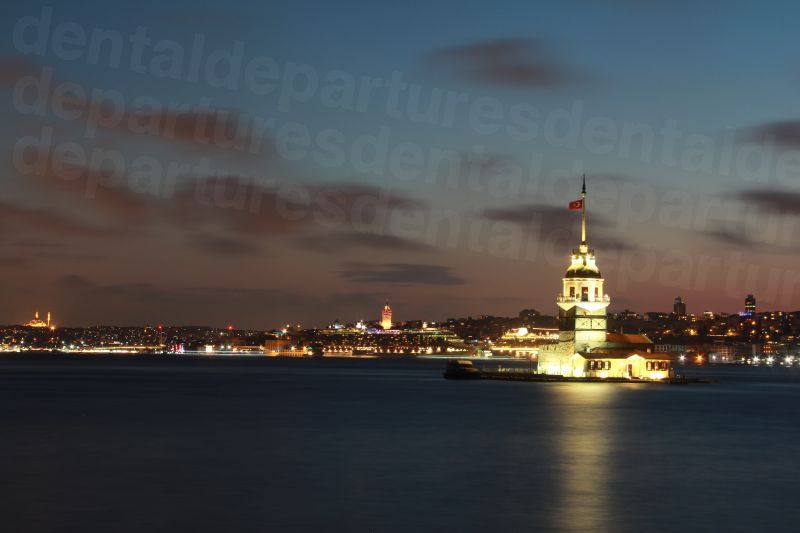 What to Expect After Your Dental Implant Treatment
Whichever type of dental implant treatment you decide to have, once it is complete you can expect the proper function of your mouth to be restored. If you had a dental implant to replace a missing front tooth the aesthetics of your smile will also be improved. With an All-on-4, you will experience a total smile transformation.
Complications associated with dental implants are very rare , with this type of dental treatment having been developed and improved for over 50 years. The fact that invasive surgery is necessary for dental implants means that the treatment does carry with it a low risk of infection. This is why patients must have healthy gums and follow a daily oral health routine if they want to be eligible for dental implant surgery.
Istanbul: DentGroup International
Travel to historic Istanbul, a city where East meets West, for the widest choice of English-speaking dentists in the country. With a 5-star customer satisfaction rating and 50 verified past patient reviews, the DentGroup International clinic is an excellent choice for dental tourists . Not only does DentGroup operate dental clinics in Istanbul, but also in London and Rotterdam. Since opening in 2006, this dental clinic has transformed the smiles of thousands of patients.
Ankara: Dentapol Esthetic & Implant Center
In the capital of Ankara, the Dentapol Esthetic & Implant Center stands out one of the city's premier dental clinics. The talented team of dentists working here speak both English and Turkish, and often treat patients from all over the United Kingdom and Ireland. After comfortably passing a 4-part review that included a site inspection, dental license check, and online reputation survey, Dentapol Esthetic & Implant Center became a Dental Departures Verified Clinic.
Antalya: Alanya Dental Center
Once an ancient Roman port, Antalya is now a bustling resort with wonderful beaches on the Mediterranean coast. The Alanya Dental Center enjoys a convenient location just off the D400 state road that runs through the north of the city. International patients have been coming here for dental implants for over 15 years already, and the clinic consistently receives 5-star reviews of the treatment they provide.
Izmir: Cadde Dental
Home to a variety of archaeological sites and enjoying an idyllic location on the Aegean coast, Izmir is a cosmopolitan city that should not be missed. One of the most highly-regarded dental clinics here is Cadde Dental, where Dr. Serdar Demirçal offers expert care. Not only does Dr. Demirçal lead a team of talented dentists at this clinic, but he is in his own right a first-rate implantologist with more than 15 years of experience restoring the mouths and smiles of international patients.
Arranging Your Turkish Dental Care is Simple with Dental Departures
Once you have decided which dentist you would like to visit in Turkey, arranging your appointment could not be easier. Use the Dental Departures online appointment scheduler to set up a consultation within just a few minutes, any time of the day or night. Cancellations are free for up to 24 hours before your scheduled visit.
With dental implant prices in Turkey 70% cheaper than in Britain , it is no surprise that so many British patients are making the most of low-cost Turkish dental care. If you have any questions just give the Customer Care Team a call, they will talk you through the booking process and provide you with any assistance you might need.
Sources:
Dental implants. NHS. 28 August 2018. https://www.nhs.uk/live-well/healthy-body/dental-treatments/#dental-implants" target="_blank
Pretty, Steve, Dr. Replacing Missing Teeth. Bupa Dental Care. https://www.bupa.co.uk/health-information/dental-oral-health/teeth-replacing" target="_blank
Ditcher, Darin. The Biologic Fundamentals of Osseointegration. Spear Education. 7 January 2016. https://www.speareducation.com/spear-review/2016/01/the-biologic-fundamentals-of-osseointegration" target="_blank
Hodges, John A, DDS, FICIO. When is All-on-4 the best option? 5 factors to consider when creating your dental treatment plan. Dentistry IQ. 1 November 2017. https://www.dentistryiq.com/articles/2017/11/when-is-all-on-4-the-best-option-5-factors-to-consider-when-creating-your-dental-treatment-plan.html" target="_blank
Higuera, Valencia. What to Know About Dental Implant Complications and Failure. Healthline. 4 September 2018. https://www.healthline.com/health/dental-implant-problems" target="_blank