Did you know that the lively city of Budapest in Hungary has a bunch of clinics offering dental restorations and top orthodontics? Budapest dental clinics provide world-class service at a reasonable price. They offer specialized treatments handled by skilled dental specialists who are adept in using the latest technology.
Clinics in Budapest provide an array of dental services ranging from preventive care to specialized treatments such as Orthodontics, Gum Treatment, and Restorative Treatments. Orthodontics deals with the prevention, diagnosis, and treatment of improper bite also known as malocclusion. Clinics in Budapest provide Orthodontic treatments like fixed appliance and removable appliance. The common fixed orthodontic appliance is braces with brackets, wires, and bands. Specialists in Orthodontics also use fixed space maintainers to keep the teeth from moving. The removable appliance includes clear aligners, retainers, and space maintainers. A complete examination is taken before recommending the right treatment. This involves diagnostics tests like x-rays as well as a review of your oral and medical status.
Aside from Orthodontics, clinics in Budapest also offer gum treatment, root canal therapy, children's dentistry, oral surgery, cosmetic dentistry, as well as full mouth reconstruction. Additionally, they offer Sedation Dentistry to patients who want to overcome their fear. The top clinics offering specialized treatments are Access Smile Dental Clinic, Flydent Fogaszati Kft , TriDent Budapest Cosmetic & Family Dentistry , Batorfi Dental Clinic, and Elitedent Clinic.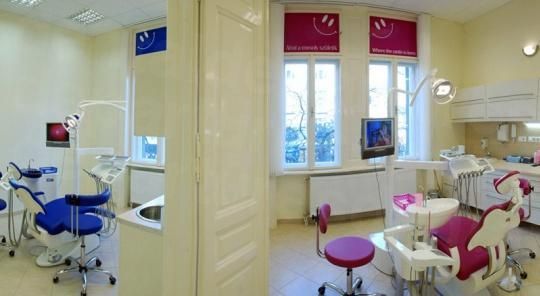 The clinics mentioned above are staffed with dental professionals who studied overseas and specialized in Orthodontics, Oral Surgery, Gum Treatment, Dental Implants, and other fields. The specialists are certified by organizations like the American Association of Orthodontists, the World Federation of Orthodontists, and the European Board of Oral and Maxillofacial Surgeons. They are highly trained and well experienced in various procedures. The dental professionals use advanced techniques in dentistry to give patients the best care.
Clinics in Budapest are equipped with state-of-the-art technology that delivers efficient services. They use the latest techniques in dentistry such as panoramic x-rays and lasers in giving effective treatment to the patients. They utilize advanced treatment in Orthodontics and other specialized treatments.
The cost of treatment in Budapest is affordable to tourists. To give you an idea, the estimated price of braces in Budapest is approximately AUD $1,560 (NZD $1,674; GBP 919; USD $1,177; CAD $1,589). The price of treatment depends on the type dental material, any additional treatment, and other important factors.
Top Orthodontics: Budapest's Dental Care
Clinics in Budapest provide superior oral care. Some clinics offer dental warranty and after care service in the UK. They also provide free consultation, travel arrangement, and free shuttle service to/from the airport/clinic. The dentists and staff members speak in English and assist patients from overseas.
Experience world-service from the clinics in Budapest. For an appointment, please get in touch with Dental Departures by phone, email, or online chat.