The Dental 4 U clinic is an ultra-modern, state-of-the-art clinic situated in the Thai city of Chiang Mai. The clinic is fully equipped with all the latest dental technologies and utilizes international sterilization techniques to ensure patient safety at all times.
The clinic also boasts a Dental Cosmetic Center, helping to deliver beautiful smiles that every patient deserves.
About The Clinic
Dental 4 U are premier dentists in Chiang Mai, delivering a comprehensive dental healthcare service to both local and international patients. If you're looking for the best dentist Chiang Mai has to offer, then look no further than Dental 4 U.
Their team of dentists and dental specialists have all graduated from highly acclaimed and accredited universities, not only in Thailand but the United States also. They each have extensive knowledge and have received advanced training in their specialized fields, and all hold licenses to practice dentistry in Thailand.
Dr. Warut Muttaruk is a highly regarded dental implant and cosmetic dentist. Dr. Warut originally graduated from the Chiang Mai University in Thailand before completing a Masters Program in Implant Dentistry at the University of California Los Angeles in the United States.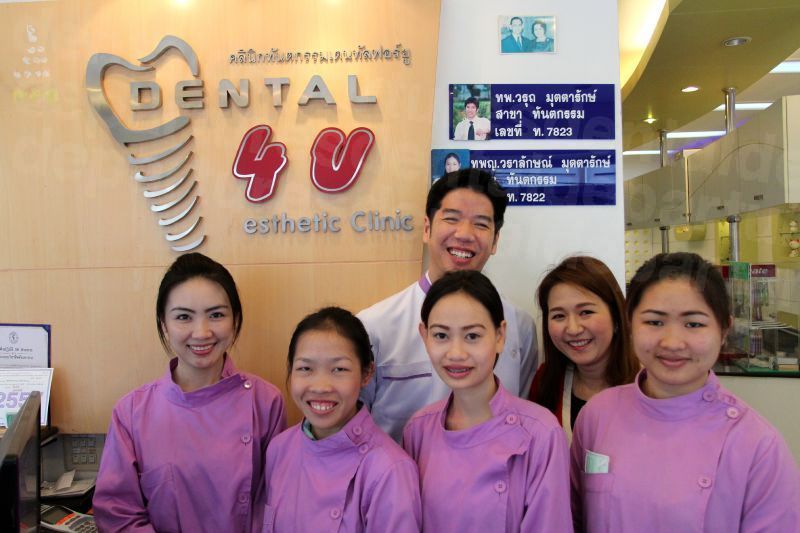 Dental Standards in Thailand
If you're concerned that the standard of dentists in Thailand is inferior to the dentists at home, you needn't be concerned. The dental tourism industry in Thailand has seen considerable investment leading to a proliferation of custom-built, modern dental facilities, especially in Chiang Mai.
Many clinics adhere to guidelines laid out by global organisations such as the International Organization for Standardization, meaning that they follow the same practices as their western counterparts.
Treatments Available at Dental 4 U
Dental 4 U offer treatments across all fields of dentistry:
Cosmetic Dentistry – including dental bridges & crowns, tooth whitening and dental veneers

General Dentistry – including dental fillings, dental scaling and polishing

Oral Surgery – including tooth extraction, bone graft and maxillary sinus lift

Dental Implants – including single tooth replacement and full arch

Prosthodontic Dentistry – including dental crowns and dental bridges

Preventive Dentistry

Endodontic Dentistry
How Much Will I Pay For My Dental Treatment
The price you pay will vary, depending upon the treatment you require. On average, you will save between 50%-80% compared to domestic dental fees by undergoing your treatment at Dental 4 U.
The rising cost of dental treatment is one of the major factors for choosing to go abroad. At Dental Departures, we can take the stress out of the process for you with our unique services. When you book with us, you will benefit from our best price guarantee policy, ensuring that you will pay the lowest fee currently available anywhere.
For extra peace of mind, we can also arrange additional medical insurance for you through a selection of independent insurance providers. If, in the unlikely event of any complications arising, your additional expenses will be covered, meaning that you won't be out of pocket.
Contact our Customer Care Team now to book your appointment with Dental 4 U today.