The All-on-4® treatment concept is among the most expensive dental procedures. For many people in the UK and elsewhere, this can be a big problem because of the staggeringly high prices of complex dental services, and because such procedures are usually not covered by your health plan.
In Hungary, prices for this implant-based restoration procedure are much lower than in the UK. If you are careful in your research, you'll find that Hungary's best clinics offer high-quality dental work and world-class customer service.
This treatment can restore your entire smile with just four implants; the savings you will realise having the treatment in Hungary will really give you something to smile about!
Cost of The All-on-4® treatment concept in Hungary
The average price of an arch replacement in the UK is £19,382 (Ireland: €23,130). Starting prices at top clinics in Budapest:
Thanks to these significant savings, you can plan an extended vacation, or a relaxing recovery, in Hungary. You can spend all or part of the price difference, or pocket the savings for a future holiday. Considering the procedure is not covered by insurance, many cross-border patients find that Hungary's dental prices prices are well worth the inconveniences of travel.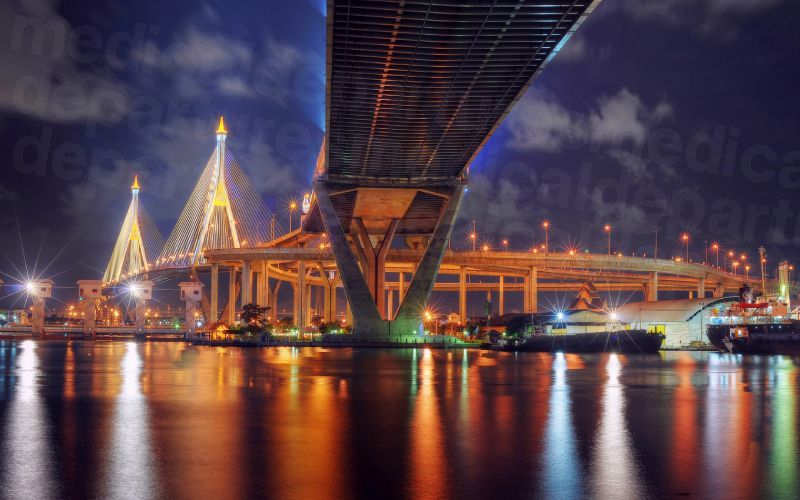 The lower prices are primarily the result of Hungary's lower costs of living compared to the UK. To ensure you receive the best clinical care and service, Dental Departures conducts a thorough inspection of every clinic before it is added to our portal.
Our screening process includes: legal/criminal records screening, staff qualification, association membership verification and onsite visits. We also collate verified patient reviews that help you achieve a better understanding of the clinics.
As part of the European Union (EU), every dentist in Hungary is regulated not just by Hungarian but EU regulatory authorities as well.
Two Trips, Two Holidays in Europe's Dental Capital
You will need to make two trips (four to six months apart) to Hungary for your restoration (common for all types of implant procedures). On your first visit, the "same-day" or "immediate load" implants will be placed with a fixed temporary plate.
You will make your second trip once the implants have successfully integrated with your bone (a process called osseointegration). On this trip, your dentist will place a permanent plate. Since the fixed bridge is secured deep in the jawbone, the implants will not loosen or shift. In most cases, the procedure does not require a bone graft.
If you are seeking some leisure time in Hungary, you can easily plan a holiday prior to your procedure. Or take advantage of many of the fine spas and thermal baths as part of your treatment recovery.
The return flight (two hours each way) will cost you about £200 (€227). The average cost of three- and five-star hotels is £50 (€57) and £158 (€180) respectively.
Hungary's capital Budapest, known as the dental capital of Europe, enjoys an impressive 40% of the continent's dental tourism market share. The presence of world-class clinics such as MDental Hungary, Evergreen Dental and Health Travel Hungary make Budapest a hotspot for dental tourism.
As a dental tourist, you will love how Budapest combines modern facilities and old-world charm. Easily accessible must-see places include the Buda Castle, Chain Bridge, Széchenyi baths and Budapest Eye Ferris. You might also check out the changing of the guards at the Parliament building.
Best Treatment and Hospitality
While you are visiting a cheap dentist in Hungary, you are not compromising on the level of dental care you receive. In fact, many of Hungary's dentists have received at least some of their training in the UK. The best specialists and staff speak fluent English.
In Hungary the dental professionals consider you not just a patient, but a tourist to be welcomed with open arms. They complement dental expertise with hospitality that makes your visits pleasant and comforting. You will also enjoy shorter wait times (if any) compared to your local dentist back home. And with our help, you easily find the best clinic for the job.
Now you know why it is a good idea to visit Hungary. All-on-4® treatment concept prices there allow you to enjoy a relaxing, healthful holiday or recovery while revamping your smile.
Feel free to learn more about the clinics mentioned above and plan your treatment (and savings!), then book your appointment with Dental Departures today.