Sani Dental Group is one of the top-rated clinics in Los Algodones. Founded more than 30 years ago, in 1985, it now provides comprehensive dental services to both local and international patients. The clinic consistently receives rave reviews from patients about the quality of the services they have received and the professionalism of its staff. In this article, we have taken some of the positive feedback we've seen and outlined exactly what Sani Dental Group is getting right.
Luella, Powder Spring, USA – March 2017: "My brother recommended Sani Dental Group after… having extensive dental work done at a tremendous cost-saving from what he would have been charged in the States. I decided to give it a try. Dr. Paul was calming, very professional… I would rate Sani Dental Group 5 stars in all categories."
For the Sani Dental Group, reviews like this are the norm. What is it about Sani Dental's dentists that elicits the response that they are the 'best dentist in Algodones' from their patients?
Customer Care: The clinic places high regard on delivering courteous and professional service at all times. Each patient's well-being, happiness and health are of the utmost importance and the teams work hard to ensure each patient has a comfortable and pain-free experience.
New Technologies and Techniques: The clinic keeps ahead of the game by embracing new techniques and technologies in dentistry. Dentists attend ongoing education throughout their careers so that they are always equipped to offer patients the best services and treatment available.
Sani Dental uses laser dentistry—an alternative to traditional dentistry using drills and needles—which is a comforting benefit for dental-phobic patients. Laser dentistry also offers a number of other benefits to patients, including less pain and blood loss and quicker healing times.
The clinic has its own onsite laboratory, which not only means they can manage their own quality control measures for prosthodontics (crowns, veneers, dentures) but, because they design and manufacture these onsite, waiting times for patients are dramatically reduced as the clinic no longer has to wait for an outside clinic to fulfill their order.
Equipped with state-of-the-art diagnostic equipment, including panoramic x-rays and 3D CT scanning, Sani Dental uses the best technologies to deliver accurate diagnoses - the key to providing treatment that is reliable and dependable.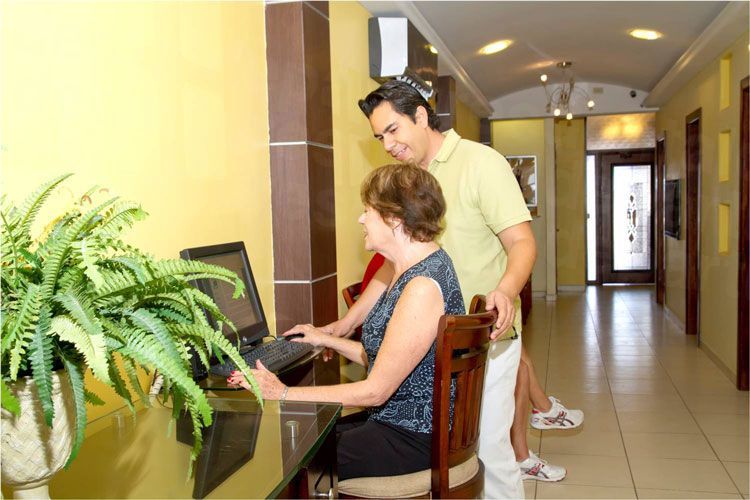 Expertise: The dentists at the Sani Dental Group are skilled and experienced. There are more than 30 dentists in the group, and as well as general dentists the team has specialists who are skilled across the whole of dentistry, including dental implants, bone grafts, endodontics (root canals) and oral surgery. The combination of their skills means that Sani's many specialists can solve most dental problems and get their patients back on track to tip-top dental health.
Cost: Value for money is a big concern for international dental patients and is something that Sani Dental Group delivers on very well. For example, dental implants may cost in the region of $3,900 in the US (CAN $5,200) compared to just $1,200 (CAN $1,600) in Los Algodones.
While Sani Dental Group continues to strive for perfection and to deliver good-quality, affordable care to its patients, this renowned center will continue to receive glowing praises and generally glowing patient reviews.
Booking an Appointment with Dental Departures
If you'd like to know more about receiving more affordable dental treatment at one of Mexico's top dental centers, please feel free to contact our Customer Care Team who will be happy to help. Or if you are ready to book your appointment you can do so right here any time of the day or night, at no charge to you.
Sources:
Sandilands, Tracey. CAD/CAM Dentistry: What Is It?. Colgate. Website accessed: July 2020. https://www.colgate.com/en-us/oral-health/basics/dental-visits/cad-cam-dentistry--what-is-it-
How Much Do Dental Implants Cost in the US? Your Ultimate Guide. Dentaly.org. 1 July 2020. https://www.dentaly.org/us/teeth-implants-cost/