Last fact-checked: 27 January 2021
Replace your teeth for a fraction of the price back home with the All-on-4® treatment concept in Rijeka.
Provided by Nobel Biocare®, Dental Departures gives you a choice of quality-checked specialists in this Croatian city, which also happens to be a great location for a holiday.
What Is the All-on-4® Treatment Concept?
This implant-based dental restoration treatment replaces all of the teeth in the jaw with the insertion of just four dental implants.
The procedure is suitable for both the upper and lower jaws (or both) and is a good option for patients who have lost some or all of their teeth and who want something more secure and permanent than a denture.
The surgery requires only one session, as extractions can be carried out at the same time as the insertion of the implants.
Patients receive an immediate fixed denture straight away, although a second visit to Croatia is required for the permanent (final) prosthesis to be attached after around six months.
How Much Does the Treatment Cost in Rijeka Compared to UK and Eire?
The All-on-4® treatment concept costs substantially less in Rijeka. Check out the prices compared to your home country below:
| | | | | | |
| --- | --- | --- | --- | --- | --- |
| | UK £ | Eire € | US $ | CAN $ | AUS $ |
| Price at home | 16,000 | 19,000 | 20,000 | 27,000 | 27,000 |
| Price in Rijeka | 5,200 | 5,600 | 6,200 | 8,300 | 9,200 |
Note: the prices above are approximate. Please check our current prices for your selected clinic for estimated costs of treatment.
Am I A Suitable Candidate for the All-on-4® Treatment Concept?
Good general health rather than age is one of the most important factors for being a suitable candidate for this treatment. Some uncontrolled health conditions may be detrimental to the integration of dental implants, including cancer, heart disease and diabetes.
However, unlike traditional implants where bone loss caused by advanced gum disease may be problematic (unless you have a prior bone graft procedure ), it is possible that even with bone loss you will be a suitable candidate for this particular method.
This is because the dental implants are placed in such a way as to make the most of bone-to-implant contact to create greater stability. The innovative technique uses thinner, sturdier implants placed at near-45-degree angles.
Smoking compromises the success of any dental implant procedure because it reduces your body's ability to heal and fight infection. If you are a smoker, it is unlikely that you will be able to undergo the surgery unless you can quit well in advance.
A local dentist should be able to provide a preliminary assessment as to whether you are a good candidate for this procedure if in doubt, or you can simply send you x-rays to your chosen dentist in Croatia (as explained below).
What Is the Treatment Process and How Long Will I Need to Stay in Rijeka?
The All-on-4® treatment concept takes around two hours per jaw and is carried out in one session. However, the planning stage is an intricate and important part of the process, which will require several visits to the dentist before your procedure is fully carried out.
The whole process can be summarised as below:
1: Initial Consultation & Assessment:
Before you travel to Rijeka, you can obtain a preliminary assessment and price quote from your chosen dentist through Dental Departures by sending through up-to-date scans/x-rays.
If the dentist confirms your suitability, when you arrive in Rijeka, your dentist will carry out their own examination and tests, including 3D/CT scans which will show all the structures in your mouth and jaw, and any areas of bone loss.
Impressions are made of your mouth to be sent to a laboratory where the immediate loading denture is custom made. This will need to be available on the day of your procedure so your dentist can fit it after the implants have been placed.
2: Treatment Day:
The surgery is normally carried out under local anesthetic with conscious sedation. If you still have some teeth left, the dentist will remove these first. Next, using the CT scans previously taken as a template, the dentist pinpoints the best positions in your gum for the implants to be placed.
Two implants are placed in the rear of the jaw, and two in the front. Incisions are made in the gum line at each point so the dentist can access the jaw bone. Small holes are made in the jaw and each implant inserted in place.
Using abutments and coping cylinders attached to these, the immediate loading denture can be screwed into place; this is then trimmed down to form a fixed bridge, holding a whole arch of teeth.
3. Healing Phase (Return Home)
Patients can return home almost immediately with their new, temporary fixed bridge. To protect the gums and allow the implants to properly fuse with the jawbone over the next four months, hard, chewy foods should be avoided.
4: Permanent Restoration:
After around six months, the patient returns to the dentist in Rijeka to have their temporary bridge replaced with the permanent one (final prosthesis).
This may involve further impressions, tests and adjustments; however, the process is non-invasive, as the temporary bridge can be unscrewed before being replaced.
Is this a Good Procedure to Have in Rijeka as a Dental Tourist?
Most dental procedures can be carried out just as effectively as a dental tourist, and the All-on-4® treatment concept is no exception.
The treatment has a high success rate; providing you choose a reliable dental facility to have the treatment, there is no reason why yours should be any less successful than if you'd had the treatment at home.
What's more, there is little in the way of downtime, allowing you to enjoy a nice break in the Croatian sun. That said, any particularly physical holiday activities should be planned before surgery, rather than after, as your mouth will be tender and swollen.
Can You Recommend A Good Dental Clinic for the All-on-4® Treatment Concept in Rijeka?
All the clinics listed with Dental Departures have been vetted by us. We carry out pre-screening checks, such as verifying dentist qualifications and professional memberships; searching legal/criminal records and collecting real patient reviews. We also visit facilities personally and list other useful information on our website, including location maps, clinic photos and prices to help you reach your own decision on where is the best clinic for you.
Dental clinics in Rijeka you may want to consider for your mouth restoration include: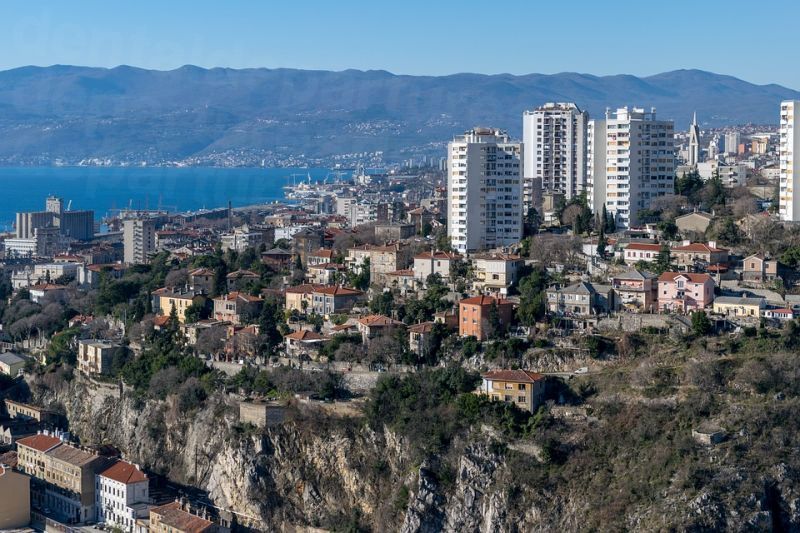 Further Information about Dental Care in Rijeka:
The Dental Departures' Customer Care Team is available 24/7 if you want to find out more about the All-on-4® treatment concept in Rijeka. They can also help you obtain a free quote, or assist with finance options, hotel bookings, and dental insurance packages.
Or if you've chosen your clinic, you can book your appointment online at any time of the day or night, at no charge to you.
Sources:
Nobel Biocare. Website accessed: 27 January 2021. https://www.nobelbiocare.com/en-uk
Major Bone Grafting (Using Bone from Outside the Mouth) and Dental Implants. Guys & St Thomas' NHS Foundation Trust. Leaflet Number: 2847/VER3. November 2016. https://www.guysandstthomas.nhs.uk/resources/patient-information/dental/major-bone-grafting.pdf
Watson, Shawn. How a Dental Impression Is Made. Very Well Health. 10 December 2019. https://www.verywellhealth.com/understanding-dental-impressions-1059424
Nordqvist, Christian. What is Periodontitis? Medical News Today. 18 January 2018. https://www.medicalnewstoday.com/articles/242321.php
Boulos, Paul. (2010). Immediate loading of implants and fixed complete dentures: A simplified prosthetic procedure. General dentistry. 58. 406-9. https://www.researchgate.net/publication/46191254_Immediate_loading_of_implants_and_fixed_complete_dentures_A_simplified_prosthetic_procedure
Dental Implants. Web MD. Website accessed: 27 January 2021. https://www.webmd.com/oral-health/guide/dental-implants#2
Murphy, Caleb. Smoking And Tooth Implants: How it Affects the Success Rate. Authority Dental. 8 April 2019. https://www.authoritydental.org/smoking-tooth-implants
About Prof Paulo Malo. Nobel Biocare. Website accessed: 27 January 2021. https://www.nobelbiocare.com/international/en/education/our-speakers/m-o/paulo-malo.html
Malo, P et al. A Longitudinal Study of the Survival of All-on-4 Implants in the Mandible with Up to 10 Years of Follow-up. Journal of the American Dental Association. March 2011. https://www.ncbi.nlm.nih.gov/pubmed/21357865