Last fact-checked: 30 March 2020
Restore your missing teeth with an All-on-4® in the United Arab Emirates. The UAE offers first-class dental services with modern facilities and superb medical expertise—and Dental Departures can help you find a quality-checked clinic where you can save thousands compared to back home.
What Is an All-on-4?
The All-on-4 is a dental implant procedure that replaces all the teeth in one or both of your jaws by anchoring a dental arch onto four strategically-placed implants. The technique was pioneered by world-renowned implantologist, Dr Paulo Malo, and is now offered by specialist implantologists across the globe.
Dental implants act like a tooth root. They are inserted into the jaw and over time they integrate with the bone to provide a strong, stable base on which to attach false teeth. For an All-on-4 procedure, the four implants are placed at specific points in the jaw so that a complete arch of teeth can be attached permanently, giving patients back the same functionality and security that real teeth normally provide.
Unlike dentures, they won't slip or fall out, so eating, talking and smiling can become second-nature again.
How Much Do All-on-4s Cost in the UAE?
The table below compares All-on-4 prices in the UAW with your home country:
| | | | | | |
| --- | --- | --- | --- | --- | --- |
| | UK £ | EUR € | US $ | CAN $ | AUS $ |
| All-on-4 Price at home | 16,000 | 19,000 | 20,000 | 27,000 | 27,000 |
| All-on-4 Price in UAE | 6,500 | 7,500 | 8,500 | 11,300 | 12,500 |
( Note: the prices above are approximate. Please check our current prices for your selected clinic for estimated costs of treatment).
Who Is Suitable for the All-on-4?
If your overall health is good, you may be a suitable candidate for the All-on-4, even if you have bone loss in the jaw. Bone loss in the jaw is generally caused by advanced gum disease, called periodontitis. This is when the disease has progressed so much that the bone and tissues supporting the teeth are damaged, leading to tooth loss. For traditional, single dental implants, bone loss often means that the procedure cannot be carried out without a bone graft. However, this is not necessarily the case for the All-on-4 procedure because the technique is slightly different.
The All-on-4 implants that are placed in the rear of the jaw are longer than traditional implants and inserted at a 45-degree angle, rather than 90-degrees. This increases the bone-to-implant contact, creating a strong support for the teeth. The placement of the implants is important in the All-on-4 procedure, forming a three-dimensional trapezoid force, which firmly secures the teeth in place.
Your dentist will need to carry out diagnostic tests, including 3D/CT scans, to check your jaw bone, and other structures in the mouth, to confirm your suitability.
One thing worth bearing in mind is that smokers are not good candidates for dental implants because smoking reduces blood flow, compromising oxygen and essential nutrients getting to the cells needed for fighting infection and healing. The bottom line is that this can lead to your implants failing.
Is an All-on-4 a Good Procedure to Have in the UAE as a Dental Tourist?
The All-on-4 is considered a major procedure. However, most patients experience little discomfort after surgery and can resume their normal activities shortly afterward. You may experience a little swelling and/or bruising, but these should settle down reasonably quickly. If you are planning to enjoy a holiday while you are in the UAE, there is no reason why you shouldn't be able to enjoy low-key activities during your recovery period—just don't overdo things as your body needs time to heal.
The UAE is becoming a sought-after dental tourist destination. It has invested heavily in its healthcare facilities, with private dental clinics and hospitals offering patient-centered services that are rather luxurious compared to what many are used to back home.
Clinics in the UAE are modern and state-of-the art technologies. 3D/CT scanning, digital radiography and computer-aided design/computer-aided manufacture (CAD/CAM) are just some of the innovations available to deliver accurate diagnoses and treatment outcomes that meet expectations.
Dentists in the UAE are well-qualified, with many having undertaken some of their training overseas in, for example, Europe and the United States. The All-on-4 is a specialist procedure and dentists carrying it out have additional training as per Dr Malo's protocol, which has a high success rate.
The UAE offers a variety of locations for visitors, including Dubai and Abu Dhabi, as well as lesser-visited, but nevertheless fascinating, other emirates, such as Fujairah and Ras Al Khaimah.
Can You Recommend Good Clinics for All-on-4s in the UAE?
Dental Departures has years of experience in working with great quality dental providers across the world. We understand how important it is to find a reliable clinic you can trust, which is why we carry out our own background checks on all of the facilities we partner with.
Our pre-screening investigates criminal/legal records, confirms dentist qualifications and verifies professional memberships. We visit clinics personally, and we collate and publish real patient reviews. Check them out on our listings, alongside clinic photos, location maps, prices and more.
Three of our top-rated clinics in the UAE for All-on-4s are:
[Note: All of the above-listed clinics are based in Dubai, UAE.]
What is the Procedure for an All-on-4? How Long Will I Need to Stay in the UAE?
You will need to stay in the UAE for around three weeks to complete your All-on-4 procedure, but do speak to your dentist to confirm this. Although the actual All-on-4 surgery is carried out in just one session, there is thorough planning required beforehand. So, you will need to visit your dentist several times for scans and tests, as well as to have impressions make of your mouth made for your new teeth.
The treatment plan for the All-on-4 comprises:
1: Initial Consultation & Assessment
Before you book an appointment with a dentist in the UAE, your digital x-rays can be sent via Dental Departures' Customer Care Team for an initial assessment by your chosen dentist in the UAE. If you are subsequently deemed to be suitable, you can then arrange your appointment. Upon your arrival in the UAE, you will need to visit your dentist for a detailed consultation and preliminary assessment. Diagnostic tests will be carried out and impressions of your mouth made to send to the laboratory making your new teeth, which will be available for your dentist to place on the day of your surgery.
2: Treatment Day
Each jaw takes around two hours for the All-on-4. A local anaesthetic, or conscious sedation is used. If you have any teeth left in your jaw, they will need to be removed, which is the first thing your dentist will do. After that, the dentist will open up the gums at the four points where the implants are to be placed. A small hole is drilled into the jaw bone at these points, and the implants inserted. Once secure, your new teeth are attached to complete the treatment.
One thing worth bearing in mind is that if you have teeth extractions, your new teeth will be a temporary, lighter set to enable the tissues of your mouth to heal. You will need to return to your dentist about three months (although it can be longer) to have your permanent teeth placed. If this is not an option you want to consider, you could always have your teeth extracted by a dentist at home, at least three months before you travel to the UAE. In most cases, this will also save you money as you'll avoid having to pay for additional flight and travel expenses.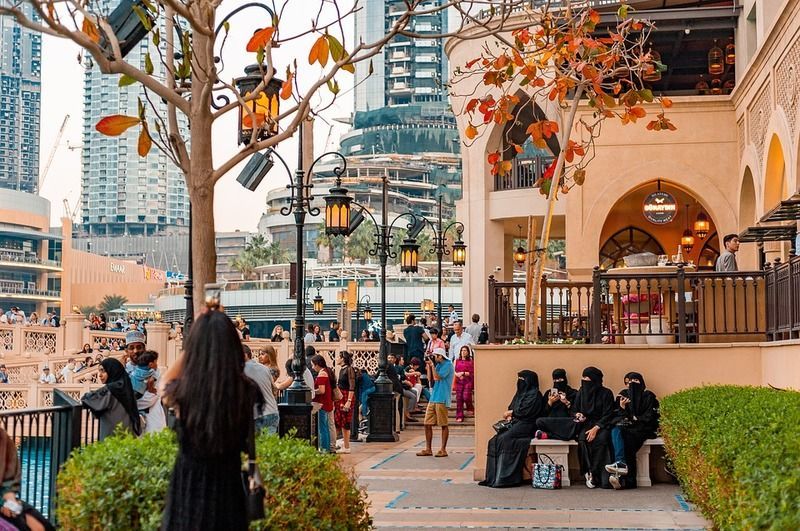 Further Information about All-on-4s in the UAE:
Browse Dental Departures' listings to find a clinic for your All-on-4 in the UAE. Ask for a free, no-obligation quote, or get in touch with our Customer Care Team if you'd like to find our more, or discuss our other services, such as finance and insurance.
Sources:
About Prof Paulo Malo. Nobel Biocare. Website accessed 30 January 2019.
https://www.nobelbiocare.com/dk/en/education/our-speakers/m-o/paulo-malo.html" target="_blank
Nordqvist, Christian. What is Periodontitis? Medical News Today. 18 January 2018.
https://www.medicalnewstoday.com/articles/242321.php" target="_blank
Murphy, Caleb. Smoking And Tooth Implants: How it Affects the Success Rate. Authority Dental. 8 April 2019.
https://www.authoritydental.org/smoking-tooth-implants" target="_blank
Malo, P et al. A Longitudinal Study of the Survival of All-on-4 Implants in the Mandible with Up to 10 Years of Follow-up. Journal of the American Dental Association. March 2011.
https://www.ncbi.nlm.nih.gov/pubmed/21357865" target="_blank