Last fact-checked: 4 February 2021
Replace missing teeth with the All-on-4® treatment concept in Dubai. A luxury destination for travellers who love those little extras, Dental Departures can help you to discover top-quality dentists for all your needs in a prime Middle Eastern location.
This dental restoration treatment is provided exclusively by Nobel Biocare®.
What Is the All-on-4® Treatment Concept?
The All-on-4® treatment concept is a dental implant procedure that replaces all of your teeth on just four implants. This can include the top row of teeth, the bottom or both.
Regular dental implants take the place of a tooth root. They are placed into the jaw, where over a period of a few months they integrate with the jaw bone to form a strong and stable base on which to attach a false tooth (crown) or fixed bridge.
The All-on-4® treatment concept uses this innovation, but by using four implants placed in strategic points along the jaw, a complete arch of teeth can be fitted instead of just individual false teeth. The arch is secure, natural-looking and acts exactly like your own teeth—with no fear of it slipping or falling out, like dentures.
Pioneered by world-renowned implantologist, Dr Paulo Malo, from Lisbon, Portugal, the technique is now taught around the world following his exact protocol.
Am I A Suitable Candidate for the All-on-4® Treatment Concept?
The All-on-4® treatment concept is suitable for many patients—even those who've suffered bone loss in their jaw and been told that they aren't good candidates for traditional dental implants.
Bone loss is usually caused by periodontitis, an advanced form of gum disease. If gum disease is not treated, it progresses from the gums and soft tissues of the mouth to the jaw bone, eroding all the supporting structures around the tooth, which eventually leads to loss of the tooth.
For traditional dental implants, bone loss often means that dental implants aren't a viable option (unless a prior, successful bone graft procedure is performed first). As well as having to have an additional procedure, this also means that the implant procedure cannot be finalised until the bone graft has been given sufficient time to heal, which could be up to a year.
Due to the specific positioning of the implants in the All-on-4® treatment concept, plus the fact that the rear implants are longer than traditional ones, this may be suitable for patients with bone loss. If you send up-to-date scans/x-rays to the dentist in Dubai, you will be able to get a preliminary assessment as to your suitability.
Other factors regarding your suitability are that you must be in good general health and don't smoke. Smoking is bad for dental implants because it hinders blood flow to the mouth, reducing essential nutrients and oxygen needed for healing and fighting infection, which ultimately could lead to your implants failing.
How Much Does the All-on-4® Treatment Concept Cost in Dubai?
The table below shows treatment prices in Dubai, compared to home:
| | | | | | |
| --- | --- | --- | --- | --- | --- |
| | UK £ | EUR € | US $ | CAN $ | AUS $ |
| Prices at home | 16,000 | 19,000 | 20,000 | 27,000 | 27,000 |
| Prices in Dubai | 6,500 | 7,500 | 8,500 | 11,300 | 12,500 |
(Note: the prices above are approximate. Please check our current prices for your selected clinic for estimated costs of treatment).
Why Should I Consider Treatment in Dubai as a Dental Tourist?
Private dental facilities in Dubai are, as you would expect, excellent. They are modern with contemporary décor and are equipped with the latest diagnostic and therapeutic technologies, such as 3D/CT scanning, digital x-rays and the latest innovations, such as CAD/CAM dentistry that allows the clinic to design and manufacture prosthodontics (eg, crowns and veneers) on-site, while you wait.


Dentists in Dubai are well-trained, with many having trained abroad in the US and Europe. There are also many international dentists working in the emirate, attracted by the lifestyle and low-tax or even tax-free salaries. As you would imagine, it is highly competitive, and so only the crème de la crème practice in Dubai. The All-on-4® treatment concept has a high success rate and is carried out by expert implantologists as per the Malo protocol.


Although the All-on-4® treatment concept is considered a major procedure, many patients experience little in the way of pain or discomfort after their surgery. You may experience some swelling and slight bruising, but there's no reason why you shouldn't feel well enough to carry out everyday, low-key activities after a day or two. Be kind to yourself and don't wear yourself out too much, as your body needs time and energy to heal.


Dubai has more than enough in the way of gentle attractions and pastimes for a relaxing stay (heading up to the observation deck of the iconic Burj Khalifa tower being one of them). Read more about exploring the UAE here.
Can You Recommend Some Trusted Dental Clinics in Dubai?
At Dental Departures, we have years of expertise in putting dental providers together with patients. We know that finding a facility overseas is a daunting prospect, which is why we've simplified the process. All of the clinics and dentists listed on our website have already been pre-screened, so you can book with confidence, safe in the knowledge that you will receive an excellent standard of care.
Our background checks take in onsite visits, legal/criminal records and confirm dentist qualifications and professional memberships. We publish real patient reviews on our site, alongside clinic photos, prices, maps and more.
Check out our top-rated clinics for dental restorations in Dubai:
What Does the Procedure Involve? How Long Will I Need to Stay in Dubai?
Although the actual surgery is carried out in one session, you will generally need to be in Dubai for around three weeks. The All-on-4® treatment concept does require meticulous planning, which may take a number of visits to the dentist before the day of your procedure. The treatment plan is summarised as follows:
1: Initial Consultation & Assessment:
When you arrive in Dubai, you will visit your dentist for a thorough consultation and detailed assessments of your dental health, mouth and jaws. The dentist will want to know your medical history and carry out appropriate diagnostic tests and scans of your mouth. If all is fine and you are deemed a suitable candidate for the treatment, impressions of your mouth will also need to be taken, which will be sent to a laboratory where your new teeth are made. These will need to be ready and available for your dentist to fit on the day of your surgery.
Note: To save time, you can send digital x-rays to the dentist in Izmir prior to traveling. Dental Departures' Customer Care Team can facilitate this whole process - as well as provide a free, no-obligation quote to get you started.
2: Treatment Day:
The surgical procedure generally takes around two hours per jaw and is normally carried out under local anaesthetic with conscious sedation.
On your treatment day, once your dentist has removed any remaining teeth, the next step is to open up the gum at the points where the implants are to be placed. This gives the dentist access to the jaw bone in which a small hole is made for the implants to be placed.
To complete the procedure, the gum is stitched back in place and the new temporary teeth (immediate loading denture) are attached securely to the implants.
3. Final Restoration:
In six months' time, the patients can return to the dentist in Dubai to have their final prosthesis attached. This holds a full arch of porcelain or composite ceramic crowns cemented to the framework, restoring the function of the teeth to 90%.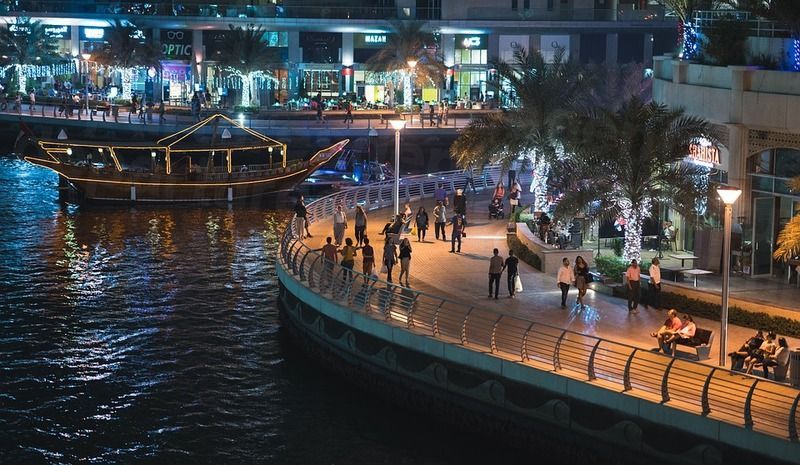 Further Information About the All-on-4® Treatment Concept in Dubai:
Check out Dental Departures listings to find a background-checked dentist for the All-on-4® treatment concept in Dubai.
Our Customer Care Team are on hand to answer any of your questions, provide you with a free quote or book an appointment for you.
Sources:
Nobel Biocare. Website accessed: 4 February 2021. https://www.nobelbiocare.com/en-uk
About Prof Paulo Malo. Nobel Biocare. Website accessed: 4 February 2021. https://www.nobelbiocare.com/international/en/education/our-speakers/m-o/paulo-malo.html
Nordqvist, Christian. What is Periodontitis? Medical News Today. 18 January 2018. https://www.medicalnewstoday.com/articles/242321.php
Murphy, Caleb. Smoking And Tooth Implants: How it Affects the Success Rate. Authority Dental. 8 April 2019. https://www.authoritydental.org/smoking-tooth-implants
Malo, P et al. A Longitudinal Study of the Survival of All-on-4 Implants in the Mandible with Up to 10 Years of Follow-up. Journal of the American Dental Association. March 2011. https://www.ncbi.nlm.nih.gov/pubmed/21357865
Plush, Hazel. 15 Extraordinary Things You Can Do in the United Arab Emirates. 20 June 2018. https://www.wanderlust.co.uk/content/things-to-do-uae/
Getting Around United Arab Emirates. Website accessed: 4 February 2021. https://www.worldtravelguide.net/guides/middle-east/united-arab-emirates/getting-around/