Last fact-checked: 8 July 2021
For Brits and other Europeans looking to combine inexpensive dental work with a summer holiday, it doesn't get much better than Las Palmas, the capital of Gran Canaria.
Part of Spain, this popular island offers some breathtaking volcanic scenery, dozens of sunny beach resorts, a UNESCO World Heritage Site, traditional fishing villages and a growing choice of quality dental clinics, especially in Las Palmas.
Below, we've summarised some of the key points to consider before going for dental work in Gran Canaria, including prices, recommended clinics, treatment options, travel tips and booking instructions.
Visiting Las Palmas in Gran Canaria as a Dental Tourist
Part of the Canary Islands archipelago off the coast of Morocco, this Spanish island, together with nearby Tenerife and Fuerteventura, welcomes an average of 4 million holiday-makers every year.
The majority of these fly directly from Scandinavia, Germany and the UK, among other countries, with convenient and affordable routes from dozens of British and European cities.
And despite only being the third-largest island, Gran Canaria has half the total population, with expatriates accounting for 12% of this alongside the friendly locals, known as "Canarios."
As a result, Gran Canaria is the most developed option, with the capital of Las Palmas home to a major port, with shopping districts, world-class restaurants, lively bars, museums, and modern hospitals.
It should be noted that the majority of visitors to the island don't stay in Las Palmas. The good news, however, is that the island is relatively small, with even the furthest beach areas (like Puerto Rico and Maspalomas) only taking 30–40 minutes by car.
Las Palmas does have a very nearby beach—basically on the edge of the city—at Playa de Las Canteras, which is actually rated very highly on TripAdvisor.
Below, we've summarised three key reasons to visit a dentist in Las Palmas, Gran Canaria:
Prices: As we'll see in more detail in the next section, dentists across Gran Canaria charge between 50% and 70% less than clinics in the UK.

This can equate to a few savings of a few hundred pounds on basic treatments, like teeth whitening; for more complex work, like a full set of veneers, those savings can easily add up to over 10,000 pounds, even after factoring in holiday expenses!
Quality of Care: As part of the European Union, clinics in Las Palmas adhere to strict European regulations that all member states must follow. We also ensure that dentists practising at our partner clinics throughout Spain are registered with the necessary professional bodies in Spain, like the Consejo Dentista de Colegios de Odontólogos y Estomatólogos (General Council of Colleges of Dentistry and Stomatology of Spain) or the Spanish General Dental Council. They all hold DDS degrees (at a minimum) from recognised universities, with many having undertaken decades worth of specialist training in fields like implantology and orthodontics.
Clinics in Las Palmas also adopt the latest advances in dental technology, such as CAD/CAM (computer-assisted design/computer-assisted manufacture), and in-house digital milling equipment for producing crowns and veneers.
Favourite Holiday Destination: Direct flights are available from across the UK to Las Palmas, as well as from places like Copenhagen and Berlin. The average flight time is just over four hours and return tickets are as low as EUR 100.

Plus, whether you're staying in the city or a nearby beach resort, accommodation options on the island are affordable and plentiful.
Find more Gran Canaria travel information further down this page.
How Much Does Dental Care Cost in Las Palmas, Gran Canaria?
When booking treatment in Las Palmas through Dental Departures, patients can expect to make average savings of between 50% and 70% compared to respective prices in the UK.
The table below gives estimated prices for a range of everyday, preventative and restorative dentistry in Las Palmas ( in euro and pound sterling):
| | | |
| --- | --- | --- |
| Procedure in Las Palmas | Las Palmas Price (EUR) | Las Palmas Price (GBP) |
| Composite veneer | €220 | £190 |
| Laser teeth whitening | €200 | £170 |
| Porcelain fused to metal crown (standard alloy) | €300 | £260 |
| Full denture | €600 | £520 |
| Root canal (single tooth) | €190 | £160 |
| Dental implant with crown + abutment | $1,000 | £860 |
| Full arch restoration (fixed bridge with 4 implants) | $6,000 | £5,100 |
[Please note that these are estimated averages calculated at the time of writing. See our individual clinic listings for the latest prices.]
Finding the Best Dentists in the Canary Islands with Dental Departures
Take a look at three of our top clinics in Las Palmas and Gran Canaria below:
How Long Will I Need to Stay in Las Palmas for Treatment?
Many treatments may be possible to complete in just one or two days, particularly if your chosen clinic has an in-house dental laboratory for milling or fabricating custom-made prosthetics, such as crowns and veneers.
For those planning a summer holiday to Gran Canaria, one week should be plenty enough to enjoy a range of activities while completing your dental treatment—without feeling too rushed.
And a two-week break in the sun? Even better—especially if you're in the market for new dentures in Spain.
Dental implant treatments are a slightly different story: Typically, you will need to make two trips to Gran Canaria, each around four months apart. This is because the implants will need time to integrate with the bone (following surgery) before your temporary crown or bridge can be safely replaced with the permanent, heavier version.
Learn more about undergoing an All-on-6 or the All-on-4® treatment concept abroad with Dental Departures.
Las Palmas & Gran Canaria Travel Information
Las Palmas is the capital of Gran Canaria, and the ninth-largest city in Spain with a population of 640,000 according to ESPON.
There's also a sizable expat population living on the island thanks to the warm year-round temperatures, variety of outdoor pursuits, low cost of real estate, excellent healthcare facilities and a plethora of British-style pubs and restaurants.
The island is the third-largest but most populous island in the surrounding Canary Island archipelago, which is comprised of the other popular holiday spots of Tenerife and Futurventura.
All three islands are connected by daily ferry routes and flights, with the plane journey only taking around 30 minutes.
While most tourists merely use Las Palmas as a base from which to explore the rest of the island, the capital is certainly worth at least a few days of your holiday time.
Located in the northeastern part of the island, the city is framed by two impressive bays on either side, each with a long stretch of beach (Playa de las Canteras and Playa de las Alcaravaneras). This area feels a world away from the hustle and bustle of the nearby city center, with holiday apartments right next to the ocean, superb seafood restaurants, countless shopping options and a lively nightlife scene (although not as lively as in nearby Tenerife ).
This 500-year-old city also boasts a number of interesting historical spots —most are located in the old town district of Vegueta, a UNESCO World Heritage Site since 1990.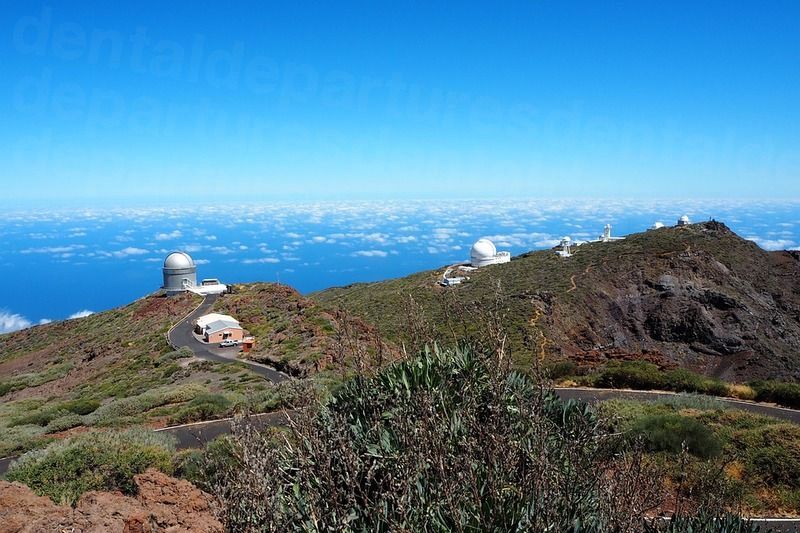 Can I Fly to Las Palmas, Gran Canaria?
You will discover daily flights to Las Palmas from across the UK, including the following cities:
London (Stansted, Heathrow, Gatwick, Luton)

Bristol

Birmingham

Manchester

Leeds

Newcastle

Nottingham

Edinburgh

Glasgow

Belfast
The average flight time is just over four hours.
Flights are also available from Dublin, Berlin, Munich, Hamburg, Copenhagen, Oslo, Helsinki and Zurich.
This interactive map shows all the direct flight routes to Gran Canaria; at the time of writing, 100 cities in more than 20 countries have non-stop flights to Las Palmas, as well as 30 domestic routes from across Spain.
Please note: Our partners in Gran Canaria may offer free shuttle services from the airport in Las Palmas. Ask our Customer Care Team for more information.
How Much Do Flights to Gran Canaria Cost?
At the time of writing, return flights from London to Las Palmas cost between EUR 100-200 when flying with low-cost carriers such as Ryanair, Wizz Air and Vueling Airlines.
Return flights with British Airways are approximately EUR 250.
(Via Skyscanner)
Where to Stay in Las Palmas, Gran Canaria?
Las Palmas has a wide choice of three and four-star hotels located close to some of our top partner clinics. Single rooms or hostel-style accommodation cost approximately EUR 20/night; basic but modern double rooms cost approximately EUR 40–50; and larger, fully equipped rooms cost between EUR 50–100.
Other popular places to stay in Gran Canaria are listed in the next section.
Note: Our partner clinics in Las Palmas may offer free or discounted accommodation when booking certain treatments. Ask our Customer Care Team for more information.
What Else Is There to Do in Gran Canaria?
Find out more about the range of attractions in Las Palmas here.
To really make the most of your time in Gran Canaria, check out some of these popular destinations on the island, all of which can be reached within around an hour from the capital
San Bartolome de Tirajana—a mountainous area home to a couple of excellent dentists

Meloneras—the place for luxury, with plenty of five-star resorts

Playa del Inglés—great for nightlife and gay-friendly bars

Maspalomas for incredible sand dunes right next to the ocean

Puerto Rico—the island's most popular family spot with child-friendly resorts

Arguineguin—a quaint fishing village, great to get a taste of local life

Puerto de Mogán—also known as "Little Venice" with a gorgeous golden-sand bay

Agaete—a spectacular valley region with huge sandstone cliffs towering over the sea

San Agustín—a small resort great for relaxing by the beach
Take a look at our recommended Las Palmas clinics listed above; compare prices, see before & after photos, see dentist profiles and read past patient reviews.
Once you have one or more options in mind, get in touch with the Dental Departures Customer Care Team via the toll-free number, email or other options displayed on the contact widget.
There are no upfront charges when you book, and thanks to your Best Price Guarantee pledge, you'll never pay more than you have to.
Sources:
Diaz, A. Number of international tourists visiting the Canary Islands 2008-2020. 22 February 2021. https://www.statista.com/statistics/449189/yearly-number-of-international-tourists-visiting-the-canary-islands/
Infection prevention and control in dentistry. European Centre for Disease Prevention and Control. Updated: 2021. https://www.ecdc.europa.eu/en/publications-data/directory-guidance-prevention-and-control/core-requirements-healthcare-settings-1
Gran Canaria. Lonely Planet. Website accessed: 1 July 2021.
https://www.lonelyplanet.com/canary-islands/gran-canaria
Playa de Las Canteras. Tripadvisor. Website accessed: 1 July 2021. https://www.tripadvisor.com/Attraction_Review-g187472-d592579-Reviews-Playa_de_Las_Canteras-Las_Palmas_de_Gran_Canaria_Gran_Canaria_Canary_Islands.html
European Spatial Planning Observation Network. Website accessed: 1 July 2021. https://www.espon.eu/
Cawley, J. The best nightlife in Tenerife, from laid-back beach bars to slick cocktail lounges. The Telegraph. 20 March 2021. https://www.telegraph.co.uk/travel/destinations/europe/spain/canary-islands/tenerife/articles/tenerife-nightlife/
Las Palmas. Spain-Gran Canaria. Website accessed: 1 July 2021. https://www.spain-grancanaria.com/en/places/north/las-palmas.html
Powell, J. Living In The Canary Islands: The Pros & Cons For Expats. Expatra. 30 June 2021. https://expatra.com/guides/spain/living-in-the-canary-islands/
Direct flights to Gran Canaria (Las Palmas) (LPA). Flight Connections. Website accessed: 1 July 2021. https://www.flightconnections.com/flights-to-gran-canaria-las-palmas-lpa
Advances in Dental Care: What's New at the Dentist. WebMD. 9 October 2019. https://www.webmd.com/oral-health/advances-in-dental-care-whats-new-at-the-dentist
Robert Elsenpeter. Bringing the dental lab in-house. Dental Products Report. Website accessed: 25 June 2021. https://www.dentalproductsreport.com/view/bringing-dental-lab-house
Skyscanner. Website accessed: 1 July 2021. https://www.skyscanner.com
12 Best Things to Do in Maspalomas, Gran Canaria. 9 October 2019. https://www.guidetocanaryislands.com/things-to-do-maspalomas/
Saptami. 10 Best Things To Do In Las Palmas De Gran Canaria, Spain. Trip101. 14 May 2021. https://trip101.com/article/best-things-to-do-las-palmas-de-gran-canaria-spain