Last fact-checked: 02 April 2020
Are you dreaming of a transformed, Hollywood-esque smile with dental veneers, but can't afford the hefty price tag? Then it might be time to turn your attention overseas (and treat yourself to a holiday at the same time) with dental veneers in Croatia.
The prices are less than a quarter of what you'd pay at home—so you can get the smile of your dreams for a price you'd never believe.
How Much Do Dental Veneers Cost in Croatia?
You can save over 75% on the cost of Dental Veneers in Croatia—and booking with Dental Departures means you are guaranteed the best prices.
| | | | | | |
| --- | --- | --- | --- | --- | --- |
| | UK £ | EUR € | AUS $ | NZ $ | US $ |
| Dental Veneers Prices at home (one veneer) | 1,461 | 1,745 | 2,480 | 2,583 | 1,871 |
| Dental Veneers Prices in Croatia (one veneer) | 300 | 352 | 563 | 583 | 398 |
How Will Dental Veneers Help My Smile
Dental veneers are a cosmetic dentistry treatment that can correct a number of problems with your teeth that spoil the appearance of your smile. They are a sliver of wafer-thin material attached to the front of your tooth (or teeth), essentially hiding what's behind it. Thus, if you have a discoloured, damaged, misshapen or just plain ugly tooth, you can disguise it with a straight, white, pristine veneer.
Custom-made to fit in the laboratory, veneers can help with:
● Chipped or cracked teeth
● Misshapen teeth
● Discoloured teeth
● Crooked teeth
● Small gaps between teeth
Veneers can be used either singly, to correct the look of just one tooth, or, for those needing a full mouth makeover, it is common to obtain between six and eight veneers per row of teeth, depending on which ones are visible when smiling. This option is used by adults, particularly celebrities, instead of time-consuming orthodontic work, to create a fantastic smile in a day.
What Are the Advantages of Dental Veneers?
● They can create a stunning smile in a short time
● They don't compromise the structure of the tooth too much
● The material is strong and, with good care, long-lasting
● Look natural
● Can be colour-matched to your existing teeth
● They resist staining
● A good option even for people with sensitive gums
And Some of the Disadvantages of Veneers?
● They are not recommended if you have poor dental health, for example, active gum disease or tooth decay
● Teeth may become more sensitive to hot and cold
● You must maintain a meticulous oral hygiene routine to prevent tooth decay
● If you suffer from bruxism (teeth grinding or jaw clenching) you may damage your veneers
What Is the Procedure for Dental Veneers?
The dental veneers procedure typically requires a couple of trips to the dentist.
1: Consultation, Examination and Treatment Planning: Before any treatment commences, your dentist will want to examine your mouth to assess your dental health and discuss your goals with regards to how you want your smile to look. It is worth spending some time figuring this out before you go to see the dentist and be sure to do some research so you can ask your dentist appropriate questions about the pros and cons of the procedure, as well as whether the material—porcelain or composite —will have an effect on the longevity of your veneers.
If you are happy with what your dentist tells you about veneers and are still keen on the procedure (and the vast majority of patients will be at this stage), the next step is to prepare the teeth to receive the veneers.
2: Preparation: The tooth or teeth receiving veneers will all need a thin sliver of enamel removing from the front. This is so that when your veneers are positioned they are in line with the rest of your teeth and don't feel bulky or stick-out. Once the enamel has been removed from the teeth, the dentist will make impressions of your teeth. These are sent to a laboratory where your veneers are custom-made.
3: Placement: Once your dentist has received your veneers from the laboratory, it's time to head back to have them fitted. The dentist will examine them for fit and colour, ensuring each veneer fits by trying the veneers up against your teeth without fixing them in place. The dentist will adjust and trim each veneer (if necessary) to create a good fit. Once happy, the teeth are cleaned, polished and etched slightly to make a good bonding surface. An adhesive is then applied, which is hardened using a special light, bonding the veneer securely to the tooth.
Can I Trust the Quality of Veneers in Croatia?
The dental clinics in Croatia offer good quality services to international patients. Clinics are modern with up-to-date technologies, such as 3D/CT scanning, digital x-rays and CAD/CAM (computer-aided design/computer-aided manufacture). Dentists are highly-skilled and well-qualified, offering services that are on a par with any dentist at home.
In order to find a reliable facility, we recommend you do some of your own research to ensure you are booked in with a clinic that you trust and has a good reputation. Peace of mind is everything when you are having dental treatment, especially abroad; you'll feel so much better being fully confident about your choice.
Dental Departures can help you find the right dentist. All clinics listed on our site have been pre-screened and you can see details of dentist qualifications, professional memberships and real patient reviews under each listing. We also publish clinic photos, prices and location maps, making it much easier to make an informed choice.
Clinics to consider for your veneers in Croatia include:
● Dental Care Croatia in Split
● H-Dent Dental Clinic in Rovinj
● Ordinacija Dentalne Medicine Catovic Dr. Zlatko in Zagreb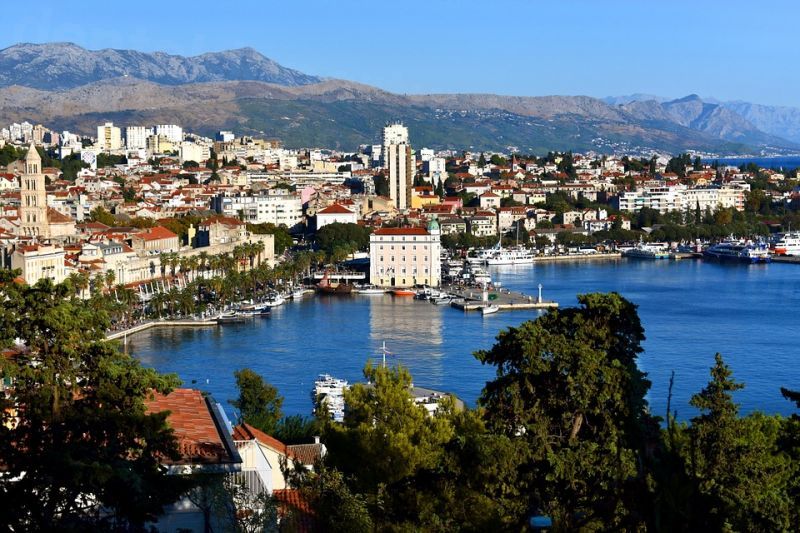 How Do I Book an Appointment for Veneers in Croatia?
You can book online via each clinic's listing page (just look for the orange booking button at the top). You can also speak to Dental Departures' Customer Care Team to find out more about veneers in Croatia. Or we can book an appointment for you, provide a free quote or help with finance or insurance.
Sources :
Auger, Steve. How Do Veneers Work? Colgate. Website accessed: 13 February 2019. https://www.colgate.com/en-us/oral-health/cosmetic-dentistry/veneers/how-do-veneers-work-0515" target="_blank .
Dental Health and Veneers. Web MD. Website accessed: 16 February 2019. https://www.webmd.com/oral-health/guide/veneers#1" target="_blank
Cardellino, Carly. Important! 23 Things You Need to Know Before Getting Veneers. 4 December 2018. https://www.cosmopolitan.com/style-beauty/beauty/a13051650/what-are-veneers/Cosmopolitan" target="_blank
Bonded Composites Versus Ceramic Veneers. British Dental Association. Website accessed: 16 February 2019. https://bda.org/dentists/education/sgh/Documents/Bonded%20composites%20versus%20ceramic%20veneers%20.pdf" target="_blank
Dental Veneers FAQ. American College of Prosthodontists. Website accessed: 2 April 2019. https://www.gotoapro.org/dental-veneers-faq/" target="_blank