Dental veneers are one of the simplest ways of perfecting your smile. However, they are also one of the most expensive. But you have an alternative to the high costs at home and if you are off on holiday to the Costa del Sol in Spain, then you can arrange to get your dental veneers in Marbella . The prices are a fraction of what you'll pay at home—and with Dental Departures you can find a reliable clinic that offers the high-quality you demand.
Dental veneers are purely a cosmetic procedure, and don't have any effect on your dental health. So, it is important that your teeth and gums are healthy prior to your dental veneers procedure as any underlying problems may have a detrimental effect on the success of your veneers treatment.
What Problems Do Dental Veneers Address? Will They Work for Me?
Dental veneers are a good solution to a variety of cosmetic dentistry issues. They can be attached to just one tooth, or you can have veneers placed on several teeth in a row to correct the look of crooked teeth that would typically require orthodontic treatment.
In effect, veneers are applied to the front of a tooth, disguising what lies behind it. Thus, if you have a tooth that is chipped, cracked, misshapen, discoloured or just unattractive then a dental veneer could be the perfect solution. For people who have antibiotic staining from tetracycline, then veneers are the only option available for achieving whiter teeth, as laser teeth whitening has no effect on this type of discolouration.
What is the Procedure for Dental Veneers? Is It OK to Travel for Veneers?
The dental veneers procedure works well if you are seeking cross-border care, as it only involves two trips to the dentist (and possibly only one if your chosen clinic has CAD/CAM technology). There is also very little in the way of downtime; thus, you won't have a sore mouth or other side effects of complex dental work.
At your first consultation with the dentist, your mouth is examined and x-rays or scans taken. If the dentist agrees you are suitable for veneers your tooth (or teeth) are then prepared to receive the veneer. This involves paring the enamel down very slightly on the front of the tooth. Impressions are then made of your mouth, which are sent to a dental laboratory, where your veneer is custom-made to fit.
Once your dentist has received your work from the lab (typically after a few days), you will return to have the veneer(s) attached. A light-activated adhesive is used to fix the veneer securely to your tooth, which takes just a matter of moments.
Sometimes, if your dentist has computer-aided design/computer-aided manufacture (CAD/CAM) then it may be possible to have the tooth preparation and veneer placement on the same day. CAD/CAM allows your dentist to design your veneer on the computer, using scans of your mouth to make a 3D model on screen. Once you and your dentist are happy with how it looks, the design is sent to an onsite milling machine that creates your veneer while you wait.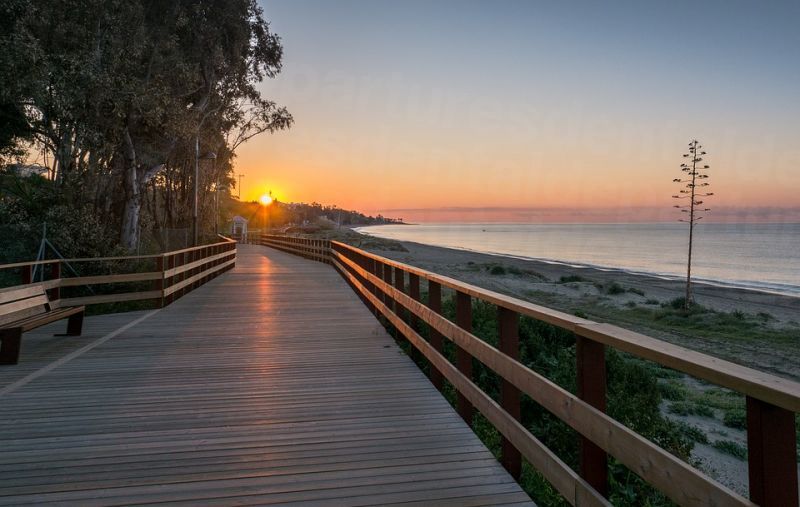 What are the Dental Veneers Prices in Marbella?
The price of dental veneers in Marbella is only around 25% of the cost you'd pay at home—a significant saving!
| | | | | | | |
| --- | --- | --- | --- | --- | --- | --- |
| | UK £ | EUR € | US $ | CAN $ | AUS $ | NZ $ |
| Dental Veneers at home - Cost | 1,461 | 1,745 | 1,871 | 2,525 | 2,480 | 2,661 |
| Dental Veneers in Marbella – Cost | 400 | 494 | 525 | 710 | 700 | 750 |
What About the Quality of Veneers in Marbella?
There's no need to worry about the quality of your dental veneers in Marbella. Spain's dentists have access to the same quality materials and brands that dentists at home use, including renowned brands such as Lumineers® and eMax® veneers.
What is the Best Way of Finding a Reliable Dental Clinic in Marbella?
Generally, the quality of dental care in Spain is exceptionally good, with our top dentists well-qualified and equipped to offer good-quality care to international patients. Our clinics treating international patients are modern, contemporary, and kitted-out with the latest in dental technologies to provide accurate diagnoses and effective treatments. As an EU member state, strict Europe-wide regulations on hygiene and safety are followed.
That said, it is difficult to research and locate a good clinic, or whether English is spoken. Although this part of Spain is popular for Brits and Irish, it doesn't always follow that everyone in a given region speaks English.
This is why booking with Dental Departures makes the whole process so much smoother. Our dental clinics have English speakers and you can choose with confidence knowing that our clinics are high-quality and trustworthy. This is because we have already run background checks on all of the clinics that sign up with us and are listed on our website. We review any legal/criminal records as well as confirming dentist qualifications and any professional memberships. Our listings also include patient reviews, clinic photos and prices—so you can get a good overview of each facility, making it easy for you to make an informed choice.
Some of our clinics offering dental veneers in Marbella are listed below:
Booking Your Appointment for Veneers in Marbella
Marbella is an excellent choice for a holiday. You have plenty of accommodation options, either down by the beach, in the Old Quarter or elsewhere around town. If you want an upmarket stay, then the "Golden Mile" between Marbella and the Puerto Banus Marina is a good bet. Here, many of the hotels have their own beach clubs, offering luxurious surroundings, such as Balinese Day Beds to soak up the sun, and transforming into sophisticated cocktail bars and clubs in the evening. Your time spent at the dentist for veneers is minimal, giving you more than enough time to enjoy the finer things in life in Marbella.
If getting your dental veneers in Marbella appeals (and why wouldn't it?) then simply search for your clinic on our website. You can ask for a free, no obligation quote, or just go right ahead and book an appointment online. If you prefer, our Customer Care Team are available if you've any questions or you'd like to speak to someone about any aspect of dental tourism in Marbella.