Located just over the US-Mexico border, Los Algodones is quick and easy for millions of American patients to reach, many of whom drive south from Southern California, Southern Arizona, or catch a budget flight to nearby Yuma.
Keep reading to find out why just how low dental prices are in Molar City and book a free appointment with Dental Departures today.
Why Choose a Los Algodones Dentist?
Dental Departures has partnered with hundreds of dentists in Molar City, a nickname bestowed upon the town after it became so well-known as a dental tourism hotspot.
With so many dental clinics operating here, competition is stiff and patients certainly have the upper hand as they can pick and choose where they go for treatment.
We also ensure that the clinics we work with comply with international standards, have received glowing reviews from past patients and work with experienced, fully qualified specialists in a wide variety of fields.
And then, of course, is the main driving force behind almost all medical and dental travel: price. In Los Algodones, patients can expect to save between 50% to 80%. Read on to discover price comparisons at some of our top Molar City clinics.
How Can Mexican Dentists Charge So Little?
So why exactly are dentists in Los Algodones so much more affordable than in America?
For a start, many Mexican dentists are able to benefit from an education subsidized by the Mexican government; this means that they do not have to cope with as much debt as their US counterparts.
The cost of labor, real estate, and utility bills are also cheaper in Mexico, making it far less expensive to run a dental clinic here than in the United States.
When you put all this together, it becomes clear how dentists in Mexico can charge less for treatment.
Just because you are paying less for your dental care in Los Algodones than what you would pay at home does not mean it is of lesser quality—provided you do your research. You can expect modern clinics staffed by highly-trained dental professionals, many of whom speak English.
Also, globally-recognized dental materials from trusted brands like Straumann® and Nobel Biocare™ are offered by many dentists.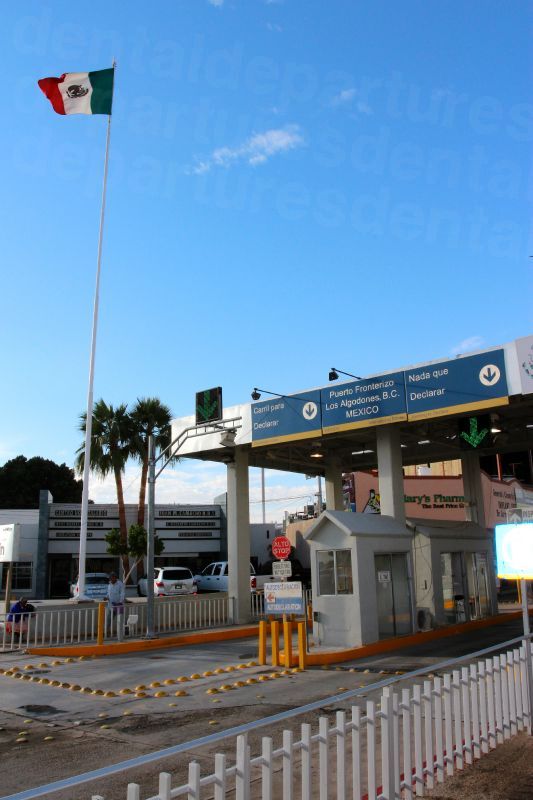 What Types of Dental Treatments Are Available in Los Algodones?
Whether you need crowns, veneers, or dental implants in Los Algodones, our verified dentists can help you, no matter how big or small the problem is.
Perhaps you have many old mercury fillings that need to be removed and replaced. Not a problem; your dentist can even give you safe white fillings that match the color of your teeth.
Maybe you have many missing teeth and are wondering if a full-arch procedure, such as the All-on-4® treatment concept, is right for you Complete mouth restorations are performed every day in Los Algodones, and after a consultation with a qualified dentist here you will have everything you need to make an informed decision.
You can find a list of treatments (together with price estimates) on each of our Los Algodones clinic listing pages; access is free, allowing you to virtually window shop before you travel.
Save Thousands of Dollars on Dental Implant and Mouth Restorations
For American patients who are looking for an affordable full-arch treatment, Los Algodones is a highly-recommended destination.
The price for this procedure can be as low as USD $6,000 - $8,000 at some dentists in the town, with the average price for the All-on-4® treatment concept in Los Algodones coming to around US$10,000.
That is a full $16,000 less than the average US price, which currently stands at around USD $26,000.
As for single dental implants in Los Algodones (where one tooth is replaced rather than a whole arch), patients can expect to find prices less than USD $1,000. That is still almost 70% less than what you would pay in the United States, with the average cost north of the border for the same treatment being over USD $3,500.
Four Trusted Dental Clinics in Los Algodones
Book Your Low-Cost Dental Treatment in Los Algodones Today
Whichever Los Algodones dental clinic you choose for your treatment, you can arrange an appointment in no time using the Dental Departures online appointment scheduler. Simply pick your preferred time and date, add your contact details, and we will take care of the rest. You will be sent an appointment confirmation and free cancellations are accepted up to one day before your scheduled visit.
Also, you will be covered by the Dental Departures Best Price Guarantee, so do not put off having the dental treatment you need any longer!
For more information, connect with our Customer Care Team here.
Sources:
Jacobs, Hans. This tiny Mexican town has more than 350 dentists — and treats the thousands of Americans who flock across the border for dental care. Business Insider. 2 January 2018. https://www.businessinsider.com/andrew-waits-photos-of-molar-city-2014-6?r=US&IR=T
Dental Amalgam Danger: Mercury Fillings and Human Health. The International Academy of Oral Medicine and Toxicology. Website accessed: 29 December 2020. https://iaomt.org/resources/dental-mercury-facts/amalgam-fillings-danger-human-health/
Hodges, John A, DDS, FICIO. When is All-on-4 the best option? 5 factors to consider when creating your dental treatment plan. Dentistry IQ. 1 November 2017. https://www.dentistryiq.com/articles/2017/11/when-is-all-on-4-the-best-option-5-factors-to-consider-when-creating-your-dental-treatment-plan.html
Standards by ISO/TC 106 (Dentistry). International Organization for Standardization. Website accessed: 29 December 2020. https://www.iso.org/committee/51218/x/catalogue/
Nobel Biocare. Website accessed: 29 December 2020. https://www.nobelbiocare.com