Kuta Dental Clinic in Bali offers affordable dental treatments and procedures in exotic Bali. This lush tropical island, a popular holiday spot, is also known for as a dental tourism destination.
The increasing lure of Bali dental tourism
If you love to holiday and visit new places then Bali in Indonesia is a great place to go to. If you also need any kind of dental work or treatment, then Bali should make it to your list thanks to the many top-notch dental facilities that offer inexpensive dental care in the island.
If dental care is expensive in your home country, then you could, like increasing numbers, go to a foreign country. In such a situation, you may avoid treatment where possible or put it off. If it is cosmetic dentistry, then you may simply give up on the idea of ever having a smile to be proud of. If you are in either of these categories then going to a recommended Bali dentist is a great option.
The dentists at Kuta Dental Clinic
Kuta in Bali is popular, busy and highly accessible from most parts of the island. Kuta Dental Clinic is headed by Dr. Syamsiar Adam, one of the best Bali dentists, who has years of experience behind a belt since she graduated in 1992. A dental implant specialist she completed many dental programs including programs in Orthocosmetics, Surgical and Prosthetic Implants, Esthetic and Restorative Dentistry and Advanced Cosmetic Dentistry as also a course Advanced Periodontal Surgery/ Plastic Surgery and Implant Therapy at The University of Michigan School of Dentistry.
Other dentists at Kuta Dental Clinic include Dr. Fachrun Kahar, Dr. Rissa Novani Sastavia and Dr. Novita Rosalina. All are trained, qualified and experienced dentists. They are members of the Indonesian Dental Association ID.
The benefits of going to Kuta Dental Clinic
Located in Denpasar, the clinic is well equipped and has state of the art dental equipment. All kinds of dental work are done at the clinic, so whether you need routine fillings or cleaning or whitening or dental implants or crowns, you can get it done at Kuta Dental Clinic. Among the services the clinic offers are
Teeth cleaning and scaling

Fillings

Dentures

Crowns

Implants

Laser teeth whitening

Implants

Full mouth rehabilitation
The inside of the clinic is modern and Dr. Adams is caring, tries to save your teeth if possible and does not up-sell her services. Even if you are afraid of going to dentists, rest assured Dr. Adams will calm you down. In fact, she is very popular and one of the most highly regarded and recommended dentists in Bali, particularly with expats.
Additionally, the clinic is a GPC winner – Dental Departures Global Patients Choice awards are only given to clinics that are highly rated by international patients. If you go through the Bali dentist reviews on the site, you will learn that the doctor and the clinic are well regarded.
Attractive pricing at Kuta Dental Clinic
If you compare prices of different kinds of dental procedures and treatments at Bali with prices of similar work in your country of residence, you will be pleasantly surprised as you pay a fraction of the prices in Bali when compared to prices of similar work in advanced countries. Some examples:
Full porcelain or ceramic crowns that cost AU$1,567 (NZ$1,706, US$1,200 CAD1,605, £963, €1,111 cost only AU$602 (NZ$655, US$461 CAD617, £370, €427) in Kuta.
Full denture (upper or lower) costs AU$2,350 (NZ$1,706, US$1,800 CAD2,407, £1,443, €1,111) as against the AU$902 (NZ$655, US$691 CAD924, £554, €640) you would pay at Kuta Dental Clinic.
Teeth cleaning that costs AU$170 (NZ$185, US$130 CAD174, £104, €120) will cost you only AU$68 (NZ$74, US$52, CAD70, £42, €48) at the hands of one of the best Bali dentists.
So, even if you need a relatively low cost procedure you will find that you save a great deal of money Bali than visiting a dentist at home.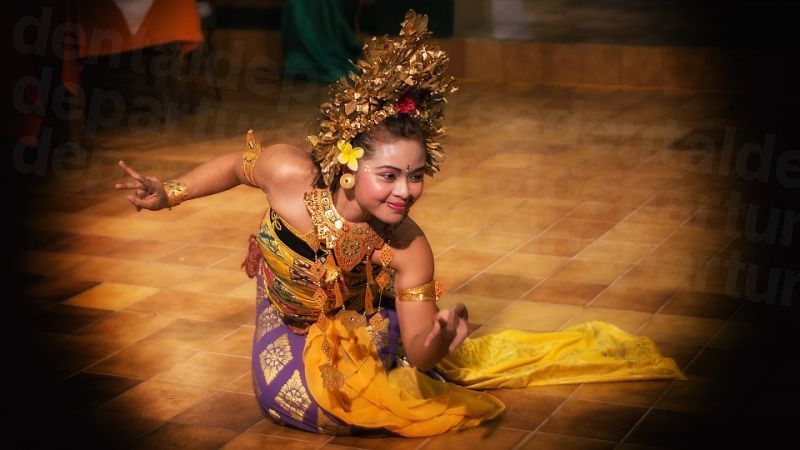 Activities during your dental holiday in Bali
Situated in Indonesia, Bali is a tropical island, well spread out with different areas and regions. It is known as the 'Island of the Gods'. It has beaches as the island hugs the coastline, and the beaches may have white or black sand. Among popular beaches are Kuta Beach, Seminyak Beach, Jimbaran Beach, Sanur Beach, Tanjung Benoa Beach, Legian Beach and Canggu Beach. Many of them have resorts on the beaches. They also offer a range of water based activities like swimming, surfing, snorkeling, scuba diving, jet skiing and canoeing. Other adventure activities include whitewater rafting.
If you are interested in history and other criteria that is applied to UNESCO world heritage sites then your holiday in Bali should include trips to the Taman Ayun Temple, Ulan Danu Batur temple, Lake Batur, Pakerisan Valley and Jatiluwih Rice Terraces that is a prime example of the Balinese Subak system embodying the Balinese philosophy of Tri Hita Karana (the togetherness of spirit, human and nature).
However, if you would like to traverse the land, then you can indulge in sports like golfing, trekking, cycling, hiking, mountain climbing and others. Bali also has attractions and entertainment options like bowling, gardens, family parks, Hindu temples, shopping and eating. In fact you can even shop for many branded goods at less than 50 percent of their price in your home country.
Bali is also famous for its party and clubbing scene with many nightclubs and lounges open till late. You can also indulge in different cuisines and check out the hawker food stalls that offer a different kind of dining experience. If you like your branded quick service cafes and restaurants, you will find them in Bali, too.
When you can combine an affordable and memorable holiday with dental work that will stand you in good stead at inexpensive rates, you will be very pleased with Bali as a dental tourism destination.