The Serenity International Dental Clinic have four branches throughout Vietnam, in Hanoi, Da Nang, Ho Chi Minh City and Da Lat. They are one of Vietnam's leading dental specialists, delivering modern treatments and techniques to patients from all over the world. They are committed to providing the ultimate dental healthcare service, as well as helping each patient to achieve a smile to be proud of.
With over 30 years of dental experience, their elite team of dental practitioners have all undergone extensive training in Vietnam, Australia and South Korea. To keep up-to-date with the most advanced techniques and latest developments, the team frequently attend enrichment courses in Australia and South Korea to ensure that they deliver the best results possible.
What is the Quality of Dental Treatment Like in Vietnam?
Vietnam, like many other Asian countries, has come to realize just how lucrative the dental tourism industry can be. The rising costs of dental treatment in countries such as Australia and New Zealand are forcing discerning patients to find more affordable alternatives to meet their oral health requirements.
To successfully meet this increasing international demand, the Vietnamese government continues to invest heavily in the country's medical infrastructure, erecting modern, custom-built dental facilities and producing internationally-trained dental experts. Standards continue to rise, with many clinics following the guidelines of professional bodies such as the Joint Commission International (JCI) , and surgeons gaining affiliations with globally-recognized organizations such as the International Congress of Oral Implantologists .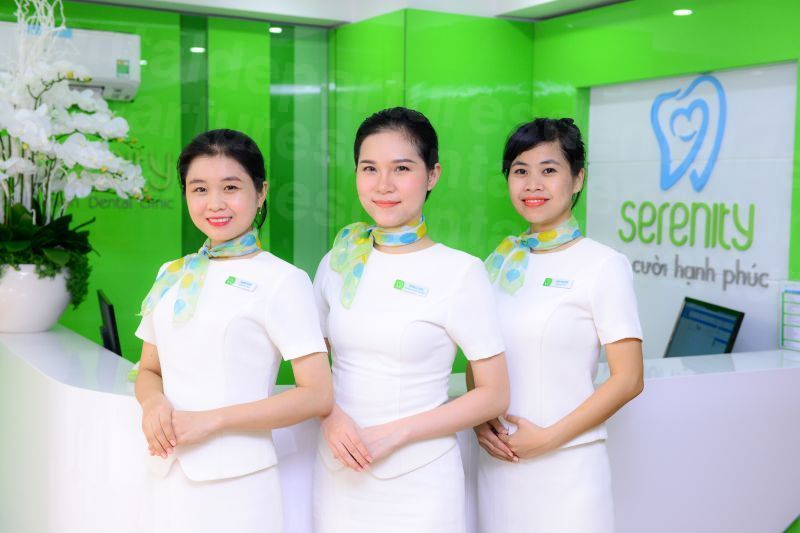 Treatments and Procedures at the Serenity International Dental Clinic
Serenity International Dental Clinic adhere to all North American healthcare standards. Their infection control procedures are compliant with the U.S. Centers for Disease Control and Prevention 's guidelines for dental health-care providers.
The clinic offers a complete range of world-class dental treatments that includes:
Teeth Cleaning, Tooth Whitening, Dental Fillings & Extractions

Crowns/Veneers - fabricated from a variety of materials

Dentures – full, partial and temporary

Diagnostic Services – such as CT Scanning and X-Rays

Implant Procedures – including bone grafts, "All-on-4's" and "All-on-6's"

Root Canal Treatment – including post/core build-up

Other Procedures – including soft or hard plastic Night
The clinic is so confident about the quality of all their work that they offer patients unrivalled guarantees on their treatment results. This includes a lifetime warranty on Nobel BioCare dental implants, a 10-year warranty on all-on-four porcelain bridges and 2-7 year warranties on crowns/bridgework or, if the crowns/bridgework are all porcelain Emax, a full 10 years.
Facilities at Serenity International Dental Clinic
At Serenity International Dental Clinic, their state-of-the-art facilities utilize the latest dental technology to ensure that patients receive the most efficient, effective and comfortable dental experience possible. All of their equipment is imported from leading dental providers from around the globe, including Sirona (Germany), Philips Healthcare (USA), Dentsply (USA), 3M (USA) and Acteon Group (France).
The clinic are proud of the advanced dental equipment that they have at their disposal which includes:
Digital Intraoral Radiography – utilizing the latest in sensor technology, your dentist can diagnose cavities and assess the condition of the root of your tooth, the surrounding bone and identify any negative impact to your jawbone caused by gum disease.

Sirona ORTHOPHOS XG 3DDigital OPG and CT scanner – your dentist can take a 3D scan of your jaw to assess the bone volume, locate the major nerve canals and sinus cavities to help plan for implant placement. With this system, the risk of penetrating your sinus cavity or compromising a nerve canal during implant placement is completely eliminated.

Digital Intraoral Camera – images from inside your mouth can be projected onto a screen to allow your dentist to get a close-up view of cracked teeth, tooth decay, worn out or cracked fillings and plaque build-up.

Piezotome 2, Ultrasonic Surgery – allows your dentist to perform intricate surgical techniques, such as vertical and horizontal expansion of the alveolar crest and sinus elevation, with significantly less pain and swelling and with fewer complications and faster recovery times.

Zoom! Whitening Laser System – whitens discoloured teeth by up to 8 shades in less than an hour, giving your teeth greater lustre and enamel protection.

Euroklav 23 VS+Euroklav 23 VS+ - one of the most powerful and efficient vacuum pumps on the market, it creates a simple pre-vacuum for safe removal of air before sterilization and for optimal post-drying of the instruments after sterilization. All instruments are steam-sterilized at 134 degrees Celsius and up to 2bar pressure for absolute sterilization.
How Much do the Serenity International Dental Clinic Charge for Treatment?
This depends entirely on what procedures you undergo, but you can expect savings of at least 60% to 80% on most treatments. The table below gives a rough guide as to the savings that you can make by undergoing your treatment at the Serenity International Dental Clinic:
Australia

Serenity

Saving

Dental Implants

(AUD):

$5,098

$2,000

60%

Root Canal (AUD):

$1,660

$200

87%

Dental Fillings (AUD):

$202

$34

83%
New Zealand

Serenity

Saving

Dental Implants

(NZD):

$5,500

$2,100

61%

Root Canal (NZD):

$1,758

$210

88%

Dental Fillings (NZD):

$219

$35

84%
U.S.

Serenity

Saving

Dental Implants

(US $):

$3,913

$1,500

61%

Root Canal (US $):

$1,275

$150

88%

Dental Fillings (US $):

$155

$25

83%
U.K.

Serenity

Saving

Dental Implants

(UK £):

£2,928

£1,165

60%

Root Canal (UK £):

£954

£120

87%

Dental Fillings (UK £):

£116

£20

82%
To save even more money, if you book your treatment through Dental Departures you will be protected by our best price guarantee , ensuring that you pay the lowest fee possible. You will also be entitled to exclusive rates on additional dental insurance through a number of independent insurance companies.
So, to find out how much you could save on your dental costs, call our Customer Care Team now on the toll-free number provided and arrange an appointment with the Serenity International Dental Clinic.