More and more North Americans are making the trip across the border into Mexico to avail the world-class dental care that's available in popular destinations like Los Algodones. And the main reason for this exodus is, quite simply, the price. With savings of between 60%-80% to be had compared to fees being charged by American dentists, it's easy to see why dental tourism in Los Algodones has become such big business.
What Is Dental Tourism?
Putting it simply, dental tourism is the process of traveling over borders (by car, plane or even on foot) for the specific purpose of undergoing more affordable dental treatment.
As mentioned, price is the most obvious driving factor, although lengthy domestic waiting lists or a lack of local expertise and facilities can also influence a patient's decision to look abroad.
Dental Tourism in Los Algodones
Los Algodones is a small Mexican town that is ideally situated just over the border, just 16 km west of Yuma in Arizona.
Dentists in Los Algodones have built a global reputation for quality workmanship and unbeatable value for money, so much so that the town is now widely regarded as the dental capital of the world, with more dentists per capita than anywhere else on the planet.
With more than 900 dentists working in 300 clinics, Los Algodones is at the vanguard of dental tourism in Mexico, earning it the affectionate nickname of "Molar City".
Aside from the outstanding dental services that are available, the town also offers a range of other amenities to cater to the needs of international visitors, such as restaurants, hotels, opticians, pharmacies and, of course, a variety of shopping opportunities. That said, a lot of patients tend to head back over the US-Mexico border on the same day as their treatment.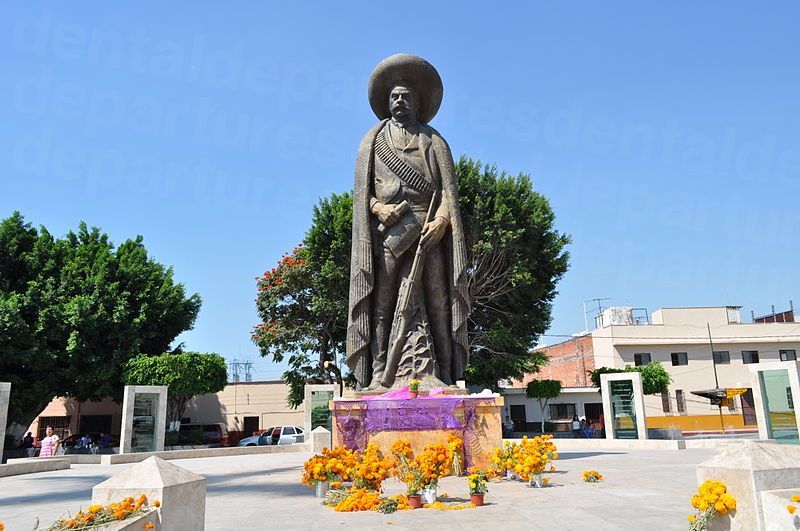 Top Dental Providers In Los Algodones
With so many clinics and surgeons plying their trade here, finding the right facility can be an intimidating prospect.
That's why, here at Dental Departures, we've taken the time to research all the options and have put together a comprehensive listing of quality-checked dentists in Los Algodones, many of whom have affiliations with globally recognized organizations such as the American Dental Association.
If you're thinking about making the trip to Mexico for your dental treatment, here's a brief overview of three top dentists you should consider checking out:
1. Ciro Dental
Ciro Dental is one of the best established and most popular clinics in Los Algodones, with over 10 years' experience catering to the needs of international patients. Their team of highly qualified dental specialists works together to provide a complete range of treatments, with many having graduated from some of the most prestigious universities both in Mexico and abroad.
Their facility is equipped with the latest dental technologies and all patients receive a digital radiographic study, using 90% less radiation than traditional techniques, as part of their initial assessment.
Treatments available include teeth cleaning, dental fillings, dental crowns, tooth whitening, extractions, root canal surgery, dentures, dental implants and orthodontics. As part of their holistic service, patients are provided with free x-rays, a free oral exam/consultation and free crown/bridge removals.
All treatments come with a guarantee so that, should anything go wrong, Ciro Dental will provide any remedial work free-of-charge. The clinic has free car parking and is wheelchair accessible. They also provide a range of non-dental services to make your visit as stress-free as possible, including free international calls, free border shuttles, Wi-Fi and laptops in the waiting room.
Originally established in 1985, Sani Dental Group is one of the most prestigious dental names in Mexico. Founded by Dr. Enrique Jimenez, Sani has grown into the largest dental group in Los Algodones, and one of the biggest dental chains in the whole of the country.
The group now boasts over 30 dentists, spread across three different sites in the town, and they have their own laboratory where they produce dental prosthetics such as dentures, crowns, bridges and dental implants. Each dentist at Sani brings their own unique specialisms and experience, with some having studied at prestigious institutions such as the Harvard School of Dental Medicine in Boston and the International Center of Laser Education in Indianapolis.
Their fields of specialisms include oral surgery, laser dentistry, orthodontics, dental implantology, periodontics, endodontics and cosmetic dentistry. The most popular treatments performed at the clinic include:
All-on-4® treatment concept by Nobel Biocare

Full-arch restorations

Dental crowns – including porcelain, gold, E-max and CAD/CAM zirconium

Dental surgery – such as bone grafts and sinus lifts (in preparation for dental implants)
Sani Dental Group is committed to delivering the ultimate dental experience to patients from the United States and Canada. The exceptional quality of their dental work is unsurpassed, and treatments are available at an average saving of around 70% compared to the fees being charged by your domestic dentists.
At Simply Dental, patients receive a unique and friendly dental experience. From their brand new, custom-built facility, they provide a complete range of dental services, from examinations, tooth cleaning and dental fillings right through to veneers, dental implants and reconstructive surgery.
From toddlers to senior citizens, every patient is treated as an individual, not a "number", in a compassionate, professional and friendly manner. The clinic exudes a peaceful and relaxing spa-like atmosphere, providing a refreshment center, a wide selection of current magazines and even aromatherapy to help patients relax both before and after their consultation.
Every patient will receive a bespoke treatment plan that caters to their own specific needs and desires, encompassing not only the treatment itself but also taking into consideration other factors such as budget and time-frames.
How Do I Go About Booking An Appointment?
The simplest way to save money in Los Algodones without compromising your health is to book through Dental Departures. That way. you can be certain of getting value for money through our best price guarantee.
We can also furnish you preferential rates on additional medical insurance with a variety of independent insurance providers.
So, contact our Customer Care Team today to arrange your essential dental treatment at a quality Los Algodones dentist today.
Sources:
American Dental Association. Website accessed: 5 December 2020. https://www.ada.org/en
What Is Orthodontics? Colgate. Website accessed: 5 December 2020. https://www.colgate.com/en-sa/oral-health/life-stages/teen-oral-care/what-is-orthodontics
Balasubramanian, Madhan & Holden, Alexander. Dental tourism: Things to consider before going that extra mile for your smile. Medical Xpress. 25 October 2018. https://medicalxpress.com/news/2018-10-dental-tourism-extra-mile.html
Jacobs, Harrison. This tiny Mexican town has more than 350 dentists — and treats the thousands of Americans who flock across the border for dental care. Business Insider. 3 January 2018. https://www.businessinsider.com/andrew-waits-photos-of-molar-city-2014-6