Why Aussies should consider Thailand for Dental Implants
With economists still undecided what is going to happen to Australia's economy in the near future, it's understandable if Aussies are looking to save money where they can. With dental care costs rising and dental implants a particularly expensive option Aussies should be looking at going to Thailand to maintain their dental health and smiles.
Aussies love to travel so asking them to forego their holiday to pay for dental care is never going to be an option – but what if they could combine the two? Going to Thailand certainly covers both bases but is it wise? Here's some reasons why it is:
1: Thailand is a global leader in medical tourism
Thailand was a pioneer in health tourism, starting in the 1990s. When it first accepted international patients to the newly-opened Bumrungrad Hospital in Bangkok was the beginning of the medical tourism boom. Dental tourism is a popular sub-category of medical tourism, and it wasn't long before Bangkok's dentists began to position themselves as viable alternatives for international patients who couldn't afford to pay the high costs of dental care at home, particularly for expensive treatments, like dental implants.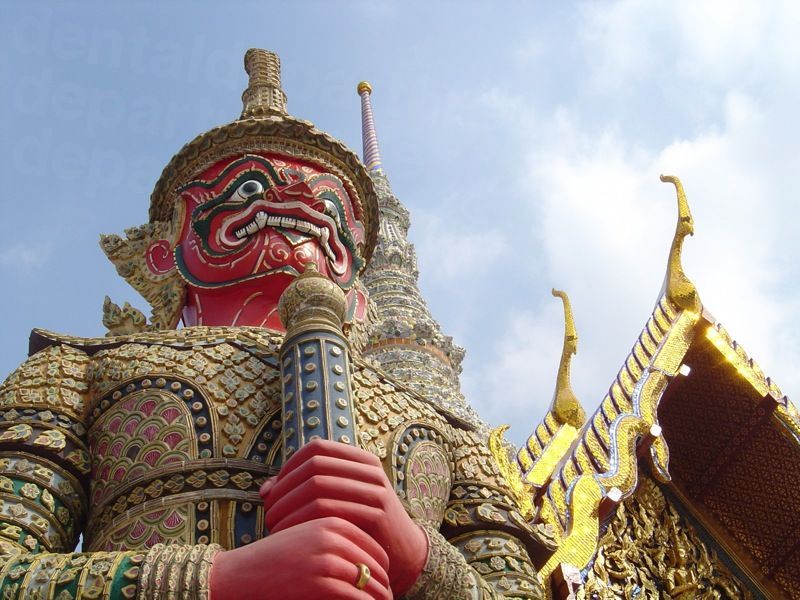 2: Dental Implants, Thailand are less than half the price of dental implants, Australia
Cost of Dental Implants in Australia: AUD $5,100
Cos of Dental Implants in Thailand: AUD $2,400
Average savings: 52%
Savings of over $2,500 is certainly worth the consideration of traveling to Thailand for teeth implants.
3: The Quality of Dental Care is excellent
Dentistry in Thailand is considered to be a good profession. Many dentists are highly skilled, having undertaken years of training and generally offer good-quality services which are just as good as the standards in Australia.
Like Australia, the regulation and registration of dentists in Thailand is highly-regulated. Dentists must be members of the Dental Association of Thailand and registered with the Thai Dental Council in order to practice. This ensures good standards are maintained.
Many dental clinics in Thailand that cater to international patients tend to be very contemporary and modern. They are often equipped with the latest diagnostic technologies, including 3D CT scanning, which takes an accurate image of your jaw, teeth and mouth and enables the dentist to place dental implants with pinpoint accuracy.
Thailand has a good number of JCI-accredited facilities. This international accreditation for healthcare is widely acknowledged to be world's gold standard and is a testament to the high-quality found throughout the country.
Thailand's dentists have rigorous hygiene and safety standards, signing up to internationally-accredited protocols, such as the International Organization for Standardization .
4: Wide Range of Dental Treatments Available
We've already mentioned Thai dentists' training and clinical expertise is excellent. Coupled with the modern technologies and materials that are used in the clinics, the dental clinics here are able to offer patients a complete range of dental treatments from general dentistry to specialist dentistry.
Many clinics have multidisciplinary teams of dentists, each with their own specializations. You may need to see more than one specialist, depending on the extent of your problems, and Thai dentists will work together to ensure all your dental health problems are solved.
Cosmetic dentistry is a popular option in Thailand, and dental implants are considered to be a cosmetic dentistry procedure – at least in some areas of the world, probably because dentures are cheaper and are likely to be offered under dental insurance or public health schemes, whereas dental implants are not. Anyhow, cosmetic dentistry or not, dentists in Thailand are every bit as their Australian counterparts in placing dental implants, and have had the additional training required. You may want to check out dentists who are affiliated with the International Congress of Oral Implantologists to confirm their skill in this procedure.
5: Customer-Focussed Care
One of the things you may have noticed with dental care at home is the lack of customer care. This extends from inconvenient appointment times, the endless waiting at the clinic, lack of any facilities to make the experience just a little more palatable and the general feeling that you are doing them a favour by being there.
In Thailand, your experience will be completely different. Staff are polite and professional – the Thai's are well-known for their service culture. English is spoken widely and so your procedure will be explained fully to you. You will also find the clinics to be ultra-contemporary – some resembling boutique hotels, while some dental clinics actually have their own boutique hotel on-site .
Many clinics also have their own onsite labs, which means that with CAD/CAM technologies they can design and manufacture prosthodontics (such as the crown used on teeth implants) on the same day. For international patients who have time constraints this is certainly an important point.
6: You can have a great holiday
Thailand is a wonderful holiday destination to enjoy. It's inexpensive, has great food, fantastic beaches and while there are well-trodden backpacking trails around the country, you can still find off-the-beaten track locations that will take you far away from the crowds.
Most people arrive by air into Bangkok. It is a massive, sprawling metropolis that is crazy, fun, vibrant and totally mesmerising. There's palaces, temples, markets, malls and an exciting nightlife to keep you entertained around the clock. There are also some amazing dental clinics in Bangkok so the city is definitely one to bear in mind if you're looking for a good location for dental implants in Thailand.
Besides the inimitable Bangkok, visitors have the pick of Thailand's many other varied destinations – from exploring the islands made famous in the movies, like James Bond or the Beach; trekking in the steamy hills and jungles around Chiang Mai, attending a full moon party or just chilling on a golden beach. The choice is yours.
And the joy of going to Thailand for dental implants? You can enjoy everything this marvellous country has to offer and probably get the dental work and the holiday for the same price as just the dental work at home. Now that's certainly reason enough for Aussies to go to Thailand for dental implants.