Last fact-checked: 2 April 2020
Searching for a way to fix broken or damaged teeth without shelling out close to the four-figures asked by a local dentist? Then it might be time to consider shaping up your smile and save with dental crowns in Croatia .
Croatia is at the crossroads of Central and Southeast Europe. Its long stretch of coastline is fringed by the sapphire and emerald-shaded waters of the Adriatic Sea, and this postcard-worthy scenery proves year-on-year to be the country's biggest attraction. If just lying on the beach isn't your thing, you'll also find plenty water-based pursuits, such as diving, snorkelling, sailing, windsurfing and kayaking.
Croatia's beauty isn't just limited to its coastline. The Dinaric Mountains provide forests, peaks, canyons and waterfalls where hiking and biking trails, as well as adrenaline-inducing white water rafting, zip-lining and rock climbing will keep the most adventurous outdoorsy-types happy.
And then there is the architecture, with a myriad of styles dating back through time, including Roman, Slavic, Viennese, Venetian and Napoleonic—all weaving a rich tapestry of the country's both alluring and alarming history.
Croatia is a destination for any holiday shortlist; if you need an excuse to go somewhere for low-cost, high-quality dental care, then it shouldn't be overlooked.
Why Would I Need a Dental Crown?
A crown is a customized tooth-shaped cap that is placed over the tooth. It is designed to cover a damaged tooth, strengthen it and improve its appearance. It restores a tooth's colour, shape, and size. It is one of dentistry's most versatile procedures and used to:
● Restore a broken tooth
● Protect a tooth
● Cover a discoloured or uneven tooth
● Replace a missing tooth as part of a dental bridge
● Replace a missing tooth as part of a dental implant
● Protect a child's tooth
● Strengthen a tooth that has been compromised with large fillings or root canal treatments
What Are Dental Crowns Made From? Can I Choose the Material?
Crowns can be made from various materials such as metal, porcelain fused to metal, all-porcelain/all-ceramic, gold and zirconia. To a certain degree, the choice of material may be dictated by the position of the tooth in your mouth and the amount of force exerted on it by normal biting and chewing activity. Your dentist will be able to talk you through the options as all have their pros and cons. For example:
● Metal can withstand biting and chewing forces. It lasts longer than other materials, but the main drawback is its Bond movie villain-esque colour, which is why it's best for back teeth only.
● Porcelain fused to metal replicates the colour of your teeth, but porcelain is prone to chipping and the metal beneath can sometimes be seen through the porcelain, appearing as grey line.
● All-porcelain or all-ceramic mimics the natural colour of your teeth. It's great for people with metal allergies, but it's not durable like porcelain fused to metal.
● Zirconia has cosmetic qualities similar to natural teeth and is extremely hard-wearing. It is also one of the most expensive materials at home, although in Croatia the prices are very much cheaper.
How Much Do Dental Crowns Cost in Croatia?
Dental crown prices in Croatia are considerably lower than at home. The table below shows how much, on average, you can save with Dental Departures by taking advantage of our best price guarantee :
| | | | | | |
| --- | --- | --- | --- | --- | --- |
| | UK £ | EUR € | US $ | AUS $ | NZ $ |
| Dental Crown Costs at home | 1,015 | 1,200 | 1,300 | 1,700 | 1,775 |
| Dental Crown Costs in Croatia | 167 | 193 | 217 | 308 | 319 |
What Happens During the Dental Crowns Procedure
The dental crowns procedure normally takes two visits to the dentist —the first for an assessment and tooth preparation; and the second visit for the fitting of the new crown.
During the first visit, your tooth's structure will be reduced to accommodate the crown. The dentist will file down the tooth, placing a temporary crown on top until you go back for the fitting of your permanent crown. At this visit, impressions are made of your mouth to send to the laboratory where your crown is being made. This is so the crowns can be made around the models of your mouth sent by your dentist. Once the crown is made, it will be sent to your dentist who will arrange for you to go back for fitting.
Note that if your dentist offers CAD/CAM dental restorations, you may be able to receive your crown in one day, while you wait.
If you require a second visit to the dentist, the temporary crown is removed and the permanent one will be checked for fit. If there are any minor adjustments required, the dentist will make them during this visit. The crown may be placed, removed and adjusted several times before both you and your dentist are happy with how it looks and feels. A light-activated adhesive is then used to bond the crown securely in place over your tooth.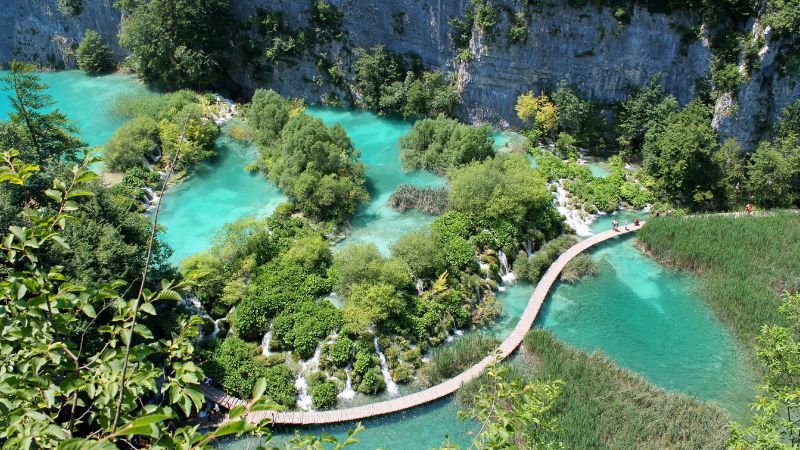 Can I Rely on the Dental Crowns Treatments in Croatia?
Absolutely. Croatia's dentists are well-trained, highly-skilled and have expertise across all areas of dentistry. Of course, we wouldn't expect anybody to book an appointment with a dentist overseas without doing some research, and we also understand that many people simply don't know where to start.
Fortunately, we carry out our own background checks before we list any dental providers on our site. We have confirmed dentist qualifications, professional memberships and collated real patient reviews—which are all published on our website. With clinic photos, prices and location maps, you can find everything you need to make an informed decision right at your fingertips.
Some of our popular clinics for dental crowns in Croatia include:
● H-Dent Dental Clinic
● Ordinacija Dentalne Medicine Catovic Dr. Zlatko
Booking Your Appointment in Croatia:
Browse our verified dentists, compare prices and choose your clinic. You can book directly online or give Dental Departures' Customer Care Team a call; they are always on hand to help you with any aspect of your trip for dental crowns in Croatia, like booking an appointment, providing a free quote or filling you in about our services, such as dental insurance or finance options.
Sources:
Smith, Oliver. 28 Reasons the World Wants to go to Croatia. The Telegraph. 8 October 2018.
https://www.telegraph.co.uk/travel/destinations/europe/croatia/articles/croatia-best-things-to-see-and-do/" target="_blank
What are NHS Fillings and Crowns Made Of? National Health Service. Website accessed: 15 February 2019.
https://www.nhs.uk/common-health-questions/dental-health/what-are-nhs-fillings-and-crowns-made-of/" target="_blank
Shepard, Katelynne. Your Dental Crowns Procedure: What to Expect. Colgate. Website accessed 15 February 2019.
https://www.colgate.com/en-us/oral-health/cosmetic-dentistry/bridges-and-crowns/your-dental-crown-procedure-what-to-expect-0113" target="_blank
Puri, Sameer. Material Choices for CAD/CAM Dentistry. Dentistry Today. 1 February 2018.
https://www.dentistrytoday.com/technology/10396-material-choices-for-cad-cam-dentistry" target="_blank
Crowns. Oral Health Foundation. Website accessed: 3 April 2019.